Trump Critics Cheer Mark Meadows' Removal From North Carolina Voter Rolls
Critics of former President Donald Trump cheered former White House Chief of Staff Mark Meadow's removal from North Carolina's voter rolls amid an investigation into whether he committed voter fraud in the 2020 election.
The New Yorker first reported on March 6 that Meadows appeared to have registered to vote at a mobile home in Scaly Mountain, North Carolina—a home where he allegedly never lived. According to the report, he registered to vote at the home in September of 2020 in order to vote in the state during the last presidential election while he served in Trump's administration. Meadows previously represented North Carolina's 11th District in Congress from January of 2013 to March of 2020.
Later in March, Raleigh-based television station WRAL first reported that the state attorney general's office asked the North Carolina Bureau of Investigation to probe the matter. Then on Wednesday, the Asheville Citizen Times reported that Meadows had been removed from the state's voter rolls as the investigation moves forward.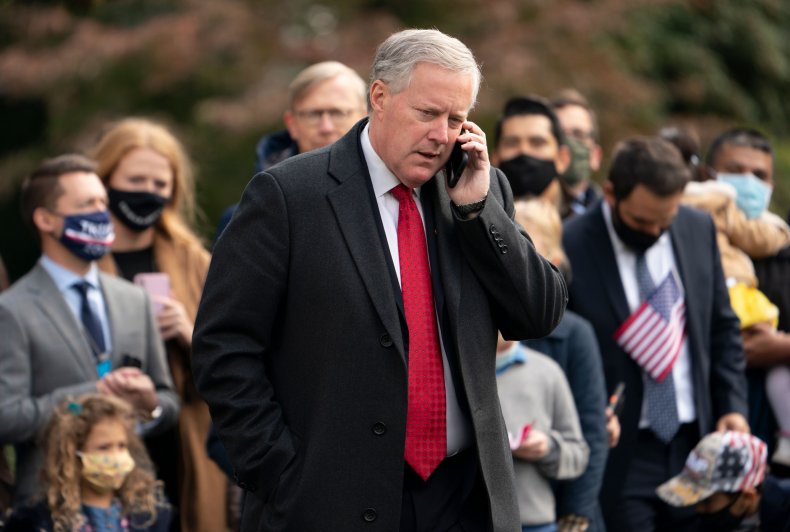 "As we await an indictment of Meadows (we're on day 120 of the Mark Meadows Indictment Watch), here's something to help pass the time: North Carolina authorities just removed Meadows from the voter rolls while they investigate him for voter fraud. Just another day in Trumplandia," Glenn Kirschner, a former U.S. Army prosecutor who is now a legal analyst for MSNBC and NBC News, tweeted Wednesday, sharing a screenshot from a news report about the latest development.
"Anyone still have the number to Trump's voter fraud hotline?" The Lincoln Project, a conservative anti-Trump group, tweeted, sharing a link to the news of Meadows being removed from North Carolina's voter rolls. In the wake of the 2020 election, Trump's campaign set up a voter fraud hot line for people to report instances of what they believed to be election malfeasance.
"So Mark Meadows committed voter fraud too? I mean at this point, has anyone other than Republicans commit voter fraud, ever???" MSNBC host Joy Reid wrote in a Twitter post.
Activist and writer Amy Siskind tweeted: "After screaming about a stolen election and attempting a coup, Trump's chief of staff Mark Meadows voted illegally in North Carolina? Irony is dead."
"The 'v0TeR FrAud iz Re8L' crowd is about to go silent," Rick Wilson, a former Republican political strategist who now identifies as an independent, wrote in a Twitter post, re-tweeting the news about Meadows.
Newsweek reached out to Meadows' Conservative Partnership Institute, of which he is a senior partner, for comment. A spokesperson for Meadows previously declined to comment to CNN and The New York Times.
Trump and many of his allies continue to insist that President Joe Biden won the 2020 election only due to widespread voter fraud. No evidence has emerged corroborating the allegation. Meanwhile, some Trump critics see irony in the fact that the former president's former chief of staff is being investigated for alleged voter fraud.
More than 60 election challenge lawsuits filed by Trump and his supporters failed in state and federal courts in the aftermath of Biden's 2020 win. Even judges appointed by Trump ruled against the legal challenges. Audits and recounts across the country—including in areas where the election was overseen by pro-Trump Republicans—have consistently reaffirmed Trump's loss.
Former Attorney General William Barr, who was widely viewed as one of Trump's most loyal Cabinet members, has said repeatedly that there is "no evidence" to support claims of widespread voter fraud. Barr wrote in his memoir published last month that he told Trump to his face that the claims were "bulls**t."