U.S. Going 'Way of Russia' If Trump Ally Meadows Not Charged: Kirschner
Former U.S. Army prosecutor Glenn Kirschner contended that the U.S. would be "going the way of Russia" if ex-President Donald Trump's former White House chief of staff Mark Meadows is not held accountable for allegedly registering to vote at an address in North Carolina where he does not actually reside.
The New Yorker first reported on March 6 that Meadows, a prominent Trump ally, appeared to have registered to vote at a mobile home in Scaly Mountain where he allegedly never lived. According to the report, he registered to vote at the home in September 2020 in order to vote in North Carolina during the last presidential election while he still served in Trump's White House. Meadows served in Congress representing North Carolina's 11th District from January 2013 to March 2020.
On Thursday, Raleigh-based television station WRAL first reported that the state's attorney general's office asked the State Bureau of Investigation to probe the matter.
"Local district attorney Ashley Welch has referred this matter to the Department of Justice's Special Prosecutions Section, and we have agreed to her request," Nazneen Ahmed, press secretary for the state's Justice Department, said in a statement to The Washington Post. "We have asked the SBI to investigate and at the conclusion of the investigation, we'll review their findings."
In a Friday YouTube video, Kirschner, who now works as a legal analyst for NBC News and MSNBC, laid out the report and allegations against Meadows. He also pointed out that Meadows remains under investigation for alleged contempt of Congress.
After overviewing the details reported about Meadows alleged actions, Kirschner said: "Now as a result, Mark Meadows is being investigated by both the state authorities in North Carolina as well as the federal authorities, the Department of Justice, because he has been referred for prosecution for contempt of Congress."
"Of course, the question remains," the attorney continued, "the eternal question, the question for our times, will he be held accountable? Will he be charged? Will he be indicted? Will he be prosecuted? Either in the state of North Carolina or federally for the crimes it sure seems like he committed."
He then responded to his own question: "I have to believe he will, because I still have a hard time conceiving of living in a country where the Department of Justice has all of this evidence of criminal conduct by high government officials and does nothing."
The attorney cautioned, "because then we're...going the way of Russia. We can't let that happen because justice matters."
Newsweek reached out to the Conservative Partnership Institute, where Meadows is a senior partner, and to his adviser Ben Williamson for comment, but did not immediately receive a response. Additionally, the Post did not receive a response when it contacted Williamson. WRAL reported that Meadows did not respond to multiple interview requests either.
The individual that owned the mobile home in 2020 told WRAL that Meadows "never spent a night down there." The former owner of the property told The New Yorker that Meadows' wife previously rented out the home for two months "at some point within the past few years." She told the magazine that Meadows himself "never spent a night there."
If the allegations are true, Meadows could potentially be charged with voter fraud. Under federal law, it is a crime to provide false information when a citizen registers to vote. Meadows previously owned a home in Sapphire, North Carolina, but sold that property just before he took on the role of White House chief of staff in March 2020, according to The New Yorker. He and his wife reportedly also had a condo in Virginia, close to the nation's capital.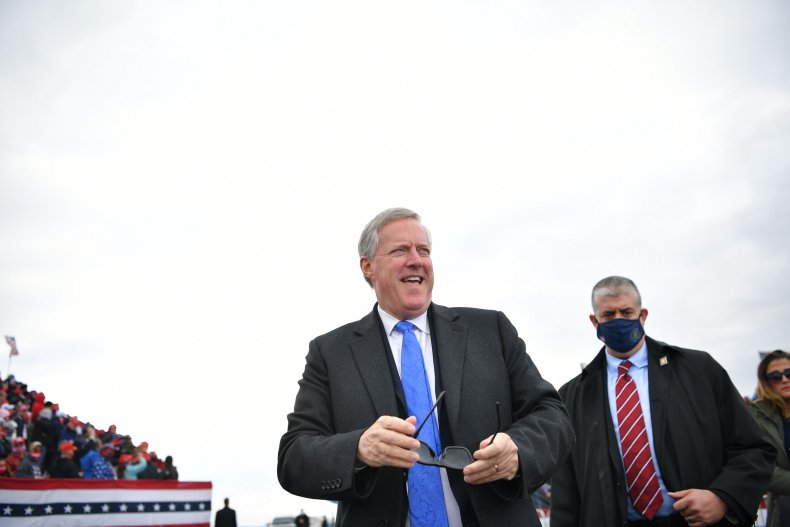 Notably, Trump and his allies continue to claim that widespread voter fraud was the only reason President Joe Biden won the 2020 election. The former president has repeatedly promoted the unfounded claim, as his allies have traversed the country over the past year holding rallies touting the conspiracy theory.
Dozens of 2020 election challenge lawsuits brought by Trump and his supporters failed in state and federal courts. Even judges appointed by Trump and other Republicans ruled against the legal challenges. Meanwhile, audits and recounts across the country—including in areas where pro-Trump Republicans oversaw elections—have consistently reaffirmed Biden's victory.
Former Attorney General William Barr, who was widely seen as one of Trump's most loyal Cabinet members, has said repeatedly that there is "no evidence" of voter fraud leading to Biden's win. "The fact is, we have looked at the major claims your people are making, and they are bullsh*t," Barr told Trump directly, according to an excerpt from his memoir published by The Wall Street Journal earlier this month.