Mark Meadows' Voter Registration to Be Looked Into by State Investigators
The voter registration of Mark Meadows, the White House Chief of Staff under former President Donald Trump, will be reviewed by state investigators after it was reported earlier this month that Meadows and his wife, who live near Washington D.C., registered and voted absentee using the address of a mobile home in North Carolina that they don't own.
The report from The New Yorker sparked questions of whether Meadows, a vocal critic of the 2020 election who has repeated Trump's baseless claims of voter fraud, may have committed fraud himself.
Thursday, North Carolina Attorney General Josh Stein asked the State Bureau of Investigation to look into the reports and review Medows' voter registration to determine if he committed a crime, a spokesperson for his office confirmed to North Carolina news station WRAL.
Meadows, who represented North Carolina in the U.S. House until resigning in 2020 to take his position in the Trump White House, had not registered to vote in Virginia, where he was living with his wife prior to the election, The New Yorker reported.
Weeks before North Carolina's registration deadline, Meadows reportedly filed to continue voting absentee in North Carolina using a new address, later shown to be a mobile home in Scaly Mountain, a small unincorporated community in the state.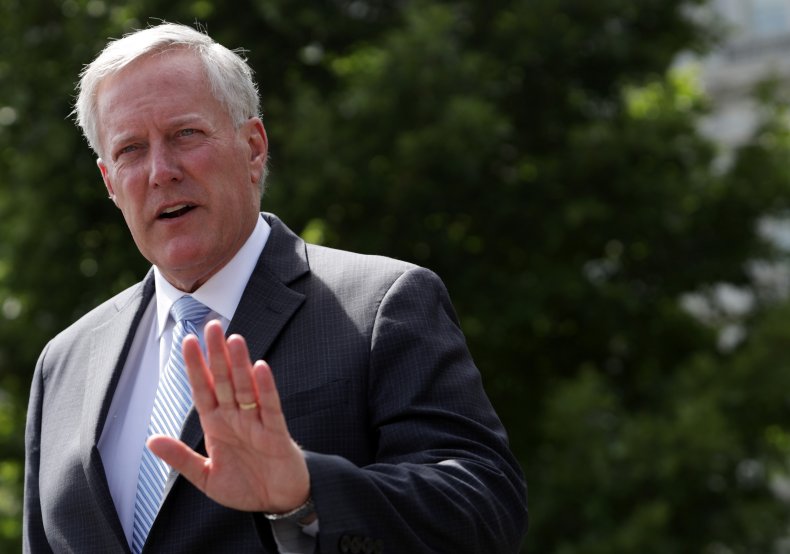 Meadows, who had charges of contempt of Congress recommended to be filed against him by the House January 6 Committee in December, refused to comment for The New Yorker story and has not yet commented publicly on the allegations of potential voter fraud.
The former owner of the mobile home told The New Yorker earlier this month that while members of his family rented the home and stayed there for a few days at most, Meadows himself had never spent a night at the property.
As of the time of publication of the report, Meadows and his wife were still registered to vote through the address of the mobile home in Macon County, North Carolina.
Newsweek has requested comment from Stein's office regarding the reported investigation.
When the House January 6 Committee voted to recommend contempt charges for Meadows in December, they also released records of text messages between Meadows and other Trump allies on and around January 6.
Many of the messages showed other Republican lawmakers and commentators asking Meadows to convince Trump to make an urgent TV appearance condemning the violence and rioting at the Capitol and urging his supporters to stand down.
Update 03/17/22, 7:20 p.m. ET: This story has been updated with additional information.