Rep. Roy's Meadows Texts Show Election Challenge Doubt: 'Call Everyone Off'
Newly revealed text messages turned over to the House committee investigating the January 6 Capitol riot show that Republican Representative Chip Roy of Texas, a vocal ally of Donald Trump, advocated for the former president to ease up on his claims of election fraud.
In an exclusive story, CNN said Friday it had reviewed the messages. The network reported that Roy, as well as GOP Senator Mike Lee of Utah, had sent multiple messages to then-White House chief of staff Mark Meadows in the weeks following the 2020 presidential election.
At first, both congressmen argued for Trump to legally challenge the election results, CNN said. But they later criticized efforts by members of Trump's team to overturn the election based on unsubstantiated allegations of voter fraud, including the president's attorney Rudy Giuliani.
"We must urge the President to tone down the rhetoric, and approach the legal challenge firmly, intelligently and effectively without resorting to throwing wild desperate haymakers or whipping his base into a conspiracy frenzy," Roy wrote in one message to Meadows, according to CNN.
"Frigging rudy needs to hush," CNN reported the Texas lawmaker wrote in another text.
Newsweek reached out to Roy for comment. His communications director, Nate Madden, told CNN the text messages "speak for themselves."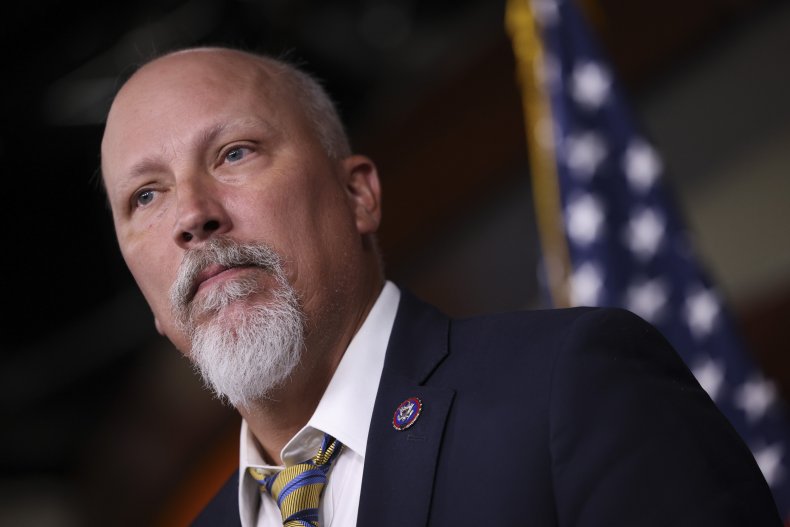 The texts sent by Lee and Roy were not previously reported before CNN's Friday story. The messages show that while both men initially encouraged Trump to fight the election results, in the days leading up to the January 6 attack on the Capitol they expressed concern about some of the allegations and remarks made by Trump and his team.
"We're driving a stake in the heart of the federal republic," Roy reportedly wrote to Meadows on January 1, 2021, according to CNN. (Although the existence of that text was disclosed months ago by the House select committee, it was not given author attribution until CNN's report.)
The shift in tone is apparent when compared with a message that CNN said Roy wrote to Meadows on November 7, 2020.
"We need ammo. We need fraud examples. We need it this weekend," Roy reportedly texted.
Two days later, Roy was already cautioning Meadows about the tactics being employed by Trump's team. On November 9, Roy wrote that Trump should "tone down the rhetoric" and focus on legal challenges.
On November 19, Trump's legal team, which included Giuliani and attorney Sidney Powell, held a press conference in which they made baseless claims about alleged voter fraud.
"Hey brother - we need substance or people are going to break," Roy texted Meadows hours after the press conference, according to CNN.
Roy continued pressing Meadows in other messages.
"The president should call everyone off. It's the only path. If we substitute the will of states through electors with a vote by congress every 4 years... we have destroyed the electoral college... Respectfully," Roy wrote on December 31, according to CNN.
Lee, meanwhile, cautioned Meadows about an alleged plan from Trump's team to send alternate state electors to Congress on January 6 to challenge Joe Biden's victory.
"I only know that this will end badly for the President unless we have the Constitution on our side," Lee texted Meadows on January 3, according to CNN. "And unless these states submit new slates of Trump electors pursuant to state law, we do not."
On January 6, 2021, Roy and Lee did not object to the presidential election results, as other GOP leaders did. In remarks to Congress when the electoral vote count was reconvened following the Capitol attack by a violent mob of Trump supporters, Roy brought up Trump's claims of voter fraud as a factor in the riot.
"The president should never have spun up certain Americans to believe something that simply cannot be," Roy said.
He also texted Meadows after the attack on the Capitol, according to CNN.
"This is a sh*tshow," he allegedly wrote. "Fix this now."