Griffin 'Confident' Meadows Destroyed Papers After 2020 Election Meeting
A former aide for one-time Trump White House chief of staff Mark Meadows said Sunday that they are "confident" he destroyed documents after a meeting about the 2020 presidential election.
The aide, Alyssa Farah Griffin, appeared on CNN's State of the Union and discussed the ongoing revelations about January 6 and former President Donald Trump's attempts to overturn the results of the 2020 presidential election. When host Dana Bash asked her about rumors her former boss destroyed papers following a meeting with Representative Scott Perry, a Pennsylvania Republican, about election challenges, she said she had heard of such actions "firsthand."
"I heard it directly from someone with firsthand knowledge so I believe the testimony the [House Select] committee has," Griffin replied, later agreeing with another question from Bash asking if she was "confident" about what Meadows potentially did. "...I expect to see that come out in testimony from the committee."
The House select committee first received the allegations against Meadows in testimony from another former staffer, Cassidy Hutchinson, according to Politico, who said she witnessed him burning papers in his office. The meeting, she said, happened an unspecified number of weeks after the election, while the Trump administration was still searching for methods to overturn the results. It is unclear at this time if Hutchinson's or anyone else's testimonies have revealed the nature of the documents allegedly destroyed.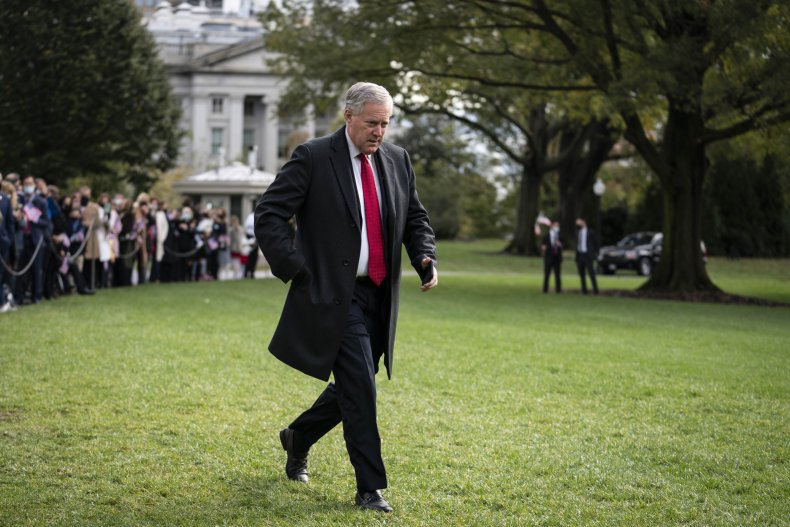 Griffin also made a point during her CNN appearance to argue that the Capitol riot should still be investigated fully, even as economic factors seem like primary issues heading into the midterm elections.
"American voters, we know the midterms are going to be about gas prices, they're going to be about bringing down inflation, consumer costs, but we also need to get to the bottom of what happened on January 6th," she added. "We cannot have a corrupt former president who...I think is going to announce in the coming months that he's...running again, get away with what was more or less a coup attempt against the United States. We need to be able to walk and chew gum because this is a moment we need bipartisanship. Hopefully, we'll see that as a result of these hearings."
During the opening statements of the first House select committee hearing about January 6, committee member Representative Liz Cheney revealed allegations that Perry had sought a presidential pardon for his part in attempting to overturn the election, alongside numerous other congressional Republicans who have yet to be named. The committee has since pledged to share further evidence of this in future hearings.
In response to Cheney's claim, a spokesperson for Perry told Newsweek on Friday that the allegation is "a ludicrous and soulless lie." The congressman later reiterated that claim with his own statement on Twitter.
"The notion that I ever sought a Presidential pardon for myself or other Members of Congress is an absolute, shameless, and soulless lie," he tweeted Friday.
Newsweek reached out to Meadows for comment.