A prominent Pennsylvania newspaper's editorial board published an article against state Republican Representative Scott Perry on Friday, after he was accused of asking former President Donald Trump for a preemptive pardon following the January 6, 2021, Capitol riot.
On Thursday, the House select committee investigating last year's riot said in its first public hearing that Perry, along with "multiple other Republican congressmen," sought presidential pardons for their roles in attempting to overturn the 2020 presidential election.
The allegations were made by Representative Liz Cheney, a Wyoming Republican and the vice chairwoman of the committee, who said that Perry played a key role in attempting to undermine the election. However, she has not yet provided specific details of the allegations, and Perry's office has vehemently denied the claims.
Nonetheless, the allegation prompted the Pittsburgh Post-Gazette, one of the state's largest newspapers, to question Perry's moral and ethical behavior.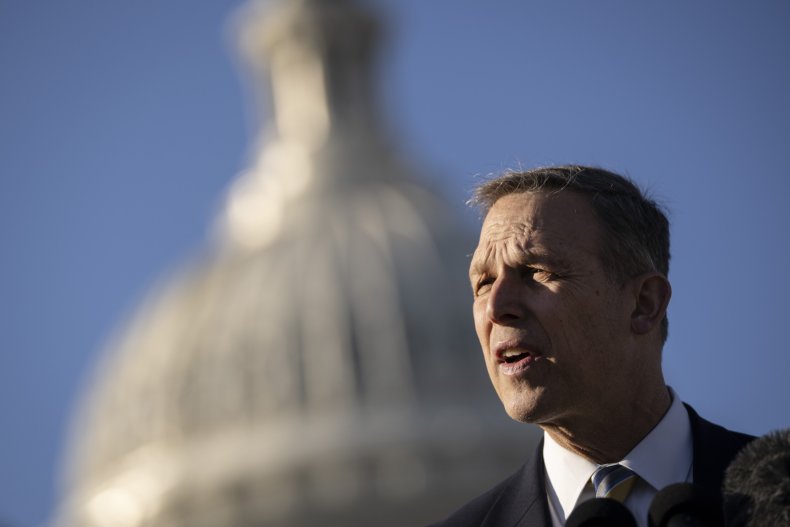 "Legal experts agree that presidential pardons are intended for persons accused of or convicted of federal crimes. It is extremely rare for anyone to receive a preemptive pardon for an offense already committed but not charged. Rep. Perry had led an effort to turn back the results of the presidential election, but he had not been charged with a crime," the newspaper's editorial board wrote. "Was he, by the very act of asking, admitting to criminal or unethical behavior? Why else would he ask? It certainly raises suspicions."
The paper also pointed out that Perry is one of the few lawmakers that have refused to cooperate with a subpoena from the House select committee, which suggests that he's likely "trying to hide" information, according to the Post-Gazette.
"Is he implicitly admitting that he could not tell the committee the truth, the whole truth and nothing but the truth?" the editorial board asked. "The House Freedom Caucus, which he chairs, declares that it supports the Constitution and the rule of law. His request for a preemptive pardon and his refusal to honor a legitimate demand for his testimony suggest other priorities."
In response to Cheney's claim, a spokesperson for Perry told Newsweek on Friday that the allegation is "a ludicrous and soulless lie." The congressman later reiterated that claim with his own statement on Twitter.
"The notion that I ever sought a Presidential pardon for myself or other Members of Congress is an absolute, shameless, and soulless lie," he tweeted Friday.
The allegation appeared to be the first time the House select committee publicly confirmed Perry's efforts to seek a pardon. The committee has previously accused him of being directly involved in efforts to install a pro-Trump Justice Department attorney, Jeffrey Clark, as well as having talks with the White House about unsubstantiated claims that voting machines were rigged against Trump.