Which GOP Lawmakers Allegedly Asked Trump for a Pardon?
Questions have been raised about which GOP members of Congress allegedly asked Donald Trump for presidential pardons over their role in the January 6 attack, following Rep. Liz Cheney's remarks about Scott Perry during the House committee's first hearing.
On Thursday, Cheney, vice-chair of the panel, said that Perry and "multiple other Republican congressmen" sought presidential pardons for their roles in attempting to overturn the 2020 election.
Perry was subpoenaed by the panel, along with four other sitting Republican lawmakers, for evidence, all of whom have refused to cooperate.
The panel sought to speak with the Pennsylvania congressman over his role in attempting to install a pro-Donald Trump Department of Justice official, Jeffrey Clark, as an attorney general who would be willing to back the former president's false claims the last election was rigged.
In a statement to Newsweek, Perry's spokesperson Jay Ostrich described the allegations from Cheney as "a ludicrous and soulless lie."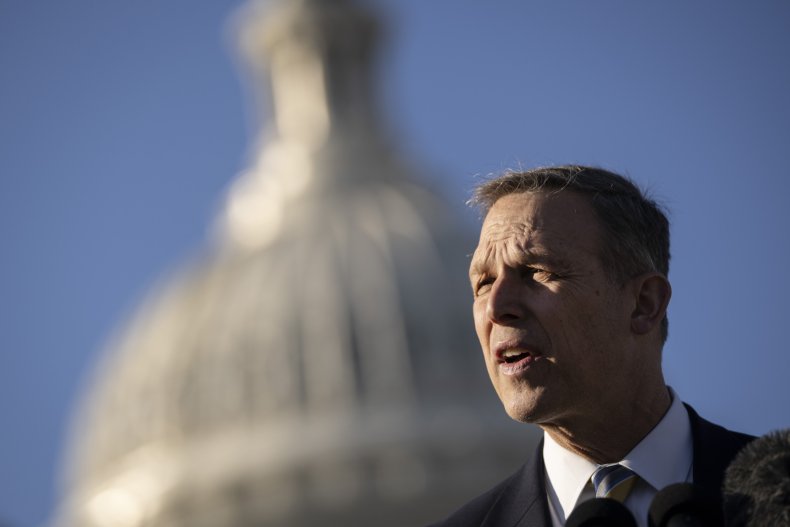 While Cheney did not name the other Republican lawmakers who are alleged to have sought presidential pardons, there have been previous reports detailing who they could be.
In January 2021, CNN reported that Reps. Andy Biggs and Mo Brooks—who were both subpoenaed by the committee with Perry—and Paul Gosar sought clemency from Trump in the wake of January 6, which the former president ultimately refused.
In their May letter to Biggs requesting information, the House Committee said that the Arizona congressman's name was mentioned by a former White House personnel as being part of efforts by some Republicans to seek a presidential pardon for "activities taken in connection with President Trump's efforts to overturn the results of the 2020 presidential election" in the wake of January 6.
In October 2021, Rolling Stone reported that Gosar had promised "blanket pardons" for those who organized the election protests on January 6, which preceded the attack on the Capitol.
During Thursday's hearing, the Twitter account for the House Judiciary GOP downplayed the proceedings detailing how Trump incited the insurrection as "All. Old. News."
In response, New York Congresswoman Alexandria Ocasio-Cortez tweeted: "Oh, so if it's old news surely you wouldn't mind reminding us which of your members sought pardons after the attack."
Ocasio-Cortez then tweeted her own suggestions on who it could be, including some of the most prominent pushers of the so-called "big lie" that the last election was rigged against Trump.
"Was it [Andrew] Clyde? Gosar? [Matt] Gaetz? [Jim] Jordan? [Lauren] Boebert? [Marjorie Taylor] Greene? Others? Please remind us House GOP—which of your current sitting members sought pardons after the attack? In addition to Rep. Scott Perry of course."
Responding to the tweet, Greene's spokesman Nick Dyer told Newsweek: "AOC is spreading Blue Anon conspiracy theories manufactured by Liz Cheney and the rest of the fake J6 carnival sideshow."
Jon Cooper, a prominent Barack Obama fundraiser and former National Finance Chair of Draft Biden 2016, tweeted: "Any guesses as to who the others are?" in response to the Perry pardon claims.
MSNBC host Mehdi Hasan also suggested: "Going forward, every Republican member of Congress walking down every Capitol hallway should be asked by every congressional reporter: 'Did you ask for a pardon from the Trump White House?'"
Speaking to MSNBC's Rachel Maddow, rep. Adam Schiff, who is part of the January 6 panel, suggested that GOP lawmakers seeking a pre-emptive pardon from Trump before he left office showed a "consciousness of guilt."
Schiff added: "If they thought that what they were doing was above board, then of course, there would be no need for a pardon. This is part of the reason we wanted these members to testify, it's probably part of the reason why they refuse to testify."
During Thursday's hearing, Cheney said as part of the plan Perry was alleged to have been a key part of, Trump wanted Clark to send a letter to Georgia and five other states claiming the Department of Justice had "identified significant concerns" that may have impacted the outcome of the election.
"This letter is a lie," Cheney said. "The Department of Justice had, in fact, repeatedly told President Trump exactly the opposite—that they had investigated his stolen election allegations and found no credible fraud that could impact the outcome of the election."
Several GOP lawmakers named in this report have been contacted for comment.
Update 06/10/22, 9:27 a.m. ET: This article was updated with comment from Marjorie Taylor Greene's spokesman.
Update 06/10/22 7:47 a.m. EDT: This article was updated with comment from Scott Perry's spokesman.