Ex-Trump Aide Slams Former Boss for Endorsements 'Based on Grievance'
Alyssa Farah Griffin, who served as an aide in the Trump administration, slammed the former president for making endorsements based on "personal grievance" on Sunday.
Former President Donald Trump's endorsements, sought after by Republican candidates across the country, who hope to capitalize on his popularity among GOP voters, have become a way for him to continue building influence within the party while also rewarding candidates who have been loyal to him.
Most of his endorsed candidates have embraced his unfounded claims of widespread voter fraud in the 2020 presidential election. He has also targeted people who have challenged those claims, prompting criticism from some within the GOP.
The saliency of his endorsement and his voter fraud claims will be tested during Tuesday's primary elections in Georgia, which became one of the states Trump loyalists claimed saw widespread voter fraud after it narrowly flipped to President Joe Biden.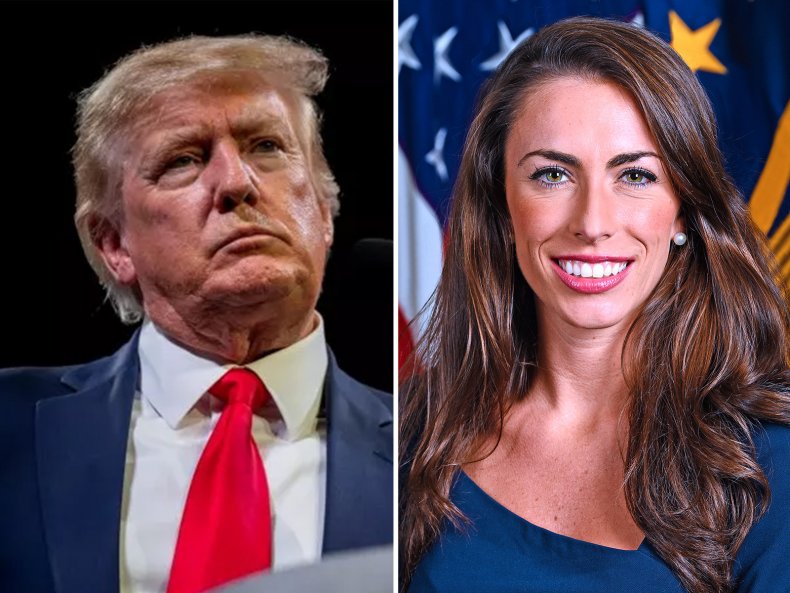 As top Republicans including the state's Governor Brian Kemp and Secretary of State Brad Raffensperger rejected those claims, Trump backed their primary challengers, former Senator David Perdue and GOP Representative Jody Hice.
Griffin, who served as the White House director of strategic communications and former Vice President Mike Pence's press secretary, has become more critical of the former president following last year's Capitol riot, and criticized the endorsements during an appearance on CNN.
She explained that Trump often makes endorsements based on a candidate's loyalty to him, rather than which candidate would be viable in a general election, which could be especially important in a swing state such as Georgia.
"Donald Trump's biggest issue that he's facing is that he's making endorsements based on grievance and his own personal kind of vendettas rather than who is electable and who is going to be a good candidate and able to win in a general election," she said.
Griffin said Trump's election fraud claims are "not a winning message in Georgia," pointing to polls showing Perdue trailing Kemp as evidence.
Kemp, who Griffin described as a "popular incumbent," holds a double-digit lead over Perdue—despite Perdue receiving Trump's endorsement. A Fox News poll released Wednesday found Kemp winning 60 percent of the vote, compared to Perdue's 28 percent—a margin that has grown since March. Other polls have found the governor with a similar lead.
Should Kemp win the nomination on Tuesday, it would be another sign that Trump's endorsement will not necessarily carry candidates to victory within Republican primaries, as he has been dealt a series of defeats in recent weeks.
Trump-endorsed candidates in Idaho and Nebraska recently failed to win their primaries, and his pick in the Pennsylvania Senate primary, Dr. Mehmet Oz, is only leading by about 1,000 votes as the possibility of a recount looms.
Newsweek reached out to Trump's office for comment.