Trump Fumes as Mail Ballots Favor Oz Rival McCormick in Tight Primary
Donald Trump continues to lash out over the GOP Senate primary in Pennsylvania as mail-in ballots favor David McCormick, who is the rival of the former president's endorsed candidate, Dr. Mehmet Oz.
The high-profile primary has tested Trump's influence within the Republican Party, with his endorsement of Oz, who is known for his self-titled television show, raising the ire of many conservatives. The results remain close, and the race will likely head to a recount.
Oz still appeared to hold a narrow lead, leading former hedge fund manager McCormick by just more than 1,000 votes Sunday morning. However, McCormick won more mail-in ballots, leaving the results of the swing state's primary unknown nearly one week after counting began.
In total, McCormick won 45,388 mail-in ballots, compared to Oz's 32,680, according to the latest data released by the Pennsylvania Department of State. The state does not count these ballots until Election Day, so a delay in reporting final results is expected.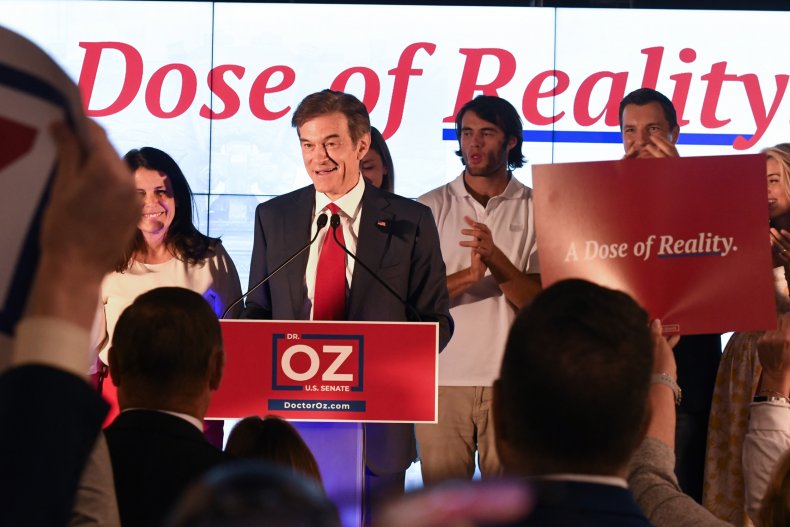 Oz has built up a lead with those voters, who cast their votes on Election Day, winning 418,508 votes in total, while McCormick won 417,430.
A federal appeals court on Friday added more complexity to the ballot-counting process, however, ruling hundreds of ballots from last November's election that were returned without dates on their envelopes needed to be counted.
The decision prompted McCormick's campaign to request state lawyers to also count undated ballots that were "timely received" by Tuesday's election, according to The Philadelphia Inquirer. If those votes are counted, they could potentially benefit McCormick since he has won more mail-in ballots thus far.
Meanwhile, Trump fumed at the ballot-counting process, questioning why it was taking so long while comparing it to a "third world nation" in a post on his social media platform Truth Social on Saturday evening.
"So, what's going on with Pennsylvania?" he wrote. "Five days now, and watched over by incompetent Democrat Gubernatorial Candidate Josh Shapiro. The entire Nation of France was done during the evening of the ONE DAY Presidential Election. USED PAPER BALLOTS, no discrepancies. ARE WE A THIRD WORLD NATION??? Are we becoming Venezuela (YES!)."
On Sunday, he attacked The Wall Street Journal's editorial board, which criticized him for encouraging Oz to declare victory earlier in the week. The former president accused the newspaper of believing that "what is going on in Pennsylvania with voting is a wonderful and transparent event."
"We are laughed at and taken advantage of all over the World, and now, especially after 2020, that includes our Elections! Still waiting Pennsylvania??? Keep protecting China WSJ!!!" Trump wrote.
Some local Republican officials have expressed frustration with his remarks.
"I'm flabbergasted. When somebody who advocates that everybody needs to get their votes out and their opponents are cheating, and now he is talking about his own party?" Dave Ball, chairman of the Washington County Republicans, told The Washington Post earlier this week. "When the president says let's cut it off here because I like the number here, so let's stop, I don't understand the point of making statements like that."
Whoever becomes victorious will face Democratic Lieutenant Governor John Fetterman in what will likely be one of the most closely watched elections of the midterms.