Primary Race Between Oz, McCormick Looks Headed for Recount as Trump Fumes
With Pennsylvania's primary race between Republican Senate hopefuls Dr. Mehmet Oz and David McCormick headed for a probable automatic recount, former President Donald Trump is ranting against election fraud on Truth Social, calling the voting system "a complete disaster."
Oz, the Trump-endorsed celebrity surgeon, leads former hedge fund manager McCormick by around 1,100 votes as of Saturday, with nearly 99 percent of votes counted, according to CBS Philly. Oz was leading with 418,535 as of late afternoon, compared to 417,465 votes for McCormick.
In Pennsylvania, an automatic recount is required "when the margin for a statewide office or ballot measure is less than or equal to 0.5% of the total vote," according to Ballotpedia.
The former president took to his social media platform Saturday, as he has for days, to air his grievances on the election process and seek the termination of mail-in ballots.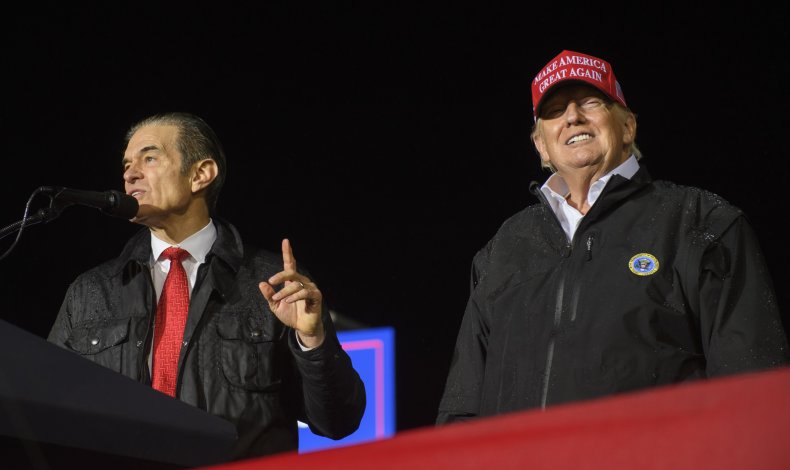 "Why does it take sooo long, like in Pennsylvania, to conclude - 5 days now. Must END Mail-In Ballots and go to SAME DAY VOTING," Trump posted. "Also, PAPER BALLOTS and our problems are solved. We are laughed at all over the World (actually, for many reasons!)."
Since Wednesday, when he urged Oz to prematurely declare victory, Trump has been fostering allegations of election fraud.
"Dr. Oz should declare victory," Trump wrote on Wednesday. "It makes it much harder for them to cheat with the ballots that they 'just happened to find.'"
In a related post on Friday, Trump compared the U.S. to Venezuela.
"Can you imagine? The Pennsylvania Primaries ended almost 5 days ago, with early voting of possible Fake and other Mail-In Ballots going on for weeks, and we still have no idea of what is happening, or when it will all end," he said in the post. "France counted millions of PAPER BALLOTS on their Election Day, no problem! It is all strictly 3rd World, which is what our Country is becoming with Open Borders, Rigged Elections, Rampant Inflation and Energy Inferiority. We are becoming a large scale version of Venezuela!!!"
Trump's posts also show his displeasure at the amount of time it's taken to count votes in Pennsylvania, where ballots are not legally allowed to be processed prior to election day, slowing the count.
"The Pennsylvania Oz race is ridiculous. How long does it take to count votes. France, same day all paper, had VERIFIED numbers in evening," Trump posted on Thursday. "U.S. is a laughing stock on Elections. Stop FINDING VOTES in PENNSYLVANIA! RIGGED?"
Trump's post on Saturday included a jab at the Wall Street Journal Editorial Board, which published an editorial Friday titled "Welcome to Stop the Steal, Pennsylvania Primary Edition," criticizing his efforts to disparage the process.
"Why can't The Wall Street Journal Editorial Board recognize what a complete disaster our voting system is," Trump wrote. "Come on WSJ, put your RINO hatred of me away and get something right (for once!). Our Country is going to HELL!!!
Newsweek reached out to Trump for additional comment.