Trump Refuses to Accept Dr. Oz Could Have Lost Pennsylvania Election
Former President Donald Trump is claiming without evidence that electoral fraud is afoot in Pennsylvania's Senate primary, and that his endorsed candidate should stave it off by declaring victory in the still unsettled race.
Trump on Wednesday offered the advice to Republican Senate candidate Dr. Mehmet Oz in a post to Truth Social, the former president's new social media platform. No clear winner has emerged in the state's Republican Senate primary as election workers continue counting ballots cast Tuesday. Trump's post renews his debunked claims of widespread voter fraud he has insisted robbed him of a second term in 2020.
"Dr. Oz should declare victory," Trump wrote in the post. "It makes it much harder for them to cheat with the ballots that they 'just happened to find.'"
The surgeon and television personality in April received Trump's coveted endorsement in the key Senate race. However, even with Trump's blessing, Oz wasn't able to pull ahead of his rivals in Tuesday's election.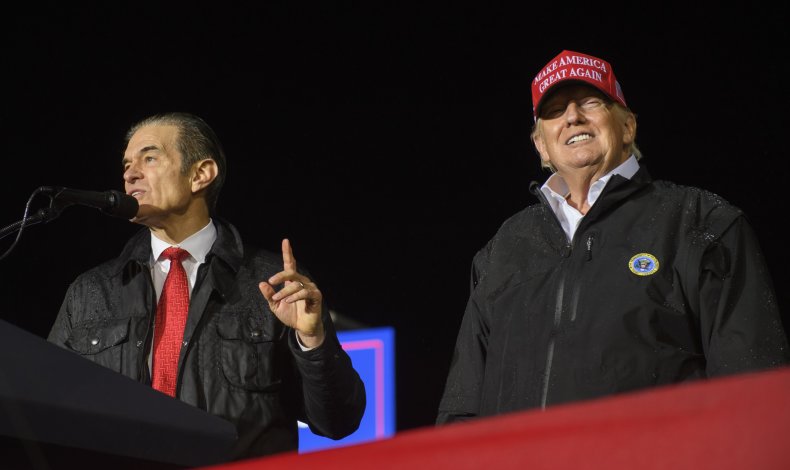 As of Wednesday evening, Oz was slightly ahead with 31.28 percent or 411,447 votes. Former hedge fund executive David McCormick was behind Oz by about 1,400 votes. Conservative political pundit Kathy Barnette remained in third with nearly a quarter of the vote.
Pennsylvania Acting Secretary of State Leigh Chapman said in a statement Tuesday evening that two counties experienced local issues with elections.
A court extended voting in Berks County after at least two dozen polling places were impacted by long lines due to issues with new electronic pollbooks. In Lancaster County, which twice voted for Trump, county election officials had to duplicate and scan 22,000 mail ballots because of a printing error.
Counties received about 900,000 mail ballot applications for the primary, with 646,000 mail-in ballots received on Tuesday, according to Chapman.
Trump has repeatedly claimed that voting by mail is susceptible to fraud despite having cast his ballot by mail in Florida.
"Here we go again!" wrote Trump in a separate post on Wednesday. "In Pennsylvania they are unable to count the Mail-In Ballots. It is a BIG MESS. Our Country should go to paper ballots, with same day voting."
Trump did not offer any specific evidence of voter fraud in Pennsylvania.
After losing the key state of Pennsylvania in 2020, Trump's campaign sought to challenge the results in court. But the state Supreme Court threw out the lawsuit, and the U.S. Supreme Court later rejected another petition from Trump's campaign challenging his loss in Wisconsin.
Newsweek reached out to Trump, Oz and the Pennsylvania Department of State for comment.