Did Dr. Oz or Dave McCormick Win Pennsylvania Senate Race? Latest
The Pennsylvania GOP Senate Primary is still too close to call after the polls opened Tuesday, with Dr. Mehmet Oz and Dave McCormick the front-runners battling for the candidacy.
With 95 percent of the votes counted, the Donald Trump-backed Oz currently holds a very narrow lead over McCormick, with the celebrity heart surgeon on 31.3 percent compared with the former hedge fund CEO's 31.1.
Kathy Barnette, the controversial candidate who saw a major surge in the polls in recent weeks, ultimately could not translate that momentum to enough votes and is in third place on 24.8 percent.
The tight race in Pennsylvania may be heading for a recount if the results remain as close as they are, with an automatic recount threshold of 0.5 percent.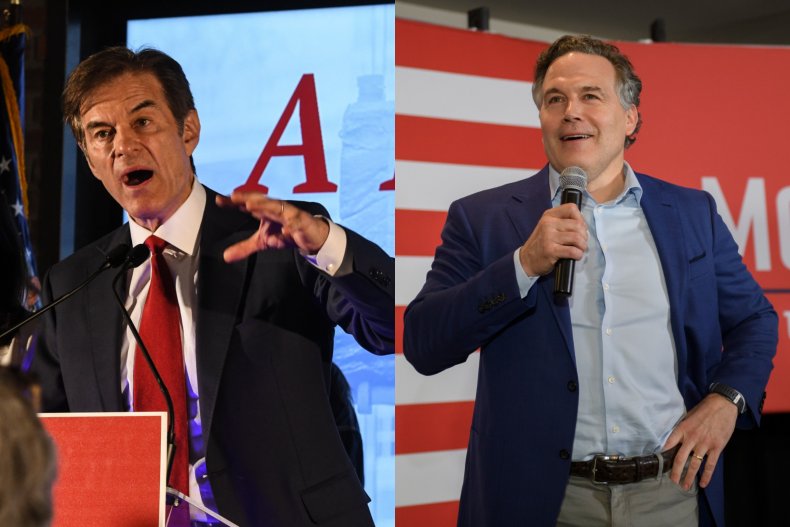 Speaking to a crowd of his supporters on Tuesday, McCormick—the candidate whose campaign appeared to be most affected by Barnette's 11th hour surge—admitted that "unfortunately we're not going to have a resolution tonight" as "tens of thousands" of mail-in ballots still needed to be counted.
"But we can see the path ahead. We can see victory ahead, and it's all because of you," McCormick said.
Oz also told his supporters there would not be a result on Tuesday, but "when all the votes are tallied, I am confident we will win."
Oz thanked Trump for his support, saying the former president "continued to lean into this race in Pennsylvania" even after giving his endorsement.
"We have the ability in Pennsylvania to fight for the soul of this county. We are such a critical part, a bellwether for the country," Oz said, via Penn Live. "If the soul of Pennsylvania is thriving and healthy, so will be the soul of the nation."
As of the early hours of Wednesday morning, Oz was leading McCormick by just 2,672 votes.
The Republican Pennsylvania Senate primary was seen as a two-horse race between Oz and McCormick for months, with each candidate spending millions on their individual campaigns.
The much sought-after endorsement from Trump failed to give Oz any significant boost in the polls, with large sections of the former president's base unhappy with the backing of the television personality, who has faced accusations he is not conservative enough.
For McCormick, the husband of former Trump administration official Dina Powell, the sudden rise of Barnette running a Trump-esque campaign, knocked him into third place in a number of polls.
On Tuesday, Betfair Exchange spokesperson Sam Rosbottom told Newsweek that McCormick had a "much lesser chance" of victory than the other two main candidates, giving the ex-Treasury Department official in former President George W. Bush's administration odds of 13/2.