Liz Cheney Fires Warning to Pro-Trump Republicans During Jan. 6 Hearing
Republican Representative Liz Cheney fired a warning to members of her own party who back former President Donald Trump during her opening remarks for the first hearings into the January 6, 2021 attack on the U.S. Capitol on Thursday.
"I say this to my Republican colleagues who are defending the indefensible. There will come a day when Donald Trump is gone, but your dishonor will remain," Cheney, the vice-chair of the House select committee investigating the Capitol riot, said.
The remarks by the Republican lawmaker bear similarity to comments she made in January when she suggested that members of her party must choose between being loyal to either the U.S. Constitution or to Trump.
Shortly after the riot at the U.S. Capitol, which occurred while Congress was in the middle of certifying the 2020 presidential election results, the Wyoming Republican quickly condemned Trump and her GOP colleagues for spreading the unfounded claim that the election was stolen.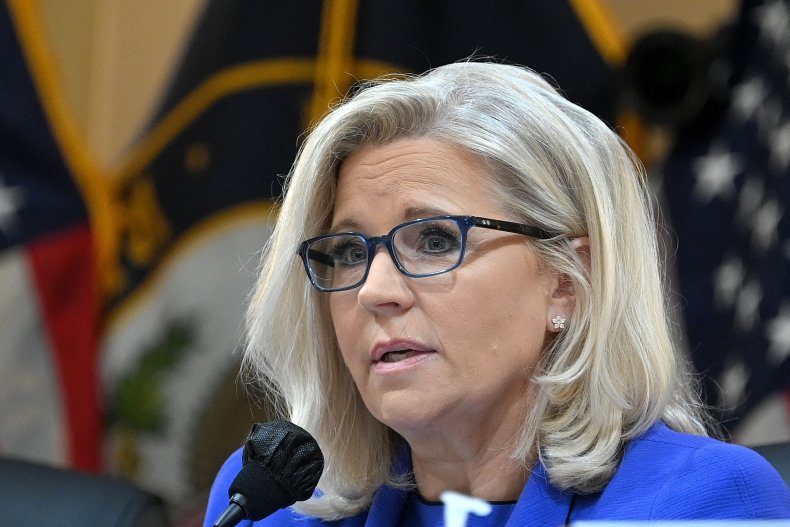 "I think the country needs a strong Republican Party going forward, but our party has to choose," Cheney said during an appearance on Face the Nation. "We can either be loyal to Donald Trump or we can be loyal to the Constitution, but we cannot be both.
She also urged her Republican colleagues in January to "be founded on fidelity to the Constitution."
Taking a similar stand on Thursday, Cheney said during her opening remarks: "In our country, we don't swear an oath to an individual, or a political party. We take our oath to defend the United States Constitution. And that oath must mean something."
"There is a reason why people serving in our Government take an oath to the Constitution," she continued. "As our founding fathers recognized, democracy is fragile. People in positions of public trust are duty-bound to defend it—to step forward when action is required."
In November, Cheney also called Republican leaders who continue to embrace Trump "willing hostages."
She is one of two Republicans who sit on the nine-member January 6 panel.
Cheney said the panel's hearings this month will hear testimony, live and on video, from more than a half dozen former White House staff in the Trump administration, all of whom were in the West Wing of the White House on January 6, 2021.
"All Americans should keep in mind this fact: On the morning of January 6, President Donald Trump's intention was to remain President of the United States despite the lawful outcome of the 2020 election and in violation of his Constitutional obligation to relinquish power," she said.
Trump "oversaw and coordinated a sophisticated seven-part plan to overturn the presidential election and prevent the transfer of presidential power. In our hearings, you will see evidence of each element of this plan," Cheney added.
"As Americans, we all have a duty to ensure what happened on January 6th never happens again, to set aside partisan battles to stand together to perpetuate and preserve our great Republic," the congresswoman said.
The investigation into the January 6 attack is still ongoing.