Jan. 6 Committee Names GOP Lawmakers Who Asked Donald Trump for Pardon
The House committee investigating the January 6 attack have released the names of several Republican members of Congress who allegedly asked former President Donald Trump for a pardon following the violent storming of the U.S. Capitol.
The House January 6 select committee hearing on Thursday revealed that Representatives Matt Gaetz of Florida, Mo Brooks of Alabama, Louie Gohmert of Texas, Andy Biggs of Arizona and Scott Perry of Pennsylvania were among the Republicans who sought the pardons.
Cassidy Hutchinson, a former aide to then-White House Chief of Staff Mark Meadows, also said that she had heard from a different person that GOP Representative Marjorie Taylor Greene of Georgia sought a pardon, according to Raw Story.
"The general tone was, 'We may get prosecuted because we were defensive of the president's positions on these things,'" former White House counsel Eric Herschmann said of the requests in testimony that played on Thursday.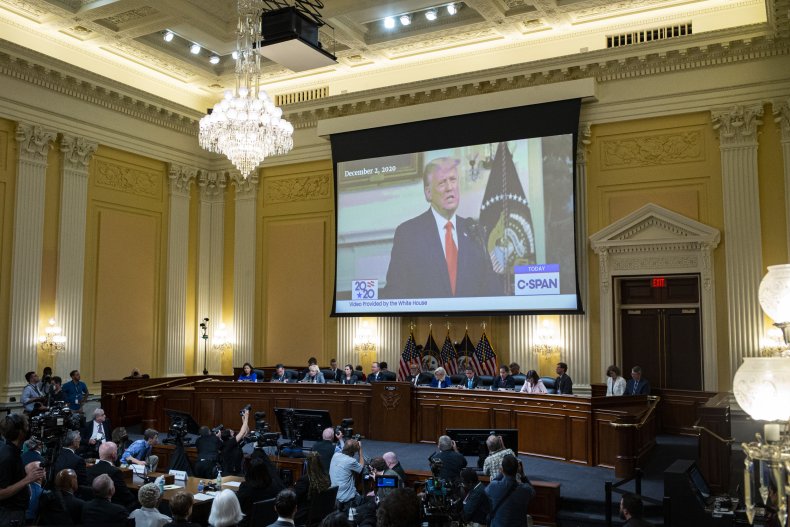 Herschmann said that the pardon sought by Gaetz, which he had initially asked for prior to January 6, was "for any and all things" that had happened "from the beginning of time up until today."
Representative Adam Kinzinger of Illinois, one of two Republicans to serve on the committee, shared a January 11, 2021, email from Brooks that confirmed several of the individual pardon requests.
Brooks' email also requested that Trump issue a blanket pardon for every Republican who backed the failed lawsuit attempting to overturn the election results in the Supreme Court, and for all members of Congress who objected the certification of President Joe Biden's Electoral College win on January 6.
"President Trump asked me to send you this letter," Brooks wrote in the email, which was addressed to Molly Michael, who was at the time Trump's executive assistant. "This letter is also pursuant to a request from Matt Gaetz."
"I recommend that President give general (all purpose) pardons to the following groups of people," he continued. "Every Republican who signed the Amicus brief in the Texas lawsuit... Every Congressman and Senator who voted to reject the electoral vote submission of Arizona and Pennsylvania."
When asked to comment on the pardon requests by Newsweek, Brooks said in a statement that his email "says it all."
"There was a concern Democrats would abuse the judicial system by prosecuting and jailing Republicans who acted pursuant to their Constitutional or statutory duties," said Brooks. "Fortunately, with time passage, more rational forces took over and no one was persecuted for performing their lawful duties, which means a pardon was unnecessary after all."
Perry said that he "never sought a Presidential pardon for myself or other Members of Congress" in a statement to Newsweek.
"At no time did I speak with Miss Hutchinson, a White House scheduler, nor any White House staff about a pardon for myself or any other Member of Congress — this never happened," he said.
Gaetz communications director Joel Valdez pointed Newsweek to a tweet from the congressman that did not directly address the issue but described the committee as "an unconstitutional political sideshow."
"The January 6 Committee is an unconstitutional political sideshow," Gaetz tweeted. "It is rapidly losing the interest of the American people and now resorts to siccing federal law enforcement on political opponents."
A spokesperson for Biggs pointed Newsweek to a statement the congressman posted to Twitter, where said that the "unAmerican Committee" had falsely accused him of pursuing a pardon.
"To the extent Cassidy Hutchinson, a former White House staffer, believes I requested a presidential pardon, she is mistaken," wrote Biggs.
"Today's video testimony from Ms. Hutchinson was deceptively edited to make it appear as if I personally asked her for a presidential pardon," he added.
In a statement obtained by Newsweek, Gohmert accused to committee of being "nothing more than a Soviet-style propaganda production," while maintaining that assertions that he wanted a personal pardon were "unequivocally and maliciously false."
"[The committee's] blatant and disgusting attempt to mislead the public by implying that my documented requests for pardons for other deserving individuals was a request for a pardon for myself is malicious, despicable and unfit for a U.S. Congressional hearing," Gohmert said.
"I requested pardons for brave U.S. service members and military contractors who were railroaded by the justice system due to superiors playing politics, as well as a civilian leader who was also wronged by a despicable injustice," he added. "These requests were all far prior to, and completely unrelated to January 6."
Nick Dyer, Greene's communications director, declined to comment on the congresswoman's purported pardon request.
Update 06/23/22, 11:38 p.m. ET: This article was updated with additional information and background.