Florida congressman Matt Gaetz had been "personally pushing" for a broad presidential pardon from Donald Trump before and after the January 6 attack, the House Committee investigating the riot revealed.
One of the biggest revelations from Thursday's hearing was testimony from White House officials naming six GOP lawmakers—Gaetz, Andy Biggs (Arizona) Louie Gohmert (Texas) and Scott Perry (Pennsylvania) and Marjorie Taylor Greene (Georgia)—who sought clemency from Trump before he left office.
Additionally, Alabama Representative Mo Brooks is alleged to have sent an email on January 11, 2021, seeking "all purpose" pardons for every lawmaker who objected to electoral votes from Arizona and Pennsylvania.
In a statement to AL.com, Brooks cited the email in saying that there was "concern Democrats would abuse the judicial system by prosecuting and jailing Republicans who acted pursuant to their Constitutional or statutory duties under (federal election law)."
Former Trump White House aide Cassidy Hutchinson testified that Ohio Congressman Jim Jordan asked for updates on whether the White House would be willing to pardon members of the House, but didn't seek one for himself.
Gaetz has been contacted for comment.
According to U.S. media sources, Perry's office has forcefully denied the allegation, while Gohmert said he requested pardons for U.S. service members and military contractors, not himself. Biggs has also denied asking for a pardon. Greene accused the committee of relying on hearsay, and spreading "gossip and lies."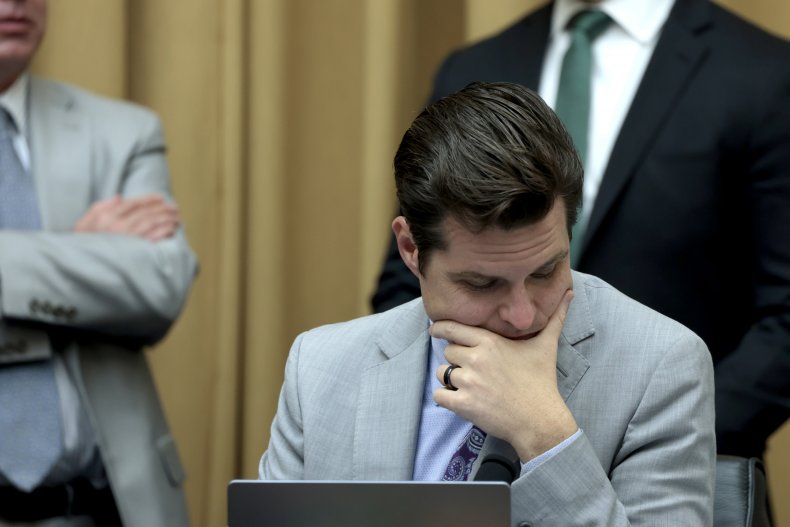 In her recorded testimony, which was played on Thursday, Hutchinson described how Gaetz had been asking for a presidential pardon before the other GOP lawmakers accused of being involved in attempts to overturn the 2020 Election.
"Gaetz was personally pushing for a pardon, and he was doing so since early December," said Hutchinson, who worked as an aide to former White House chief of staff Mark Meadows.
"I'm not sure why. He reached out to me to ask if he could have a meeting with Mr Meadows about receiving a presidential pardon."
Eric Herschmann, a Trump White House lawyer, also said in testimony played on Thursday that Gaetz had sought a wide reaching pardon from the president.
"The general tone was, 'We may get prosecuted because we were defensive of the president's positions on these things,'" Herschmann said.
"The pardon that he was discussing, requesting was as broad as you could describe, from the beginning of time up until today, for any and all things.
"He mentioned Nixon and I said Nixon's pardon was never nearly that broad."
Former president Richard Nixon resigned in disgrace over the Watergate scandal in 1974, but was later pardoned by his successor, Gerald Ford.
John McEntee, another former White House aide, said in his recorded testimony he was aware that Gaetz had asked for a pardon because "he told me he had asked Meadows" for one.
McEntee said he was also aware of conversations about offering blanket pardons to those who were involved in January 6.
It was previously reported that Gaetz is alleged to have asked Trump for a pardon in the former president's final few weeks in office.
In April 2021, The New York Times said Gaetz had sought blanket preemptive pardons for him and a number of his congressional allies for any unidentified crimes they may have committed.
The report arrived one month after the Justice Department confirmed they were investigating Gaetz over allegations of child trafficking.
Gaetz is alleged to have been in a sexual relationship with a 17-year-old, and paid for her to travel with him access state lines. The congressman denies the allegations, and says they are part of a wider plot to extort him and his family.
Trump issued a statement denying that Gaetz had asked him for a pardon.
"Congressman Matt Gaetz has never asked me for a pardon. It must also be remembered that he has totally denied the accusations against him," Trump said.