Donald Trump Defends Matt Gaetz, Denies Florida Congressman Asked for Pardon
Former President Donald Trump has released a brief statement denying that GOP Representative Matt Gaetz of Florida solicited a pardon from him, while also offering a defense of the embattled congressman.
"Congressman Matt Gaetz has never asked me for a pardon. It must also be remembered that he has totally denied the accusations against him," Trump said in the Wednesday statement.
The former president's statement came after The New York Times reported on Tuesday evening that Gaetz had floated the idea of "blanket pre-emptive pardons for himself and unidentified congressional allies for any crimes they may have committed," citing two unidentified people with knowledge of the discussions. Late last month, the Times reported that the Justice Department has opened a probe against Gaetz over allegations that he had a sexual relationship with a minor.
Gaetz has denied the allegations and claimed that his family is being extorted in relation to the investigation. The congressman, a staunchly pro-Trump Republican, retweeted the former president's statement after it was shared on social media Wednesday.
"No part of the allegations against me are true, and the people pushing these lies are targets of the ongoing extortion investigation," Gaetz said in a March 30 statement after the Times published its initial article about the allegations.
Gaetz defended himself again in an opinion article published by the Washington Examiner on Monday.
"Folks won't be surprised that bizarre claims are being made about me shortly after I decided to take on the most powerful institutions in the Beltway: the establishment; the FBI; the Biden Justice Department; the Cheney political dynasty; even the Justice Department under Trump," the GOP congressman wrote.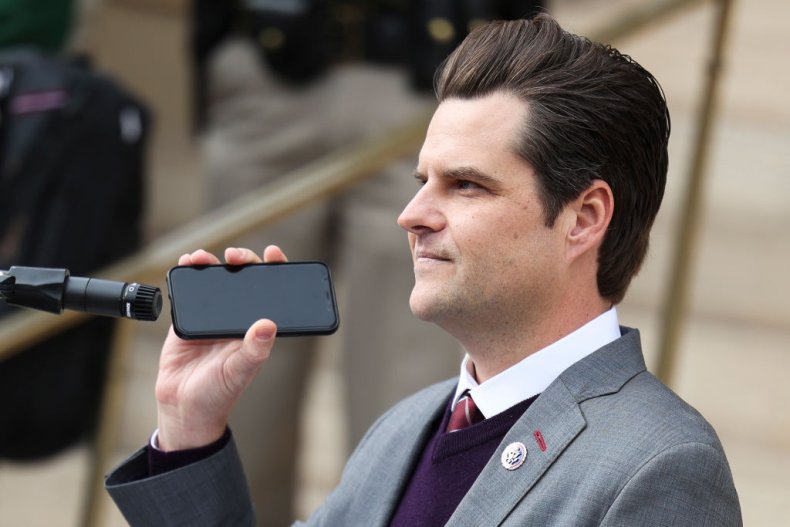 Gaetz is under investigation related to allegations that he had a sexual relationship with a 17-year-old girl and potentially paid her for the alleged sexual relationship. The investigation reportedly came out of a probe into Joel Greenberg, an associate of the congressman and a former tax collector in Seminole County, Florida. Last year, Greenberg was indicted on federal charges of sex trafficking as well as other crimes.
The investigation into Gaetz reportedly began in late 2020, when conservative former Attorney General William Barr was still leading the Justice Department under Trump. No criminal charges have been formally brought against Gaetz, and whether or not the allegations are accurate remains unclear. House Minority Leader Kevin McCarthy, a California Republican, warned last week that Gaetz could face repercussions if the allegations turn out to be accurate.
"Those are serious implications. If it comes out to be true, yes, we would remove him [from House committees] if that's the case," McCarthy told Fox News. "But right now Matt Gaetz says that it's not true, and we don't have any information. So let's get all the information."
This article has been updated with additional background information.