Representative Matt Gaetz, a Florida Republican and close ally of former President Donald Trump, argued in a Monday opinion article that political opponents were attempting to "criminalize" his prior sex life, claiming they were doing so because their "ideas suck."
The New York Times first reported last week that Gaetz is under investigation by the Justice Department related to allegations that he had a sexual relationship with a 17-year-old girl and potentially paid her for the alleged sexual relationship. The investigation stems from a probe into Joel Greenberg, a Gaetz associate and the former tax collector in Seminole County, Florida. Greenberg was indicted in 2020 on federal charges of sex trafficking in addition to other crimes. Gaetz has denied any wrongdoing.
"Folks won't be surprised that bizarre claims are being made about me shortly after I decided to take on the most powerful institutions in the Beltway: the establishment; the FBI; the Biden Justice Department; the Cheney political dynasty; even the Justice Department under Trump," Gaetz wrote in an opinion article published by the Washington Examiner, suggesting that he himself is a victim.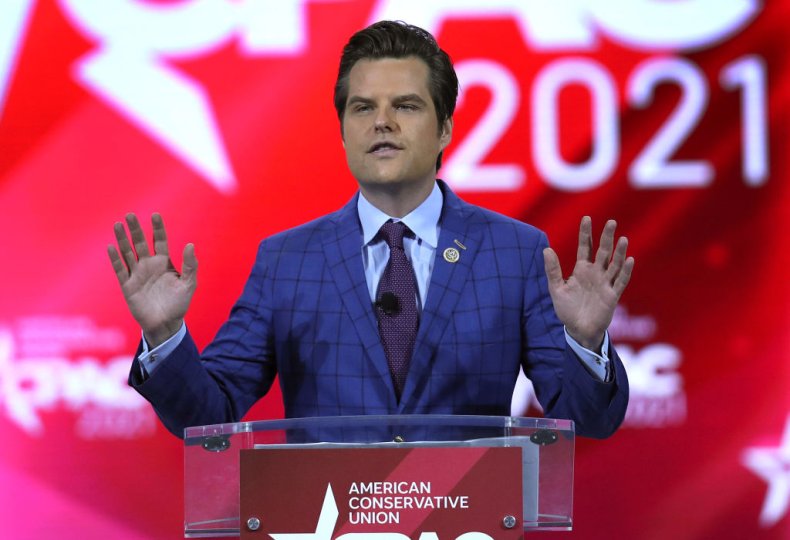 "Yes, just like the mafia, the D.C. swamp protects its 'made men.' Since I'm taking my turn under the gun, let me address the allegations against me directly. First, I have never, ever paid for sex. And second, I, as an adult man, have not slept with a 17-year-old," he added.
The GOP congressman went on to attack his critics, vowing that he will "absolutely not" resign.
"It comes as no surprise that my political opponents want to sensationalize and criminalize my prior sex life just as I am getting engaged to the best person I've ever known. It is regrettable that the battle of ideas should thus become so personal. But then again, when your ideas suck, you need to stoop this low," he wrote.
Gaetz, 38, recently got engaged to Ginger Lucky, a 26-year-old student at Harvard. The couple reportedly first met in March 2020.
The investigation into Gaetz actions was opened late last year under the Trump administration, when conservative Attorney General William Barr was still leading the Justice Department. No criminal charges have been brought against Gaetz and whether or not the allegations are accurate remains under investigation. Top Republican lawmakers have said that the Florida congressman would face repercussions if he is guilty.
"Those are serious implications. If it comes out to be true, yes, we would remove him [from committees] if that's the case," House Minority Leader Kevin McCarthy told Fox News last week. "But right now Matt Gaetz says that it's not true, and we don't have any information. So let's get all the information."
Gaetz' former communications director Luke Ball resigned on Friday. That decision reportedly was made "out of principle" amid the allegations of the sex scandal.
Newsweek reached out to Gaetz office for further comment.
Correction (9:43 p.m., 4/5/2021): This article has been updated to correct Gaetz's age.