Matt Gaetz Says Sexual Misconduct Allegations Are Part of Ex-DOJ Employee's 'Extortion Effort for $25 Million'
Republican Florida Representative Matt Gaetz has alleged that a former Department of Justice (DOJ) official is using sexual misconduct allegations to extort him and his family for $25 million.
The allegations against Gaetz involve a possible sexual relationship with a 17-year-old, The New York Times reported citing anonymous sources on Tuesday. The allegations further accused Gaetz of paying for the individual to travel with him. Transporting a minor over state lines for sexual activity would violate federal sex trafficking laws.
The publication stated that Gaetz was merely a subject of a broader investigation focused on Joel Greenberg. Greenberg is a former-tax collector in Florida and a supporter of Gaetz who was indicted last summer on charges involving child sex trafficking. The investigation into Greenberg was reportedly opened during the last months of Donald Trump's presidency under then-Attorney General William Barr.
Gaetz has no charges facing him. He has said that he suspects someone is trying to make his past generosity with girlfriends seem criminal.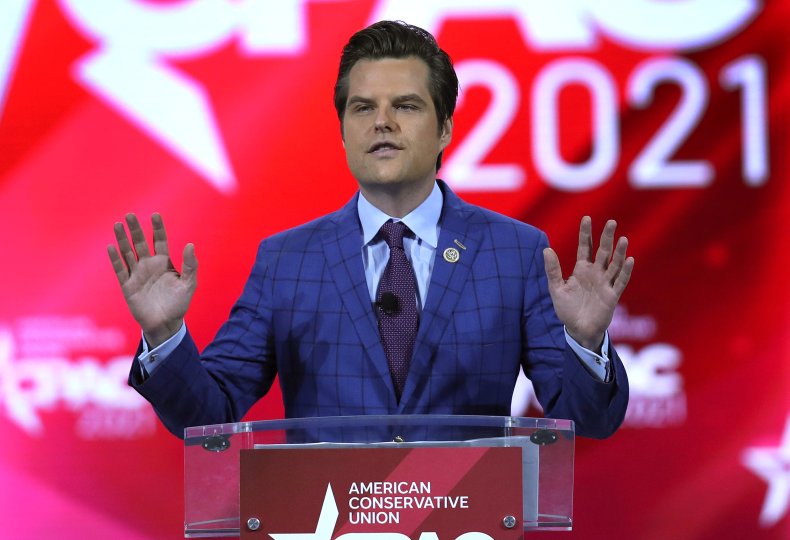 "Over the past several weeks my family and I have been victims of an organized criminal extortion involving a former DOJ official seeking $25 million while threatening to smear my name," Gaetz wrote in a statement obtained by Newsweek on Tuesday.
"No part of the allegations against me are true, and the people pushing these lies are targets of the ongoing extortion investigation," he wrote.
Gaetz said he and his family are cooperating with federal authorities in the investigation. He added that his father, Don Gaetz, has worn a wire at the FBI's direction to catch the alleged criminals.
"I demand the DOJ immediately release the tapes, made at their direction, which implicate their former colleague in crimes against me based on false allegations," his statement concluded.
In September 2020, Gaetz claimed that Russia wasn't a significant threat to the 2020 election, even though intelligence officials concluded otherwise. After Trump contracted COVID-19 in early October 2020, Gaetz said it proved that lockdowns don't prevent coronavirus infections. He has also suggested that Trump use his presidential pardon to excuse himself from any federal crimes he might've committed.
After Trump lost the 2020 presidential election, Gaetz repeated the debunked claim that Republicans had proven that widespread voter fraud cost Trump the election. Soon after, Gaetz promised to oppose the electoral votes certifying President Joe Biden's victory. Congressional Democrats filed a petition in December seeking to disbar Gaetz, a former lawyer, for supporting meritless election lawsuits seeking to overturn Biden's victory.
More recently, Gaetz has opposed both Republican Senate Minority Leader Mitch McConnell of Kentucky and Republican Wyoming Representative Liz Cheney for accusing Trump of inciting the January 6 insurrection at the Capitol. Gaetz has also claimed that Democrats nominated Biden because he's "too frail" to make decisions on his own.