Rep. Matt Gaetz to Join GOP Effort to Overturn Trump Loss: 'I'm Not Going Back to Losing Politely'
Representative Matt Gaetz, a Florida Republican and close friend to President Donald Trump, will join a Hail Mary endeavor next month that's growing in popularity among his colleagues in the House for Congress to overturn President-elect Joe Biden's win.
Speaking at the conservative Turning Point USA Student Action Summit on Saturday in West Palm Beach, Florida, the Sunshine State lawmaker enthusiastically declared his support for Congress to formally contest Trump's loss at the ballot box on Jan. 6, a longshot effort that will undoubtedly fail and act primarily as a symbolic loyalty test to the outgoing commander-in-chief.
"I'm joining with the fighters in the Congress, and we are going to object to electors from states that didn't run clean elections!" Gaetz said, as he was met with cheers and chants of "USA!"
"Our friends in the media will breathlessly exclaim that we are attacking democracy. That's nonsense," Gaetz continued. "Democracy is left undefended, if we accept the result of a stolen election without fighting with every bit of vigor we can muster."
To officially challenge the Electoral College results, Rep. Mo Brooks (R-Ala.), the man leading the endeavor, needs a senator to join him. And while some sitting GOP senators have told Newsweek they're leaving the door open on the possibility—despite an explicit warning from Senate Majority Leader Mitch McConnell (R-Ky.) and other top Republicans—none have yet committed.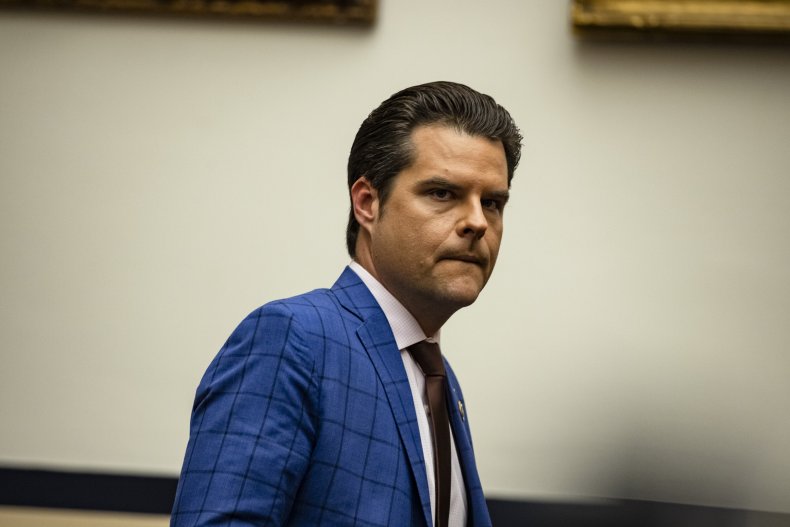 However, Sen.-elect Tommy Tuberville (R-Ala.) has leaned into the idea of being that one senator to force a vote, earning praise and attention from Trump.
"I had a chance to speak with Coach Tuberville just moments ago," Gaetz said of the former Auburn University football coach. "He says we are done running plays from the establishment's losing playbook. It is time to stand and fight!"
"The odds may be tough," Gaetz continued, "it may be fourth and long, but we're going for it on January 6!"
Gaetz, while parroting similar false election fraud claims that have come from his GOP colleagues and Trump, claimed without evidence that the election was "stolen" in part because the president's lead on election night disappeared as mail-in ballots were counted.
Gaetz did not respond to Newsweek's text and call seeking additional comment.
"With the people whose votes weren't validated, who came in by the mail, Joe Biden was getting vote totals that would have made Bashar al-Assad blush," the second-term congressman said. "In 2016, [Democrats] couldn't beat Trump with actual voters at the ballot box, so they tried with impeachment at the witness box. And when that failed, they ran to the mailbox."
Gaetz went on to suggest that many of his congressional colleagues were "weak husks of humans" not brave enough to depart from "our milquetoast, so-called leadership." Top Senate Republicans, including McConnell, have explicitly told their members not to engage in contesting the election results because it could draw unwanted scrutiny for incumbents and undermine the democratic process.
The movement has gained far more traction among rank-and-file Republicans in the lower chamber, with House Minority Leader Kevin McCarthy (R-Calif.) declining to say Friday whether he would partake in challenging states' already-certified Electoral College results.
"Meanwhile, the media in their woke-topia and allies in Silicon Valley only grow stronger in their ability to super spread lies and bulls**t," Gaetz continued. "I'm not going back to yesterday's Republican Party. I'm not going back to losing politely, with Mitt Romney. I'm not going back to the Bushes or the Cheneys."
"This is Donald Trump's party, and I am a Donald Trump Republican," Gaetz said.
Correction 7:45 p.m.: An earlier version of this story incorrectly identified Tuberville as a former University of Alabama football coach rather than Auburn University. We regret the error.