Senate Republicans Consider Challenging Joe Biden's Win Despite Mitch McConnell's Warning
Several GOP senators are still mulling over potentially joining a last-ditch endeavor to overturn the election by challenging Congress' certification of President-elect Joe Biden's Electoral College win next month.
This despite a warning from Senate Majority Leader Mitch McConnell and other top Senate Republicans not to indulge in a frivolous effort that could hurt the party down the road.
Sens. Josh Hawley (R-Mo.) and Ted Cruz (R-Texas) told Newsweek they remain undecided, while several of their GOP colleagues declined to shut the door on the notion of joining a House-led movement to contest Biden's Electoral College victory that was made official on Monday.
"This is the opportunity that House and Senate members have—the only real opportunity they have—formally in the process to raise any concerns," Hawley said. "I do have significant concerns. Having said that, I'm still getting up to speed. I haven't made a decision."
Cruz indicated he's waiting for lingering legal action to be completed.
"They're still multiple lawsuits underway, and legal proceedings need to conclude," Cruz said. "The legal process needs to play out."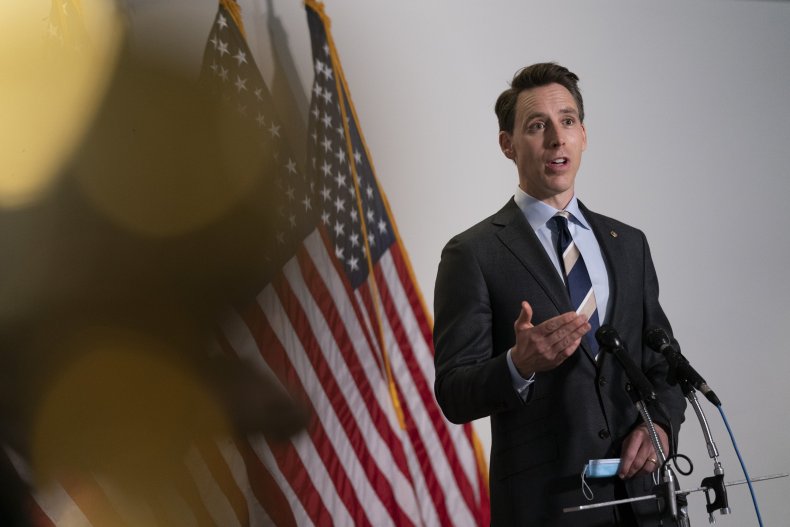 The willingness to consider such a Hail Mary play being led by Rep. Mo Brooks (R-Ala.) represents the real possibility that lawmakers may be forced on January 6 to vote down Republicans' attempts to award the election to the losing candidate, a move that would undermine the democratic process.
Brooks needs just one Republican from the Senate to force a vote, something he's so far been unable to accomplish as GOP Senate leaders—publicly and privately—try to quash the idea and urge the party to move on. Putting Republicans on the record could force them to cast an anti-Trump vote, a potentially harmful position for the GOP in the next election and draw further anger from the president.
McConnell issued a direct warning during a call with Republican senators on Tuesday not to join Brooks' effort that has gained steam among House Republicans.
"There was encouragement on the phone for us to accept the result, as much as it's not what we would have envisioned for the next four years, and to try to do what's best for American people, which is to look forward," Sen. Shelley Capito (R-W.V.) said. "There wasn't any pushback to it. There wasn't anybody saying, 'oh, wait a minute.'"
Still, McConnell's message failed to sway Hawley.
"I think that every senator and every congressperson has got to make their own decision on that," Hawley said. "Ultimately, I'm accountable to the people of my state. I've got to make a decision based on their concerns and what's good for them."
Senate Majority Whip John Thune offered a pointed and public message for those considering such action, warning that it would not be "good for the country."
"It's time, like I said before, to move on," the South Dakota Republican told reporters Thursday. "I know there are probably members who still have concerns about the integrity of the election. But the fact of the matter is, that's been litigated over and over. It's time to be done with this."
In addition to Hawley and Cruz being undecided, several GOP senators declined to rule out the possibility to Newsweek that they themselves might contest the outcome.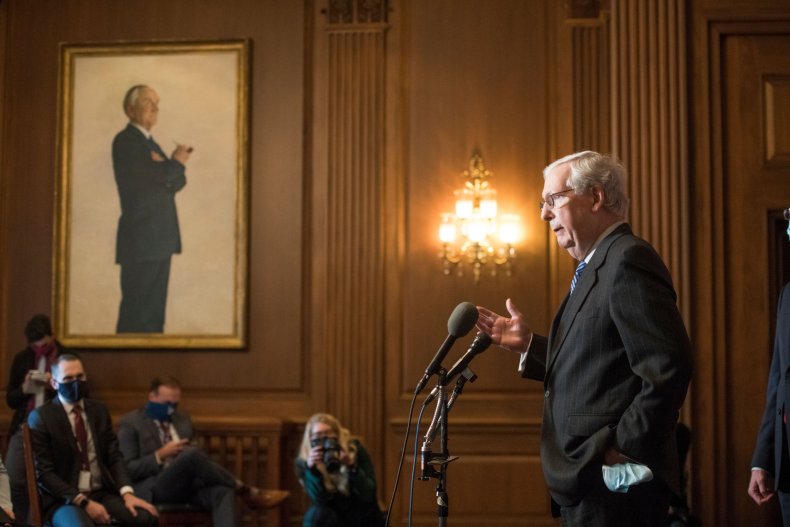 Sens. Mike Lee (R-Utah) and Rand Paul (R-Ky.) declined to comment while Sen. John Kennedy (R-La.) said: "I don't have anything for you on that."
Lee heads a conservative group of senators that quietly invited Brooks last week to hear his pitch.
Sens. Ron Johnson (R-Wis.) and Lindsey Graham (R-S.C.) have said they will not contest certifying Biden's win, despite both men pushing baseless claims that the 2020 election was rampant with illegal votes.
There has been no evidence of widespread fraud, despite claims from President Donald Trump and his allies. Trump's campaign and Republicans have had dozens of lawsuits shot down—including one by the Supreme Court—that sought to toss out millions of legally cast ballots.
Johnson held a controversial hearing—that at times became contentious—on Wednesday about "irregularities in the 2020 election," during which Paul said, "the election, in many ways, was stolen."
In the weeks after the election, Graham pressured officials in several battleground states to invalidate millions of ballots that led to Biden's victory. But despite being one of Trump's closest allies on Capitol Hill, he told Newsweek he would not contest on January 6.
"I just don't believe that's something I feel would be good for the country," Graham said.
Contesting Biden's win would not be the first time lawmakers have taken such a drastic step. In fact, it has been primarily congressional Democrats in recent elections who have raised objections to certifying Republican presidents.
Democrats have tried, and failed, three times since the 2000 election to overturn the results, including twice with President George W. Bush and once with Trump. The efforts were all started in the House and only succeeded one time in getting a senator to join them. Former Sen. Barbara Boxer (D-Calif.) aligned with Democrats when they challenged Bush's second win.
Hawley said he hasn't spoken with Brooks, but he noted the recent history of contested Electoral College certifications in Congress.
"What's interesting is they use this process to raise concerns, because it's really the only opportunity that either a House or Senate member has," he said.
12/17, 11:00 a.m.: This story was updated to include a quote from Senate Majority Whip John Thune.