Adorable footage of a kitten snuggling up to her owner's 3-month-old calf has been shared to social media, with fans dubbing it the "cutest" thing they have ever seen.
The video was posted to TikTok by Pebble Creek Homestead, an account linked to a small family farm in Arcanum, Ohio owned by Alexis Denlinger.
Denlinger often shares videos from her everyday farming life on social media, but this might be the best one yet.
In the video, her pet kitten Ivy can be seen snuggled close to Poppy, a small but perfectly formed calf, who is lying on the hay. The video can be watched here.
According to Denlinger's caption, this is "not the first time" Poppy and Ivy have been caught enjoying the warmth and companionship of a cuddle.
"Good morning," Denlinger says on the clip. "Ivy, are you cuddling with Poppy? Hmm? Are you guys best buddies now?"
Evidently coming at the end of an extended snooze together, the video sees Ivy rise up before enjoying a good cat-stretch.
As sweet a video as you are ever likely to see, the video has amassed over 310,000 views on TikTok, with animal lovers captivated at the sight of the unusual but seemingly natural bond between the two species.
"I love unlikely animal friends," ntorrillo0213 wrote. "First there was 'Fox And The Hound'. Now it'll be 'Cat And A Cow' lol," jbow1980 added with lyssalouy commenting: "This would make such a cute Childrens book."
Ray_ray0113 dubbed it the "cutest thing I've ever seen" with leelee5117 sounding especially jealous of the setup, writing: "It's probably so warm and they keep each other company."
Thasooz said the video was a reminder that "cats really do love to snuggle" while Mimasladek concluded that "snuggles are the best...especially with a buddy."
Denlinger told Newsweek: "Poppy is a 3-month-old calf that we have bottle raised since she was 2 days old. She was born extremely small and wasn't expected to live but we knew we had to try. She is very healthy now—still small—but sweet and loves a lot of attention.
"Ivy is a 5-month-old kitten who was born on our farm. She is an excellent mouser and quite the cuddler. She is very fluffy and likes to be held."
"My son first noticed them snuggled together in the barn, with Poppy licking Ivy's head, a few weeks before I caught this clip on camera," she said. "It's cold here this time of year and they keep each other warm. Ivy loves the warmth and Poppy likes the attention."
Though cats have a reputation for being independent animals, experts say they are actually significantly more social than many realize.
David Greene, a researcher at Petful, says the depiction of them as "unfriendly loners" is wide of the mark. "Apart from hunting forays, which are generally solitary affairs, cats are gregarious creatures whose social organization in the wild is among the most complicated and intelligent of any in the animal kingdom."
In recent months, cats have gone viral for befriending everyone from dogs to even otters.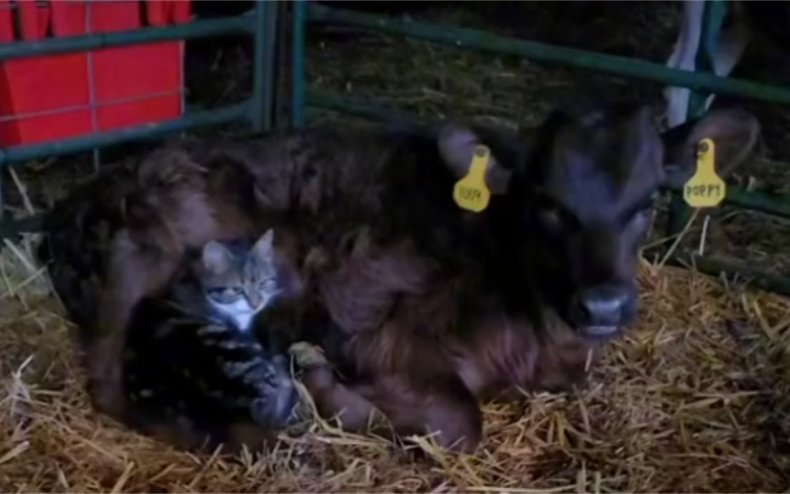 UPDATE 01/21/22 6:27 a.m. ET: This article was updated to include new pictures, video and comment.