If you are looking for something to cheer you up today, this photograph of an otter cuddling a kitten is just the tonic.
The adorable snap was shared to Reddit on December 3 by an account called Listenhereupieceof, and in it we can see a small river otter lying on a blanket with its front leg wrapped around a small ginger kitten.
The little cat's eyes are shut as it appears to be napping, while the otter looks off into the distance.
The sweet image, which can be seen here, is captioned: "Otter can not sleep without hugging kitten."
The photograph has gained lots of traction online since it was shared on the discussion-based site, having attracted a staggering 10,200 upvotes.
However, the image is actually a still from a video, shared a year ago on YouTube by an account called Ma Ko.
In the clip, which has over 10 million views, we can see the two pets playing together and napping.
The otter is named Sakura, and the cat is called Mochi.
Despite this, many people flooded the comments section with their thoughts on the adorable image.
One Reddit user, MiserablePhD, wrote: "Significant otter!"
Another person, Shaggy99, added: "Everybody needs a kitten to hug."
What_its_full_of joked: "They bonded over their shared love of fish."
CazRaX shared: "Aww two cute psychopathic murderers."
Charael admitted: "What a cultured creature! And the cat get a free warming bottle. Everyone wins."
BlueKitsune9999 gushed: "I need a otter, they are so adorable."
Rosalie-83 revealed: "Otters hold hands when they sleep, so they don't drift away from each other with the rivers current and lose each other."
RoselynTomas commented: "All animals are friendly."
BenefitBoth5926 typed: "Knowing what I know about otters makes this less cute still cute but a little less so."
River otters are smaller than sea otters, and they typically "live alone or in pairs," according to A-z-animals.com.
However, "they frequently gather in social groups. While together, they exhibit playful behavior, such as sliding and burrowing along river banks. This looks like fun and games, but this behavior strengthens social bonds and improves hunting ability."
The animals are not to be approached in the wild, and a 2011 study found 39 anecdotal reports of river otters attacking humans in the U.S., 35 of which occurred after 1980.
Speaking of unlikely animal pairings, a video recently went viral on TikTok showing the heartwarming friendship between a pit bull terrier and a fawn.
In the clip, shared to the app by an account called Brennalina, we can see the two animals playing together on a front lawn.
The incredible footage is captioned: "Momma deer and her canine companion #wildlife #dog #pitbull #4u."
Newsweek has contacted the Ma Ko for comment.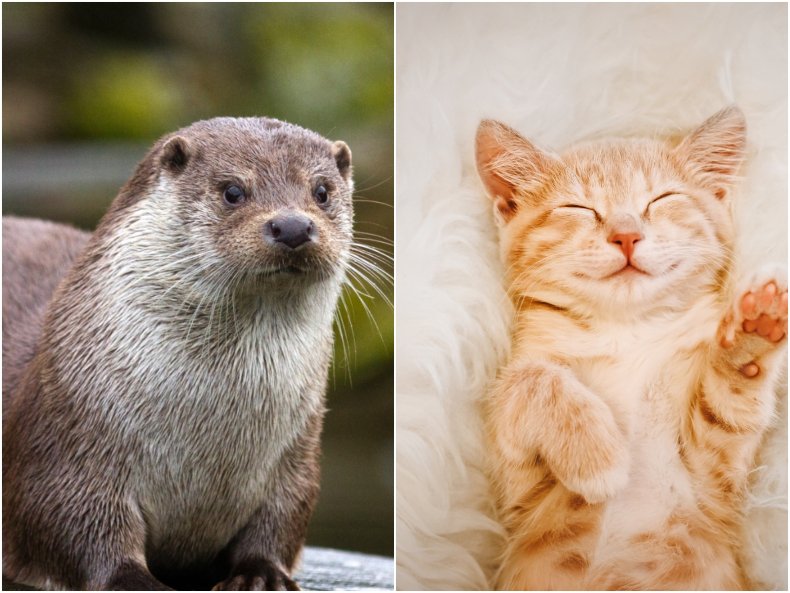 UPDATE 01/10/22 7:15 a.m. ET: This article was updated to include a link to a video.