A cat and a dog sharing "joint custody" of four kittens are melting hearts on TikTok.
In a video shared by @milkymutton on February 15, a Pomsky called Blu is "jealous" of Bella the cat's newborn kittens.
Seemingly wanting to mother the babies herself, Blu attempts to steal the kittens away from Bella.
In one clip, she grabs the blanket the kittens are napping on and tries to drag them away. In another, an angry Bella can be seen fighting off Blu as she approaches the bed they are resting on.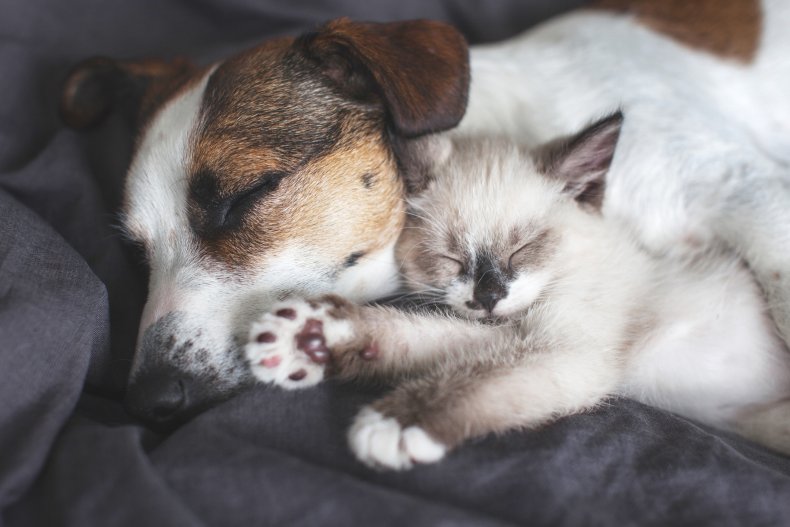 "They would often fight in front of the kittens," @milkymutton wrote alongside a scene of Bella and Blu wrestling.
The next clip shows Blu blocking Bella from reaching her baby, followed by footage of Blu cuddling the kittens in the cat bed, while a disgruntled Bella looks on.
"The kittens were stuck in the middle," @milkymutton said. "I didn't think they were ever going to get along.
"Bella wanted her kittens back."
However, the final scene shows Blu, Bella and the kittens all snuggled up together, with the pair now raising the babies together.
Captioned "They now have joint custody of the kittens," the adorable video has received over 16 million views and almost 3 million likes.
Can Dogs Really 'Parent' Kittens?
Tim Scrine, founder of Allbreeds dog training, said it's possible for cats and dogs to have a strong bond—especially if they're introduced as a puppy and a kitten.
"They would grow up used to each other and not know anything different," he told Newsweek.
"There is no natural enmity between the two species, but they are both territorial and can view each other as either prey or a potential threat, so safe exposure is vital."
Stephen Quandt, a feline behavior consultant, said that many animals—including dogs—possess a powerful maternal instinct.
"It can cause mother dogs to adopt and raise kittens as their own, and a mother dog can start lactating if she takes in young kittens," he told Newsweek.
"The video of Blu and Bella with her kittens is absolutely real, but the poster says that Blu is 'jealous' of the kittens, and jealousy is a human emotion.
"A dog's desire for social connection is so strong that it crosses species, but raising kittens give a whole new meaning to doggie day care!"
'I Love a Blended Family'
In the video, @milkymutton explained that Bella "forgave Blu," and now the pair are caring for the kittens together.
TikTok users couldn't get enough of the unusual co-parents, with MA calling the clip: "This is the cutest thing ever."
"Not them fighting over custody," joked KiaBiaa.
"Literally like a married couple," commented K Alice.
"They had couples counseling and worked it out for the kids," said The Heretique.
"I love a blended family," wrote user 2816292503808.
While Melodiously Me commented: "Co parenting done right!"
Newsweek reached out to @milkymutton for comment.
Do you have funny and adorable videos or pictures of your pet you want to share? We want to see the best ones! Send them in to life@newsweek.com and they could appear on our site.