'Warrior' Cat With Rare Illness That Distorts Facial Features Melts Hearts
A cat with special needs has melted hearts online after finding viral fame on TikTok.
The video was shared on Monday 7 by Georgie Price – who uses the handle tummyandgummy – and now has over 630,000 views and thousands of likes.
Toby the cat features in the video, the kitty who his owners have hailed as a "warrior." He has Ehlers-Danlos syndrome (EDS), a rare tissue disorder that is characterized by fragile, stretchy and loose skin.
From Stroud, U.K., Georgie Price and her fiancé Chris Lardner have three cats with EDS, nine-year-old Toby, three-year-old Leo, and 18-month-old Chino.
Price told Newsweek: "We adopted our first cat, a 16-year-old, in April 2018 and when he passed away five months later, we adopted Toby and his best friend Quinton. Toby was 6 and Quinton was 7."
When they first came home, Toby and Quinton were extremely nervous: "They hid for weeks and were so afraid of everything," said Price. "After six months, we were so proud of the amazing progress they had made and that's when we decided to share them online. We wanted to spread the message not only that rescuing is rewarding, but adopting the less adoptable pets is so worth it!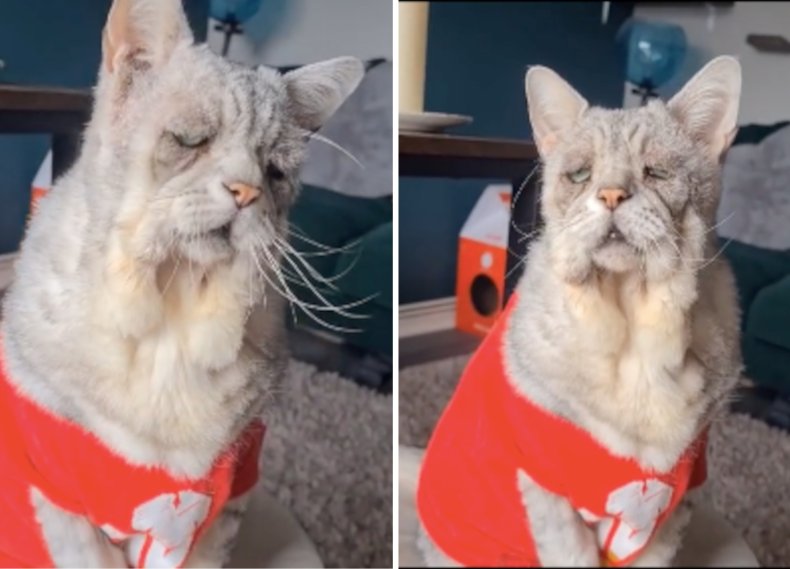 "Older cats, less social and special needs cats are often overlooked but we've found so much love from our boys and they've made our lives so much better."
A 2021-2022 survey by the American Pet Products Association found that approximately 6.3 million animals enter animal shelters each year in the U.S., with an estimated 2.1 million cats adopted each year.
Price shares frequent content on TikTok of her extra special cats, with over 25,000 followers on the video-sharing app.
One commenter said: "Toby the legend," while another wrote: "He looks like he gives the best cuddles!"
Cats with EDS have extremely fragile skin that tears really easily. Price explained: "They wear clothes, collars, and nail caps to protect their fragile skin. They're indoor only because of how easily they can be injured."
Other TikTok fans of the sweet cats shared their own experiences with EDS. One commenter wrote: "Hi Toby, I'm a human with EDS," and another said: "I love him. I also have EDS."
There are varying types of EDS, and prevalence in humans differs between types. Hypermobile EDS is thought to affect between 1 in 5,000 and 1 in 20,000 people worldwide. The classic type is more rare, affecting an estimated 1 in 20,000 to 1 in 40,000 people.
Price said: "I think that even though there are extremely difficult days, knowing you've given a chance to a cat that maybe wouldn't have had one, and the love you feel for them and get back, it's worth any difficult day.
"We never thought we wouldn't adopt again after we lost Herbie [the couple's first cat], we knew there were more cats out there waiting for someone to give them a home and they would have to wait much longer than a cute, little kitten."
While caring for the boys and supporting them isn't always easy, Price said they feel lucky to be able to care for them: "It's a real privilege that we have been able to open our home to our beautiful boys, they have changed us for the better."
Earlier this month, another special needs cat melted hearts online when he found his forever home.