'Better Baby Daddy Than Most Humans:' Cat Father Hailed for Being at Birth
A cat father who has been by the mom's side after the birth of their kittens has been hailed as a "better baby daddy than most humans."
Owner Anaya shared clips of the new family to her TikTok page, @1tspofdepression, on Thursday, proudly showing off the new family.
It showed the white-gray mother cat inside a cardboard box nursing her two babies, while the ginger tom cat, later revealed to be a Persian chinchilla, peered in from a hole cut into the side of the box.
"Better baby daddy than most humans. Caught them holding hands after the birth," the on-screen caption said.
The clip, which can be seen here, amassed more than 9 million views, as people praised the proud parents.
Reb joked: "Kittens have a better dad than mine."
£'Aliysha gushed: "They holding hands too."
Zainah admitted: "The holding hands I am jealous."
Mimibegum35 wrote: "Awwww his holding her paws.... Some men could learn from baby daddy."
Thebramhallbuild reckoned: "This is what true love looks like."
Jade Spn raved: "Cutest thing ever !!!!"
While Rebecca added: "He's better than my kid's father."
And it seems the new dad has fully stepped up to his new role, sharing responsibilities for raising the kittens.
In a series of follow-up videos about the adorable new family, Anaya captioned another video, which can be seen here: "Daddy babysitting the kitties why mummy eats."
It showed him snoozing in the cardboard box, while watching over the kittens. And in another clip Anaya raved: "She really is the happiest mom cat around."
Anaya also shared some tips for any pet owners due to expect a litter soon, adding: "Make sure you have lots of yummy food and water for your cat once she has birthed the kitten because she will be hungry. Good Luck."
Despite the touching tale of new family, generally cat fathers are not hands-on.
Website Pets.Thenest.com said: "Domestic male cats as well as male cats in the wild aren't known for their fathering skills. Other than siring as many kittens as possible, tom cats don't tend to get involved in the raising of the kittens. Male cats have been known to kill kittens, usually kittens that they didn't father."
This is usually a throwback to a bygone era for domestic cats, when they would kill a rival's offspring to halt the spreading of their genes in favor of the own.
The site continued: "If you have both male and female cats in your family, it's best to play it safe and not allow the male cat access to the newborns, at least not unsupervised.
"If you feel that your tomcat might have some fatherly instincts you can gradually introduce him to the babies, but only after they're a bit older, like after the six to eight week mark."
Newsweek reached out to Anaya for comment.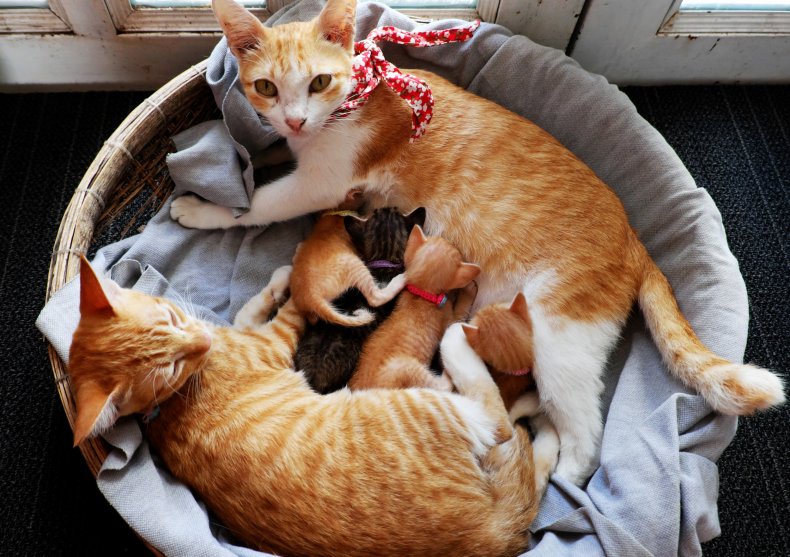 Do you have funny and adorable videos or pictures of your pet you want to share? We want to see the best ones! Send them in to life@newsweek.com and they could appear on our site.