Cat Introduces Her Kitten to Owner's Baby in Adorable Video
Footage of a super cute cat introducing her kitten to an infant child has racked up more than 37 million views on TikTok.
In a clip posted to the video sharing platform on July 11 by Pearlsragdolls, the affectionate feline can be seen introducing the young offspring to her owner's baby daughter, Blossom.
Carrying the kitten by the scruff of her neck, Summer the cat tentatively places her down on the edge of a mat close to where the child is blissfully relaxing.
Her owner, Pearl Frazier, can be heard asking: "Why are you bringing your babies to Blossom?"
Summer, who turned two in June, responds with a series of loveable meows.
In another sweet touch, Frazier's video includes subtitles interpreting what her cat might be trying to say.
Later, when her nervous kitten appears to edge away from Blossom, Summer gently paws at her back, trying to coax her to engage with the young child.
Frazier asks: "You want them down here?"
Summer responds with another series of perfectly timed meows.
Her owner asks again: "You want them with Blossom?"
Cue more meows.
Frazier ultimately decided against the play date though, saying "I don't know about that, Summer."
The video, captioned "Summer wanted to show off her baby to my baby," has garnered over 6.3 million likes and over 40,000 comments since it was posted.
One fan, Briannatisawesome, commented: "Blossom and the kitties are going to be the best of friends I can just tell already! Summer is adorable."
Shanw2008 wrote: "This is the cutest thing I have ever seen!"
A third, Rosareedd, added: "Definition of having a baby with my best friend."
Elsewhere, pamelaaajefferson, described the clip as "too cute."
"She want the baby on the pad too next to your baby. How cute is this!!"
Kendrafenty, meanwhile, declared "Ma'am this video made me cry."
Fellow TikTok user missrebeccariot also gushed: "This is THE MOST WHOLESOME thing I've ever seen omg."
Kingmelekzakaryah63 concurred: "I just love this!!! Such a gracious and involved mama cat: bringing all the babies in the household together."
Summer is a female Chocolate Lynx Point Mitted Ragdoll by breed and originally came from a cattery in Canada.
In a previous YouTube profile, Frazier described Summer as her "most talkative cat".
"She always likes to talk to me whenever she wants to play or whenever she wants me to pet her and it's super cute," she says.
Summer currently resides with her owner Frazier at Pearl's Ragdolls, a small cageless cattery located in Fort Worth, Texas.
She had a litter of five kittens back on May 31. The kitten that features in the video was nearly 6 weeks old when the clip was filmed.
Frazier told Newsweek: "My baby Blossom was born April 7 of this year. In this video, she is about 3 months old. When Summer and my other cats first met Blossom, they were a little nervous around her and also confused. After a few days, they went back to their usual selves.
"If Summer does interact with Blossom, I would say it is in a motherly way whereas my kitten Casper interacts with Blossom in a friendly way. Casper is the cat that I think has formed the closest bond with Blossom."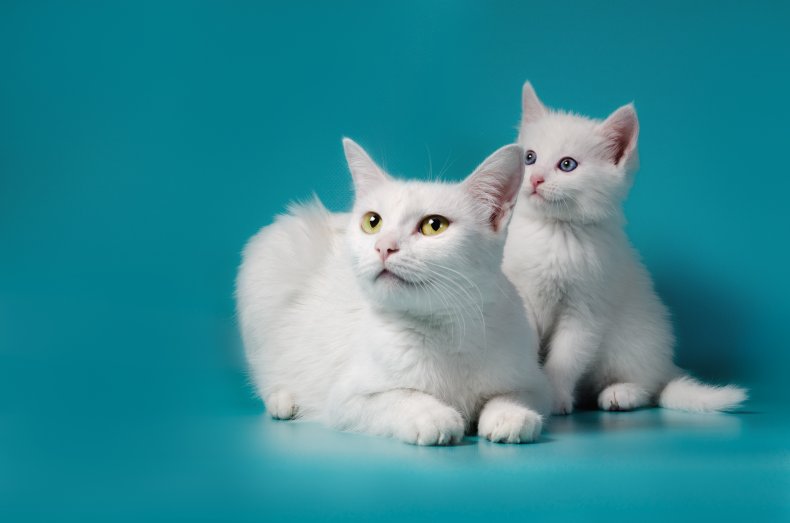 She added: "The Ragdoll breed was first introduced in the 1960s, but it has become quite popular in recent years due to their loving personalities. The Ragdoll breed is known for being very gentle which makes them great for people who have children like myself."
Frazier and her adorable cats can be found on Instagram and TikTok under the username @pearlsragdolls.
Update 7/15/21, 1:35 p.m. ET: This article was updated with comment from Pearl Frazier.