Cat Missing for 10 Days Rescued from Well After Dog Alerted Neighbors
Who said dogs and cats can't get along?
Thanks to one concerned pup taking a page from Lassie's book, a cat that has been missing for 10 days was safely rescued from a local well and returned to her owners.
One-year-old Flea disappeared from her Loddington home in the U.K. on April 24. For almost two weeks, her owners Freya and Keira Hill told The BBC that they had been frantically searching for their pet and posting about her disappearance online. The siblings' worst fear was that the kitty was "clipped by a car."
"She does have a habit of jumping into cars and wanting to go for a walk. She is just over-friendly with people and will follow them," Freya told the outlet.
But on Tuesday, neighbors heard the incessant barks of a dog standing over a nearby well. As it turned out, the cat had gotten stuck in the 20-foot hole.
Neighbors told the Press Associated that when they realized what the dog saw, they called the local firefighting department for help.
The Northamptonshire Fire and Rescue Services arrived just before 3 p.m. with a local animal rescue unit. According to their Facebook post, the well had about a foot of water inside, "but the cat had managed to climb onto a small ledge."
"Fire crew used cutting equipment to remove the grating at the top of the well and lowered a ladder to the bottom enabling a crew member to descend," they wrote. "Flea was enticed off the ledge using cat food and was brought to the surface and handed back safely to its owners."
Within an hour, Flea was reunited with her overjoyed owners. Freya told The Press Associated that the cat was "bedraggled and hungry," but otherwise had no external injuries. She was later cleared by her veterinarian.
Facebook viewers were relieved to hear that the cat was rescued safely.
"What an adventure Flea has had. Well done for everyone getting Flea home," one user commented. "Well done Northants Fire and rescue team. Flea is one very lucky little cat," another added. "Firstly to survive the fall and secondly that [she] was found at all. Thirdly that NHF&R went down and rescued [her]. Well done to all."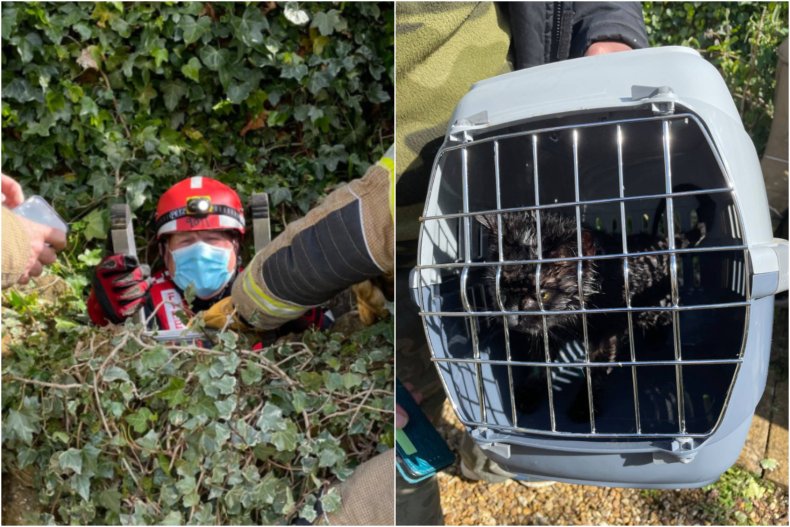 Freya told The Press Associated that Flea is "quite unfazed by the ordeal."
"We're relieved she's home and we're thankful to everyone that helped," she added.
Freya later joked with The BBC that Flea was "definitely trying to use up one of her nine lives," but showed great appreciation for the first responders that helped save her cat.
"I'm so grateful and thankful to the firefighters who all carried out such a brilliant and amazing job."
The anonymous dog who alerted neighbors is not the only pooch putting aside differences between canine and felines. One dog who rescued a group of abandoned kittens back in 2018 went viral last week when footage of the rescue emerged on Twitter.