'No Way': Cat Opens Door After Woman Is Locked Out in Astonishing Video
Opposable thumbs are one of those things that set us aside from many other animals. They allow us to grab things, pick things up, and (importantly) open doors. But, as a recent viral TikTok video illustrates, some animals can learn to do this despite their lack of thumbs.
The TikTok video, which was uploaded by @baileyrubal with the title "WHY IS HE SO SMART. His little noises #fyp #austin #atx #apartment #catsoftiktok #ut #fy #texascheck," shows a person sitting on the steps in front of their door, which appears to be locked.
"Keep trying," the person says, while pulling on the door handle from the outside. "Yes, you can do it, you can do it, just push it down!"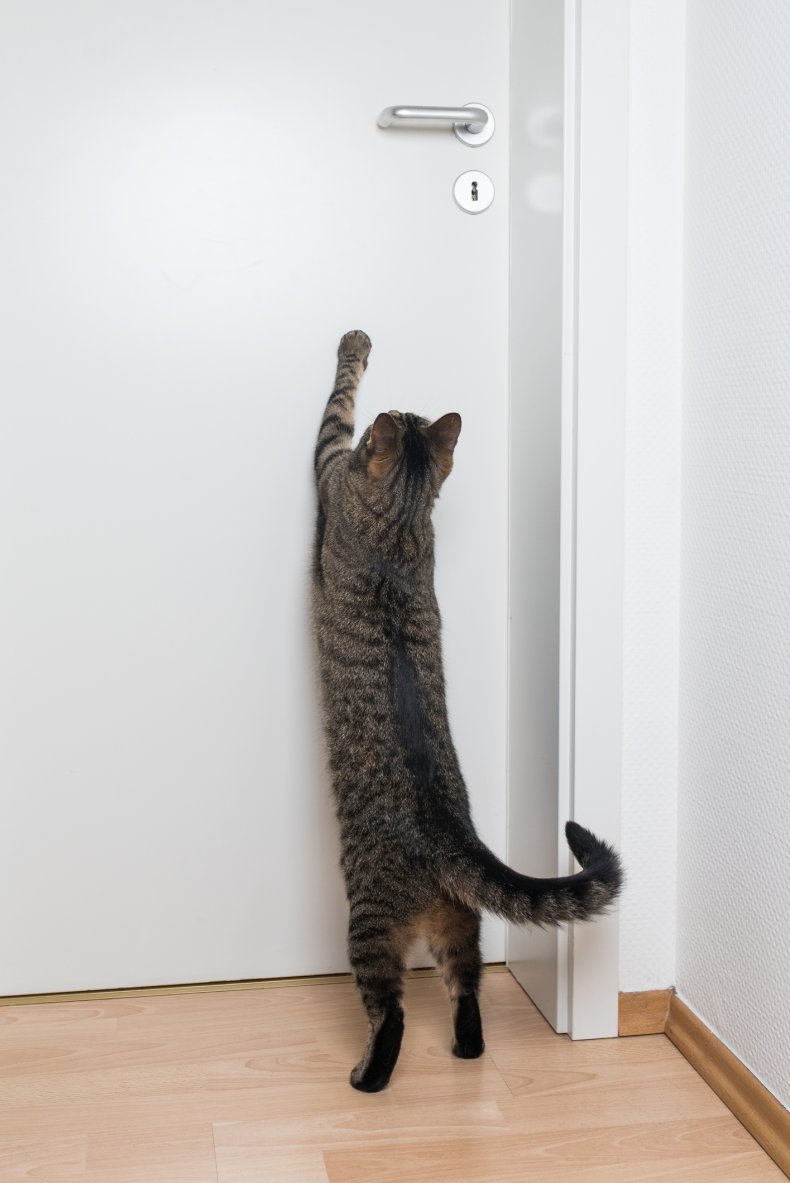 In the video, you can hear sounds of the cat inside, and the person keeps encouraging it to try to jump and grab the door handle to unlock the door. A caption reads: "Locked out & getting my roommates cat to open the door."
"Come on!" the person says. "I know you can do it, keep trying."
Suddenly the door opens, and the person falls back into their home laughing. The undeniably shocking video has garnered 11.6 million views, more than 2.7 million likes, and over 8,000 comments.
Fellow TikToker @stevesav wrote: "Black cats are the smartest cats I have three," while @toofaced simply expressed their disbelief, commenting "NO WAY."
Other users left humorous remarks, with @julia.elias1 writing: "Sound like he said 'girl, I'm tryinggg,'" and @seasidebagel adding: "He needed that little pep talk when he said he couldn't do it."
But most were just straight-up impressed—including @carolynciotti who wrote: "I've honestly never been so impressed before in my life."
In fact, cats may be more intelligent than we all think, according to research published in the journal Scientific Reports this past April. The study aimed to explore whether cats are able to learn the names and faces of other cats and humans. Researchers presented a cohort of cats with photographs of familiar cats and humans, after saying their names. The study produced evidence that indicates most domesticated cats can link a companion's name and corresponding face (whether feline or human) without any kind of training.
But it seems that most TikTokers are unaware of the intelligence of cats, given their surprise at @baileyrubal's video. @Mel0425-MoCITYTX commented: "You have to be kidding me!!! Really the cat opened the door? OMG," and @madisonmeeker_ added: "bro get this cat on americas got talent rn."
Meanwhile, @courtneyhale6 wrote: "We have hospital cats at the vet clinic I work at, and we have to put bungee cords around the doors because they know how to open them," and @willintheworld1 added: "I knew it had to be a black cat, perfect combo of smart & mischievous!"
Newsweek reached out to @baileyrubal.