Cat 'Panic' Meowing After Paw Gets Stuck While Opening Drawer Melts Hearts
A video of a cat getting her paw stuck in a drawer as her owner almost didn't notice, has melted hearts across the internet after going viral on social media.
In the footage, shared on TikTok in January by the cat's owner, under the username Konkykong, the cat can be seen struggling to retrieve her paw from the drawer, as her owner films her, believing she was about to open the drawer instead.
The owner then rushes to help her furbaby as soon as she realizes she's actually struggling.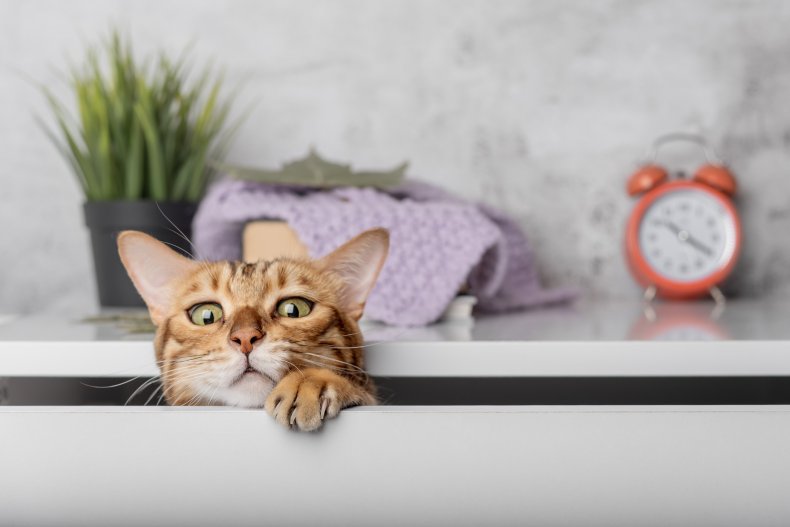 As the owner opens her desk drawer to free the cat, a drawing catches the viewers' attention, who then identified the figure in the drawing as Umbreon from Pokemon.
The post comes with a caption that reads: "Thought I was getting a cute video of her opening the drawer..." Followed by: "Turns out she was stuck. she's all good now haha."
According to Fetch by Web MD, cats love drawers because they're fun places to hide and because they feel safe in small spaces, but they're also quite dangerous spots, because while trying to hide in there cats can easily get trapped and injured.
They say you should keep all your drawers shut as much as possible, and if you find an open drawer, they suggest making a loud noise to startle them; as well as using childproof latches on any cabinets containing hazardous chemicals.
The video has quickly attracted animal lovers from all over the platform, receiving over 5.4 million views and 880,000 likes so far.
One user, iLLixer, commented: "you drew umbreon a little too good." And f*** birds said: "THATS NOT WHAT I EXPECTED TO BE IN THERE." And Sawa said: "THE UMBREON JUMPSCARE."
Elena wrote: "THE MEOW WHEN SHE OPENED THE DRAW." And Lovers added: "HELP THE NOISE THE CAT MADE AS U OPENED THE DRAWER."
Another user, lun777i, said: "The panic in his voice," while cookie wrote: "The help me meow and panic." Evelyn added: "the first time I see a person helping instead of going on with recording."
Grndcntrl2mjrtm said: "aww she only started to panic when she saw you were concerned. very common for a baby to pick up from their parent." And Ch'egg added: "Why didn't she ask for help until you started to help her."
Newsweek reached out to Konkykong for comment. We couldn't verify the details of the case.
Do you have funny and adorable videos or pictures of your pet you want to share? Send them to life@newsweek.com with some details about your best friend and they could appear in our Pet of the Week lineup.