Cat's Reaction to Owner Performing TikTok Dance Has People in Stitches
A black cat's bemused reaction to their owner filming a TikTok dance video has gone viral.
Footage showcasing Puma the cat's response to his owner, Mariasha Pinchuk, filming the clip with her friends has been watched more than 14 million times since being posted to social media.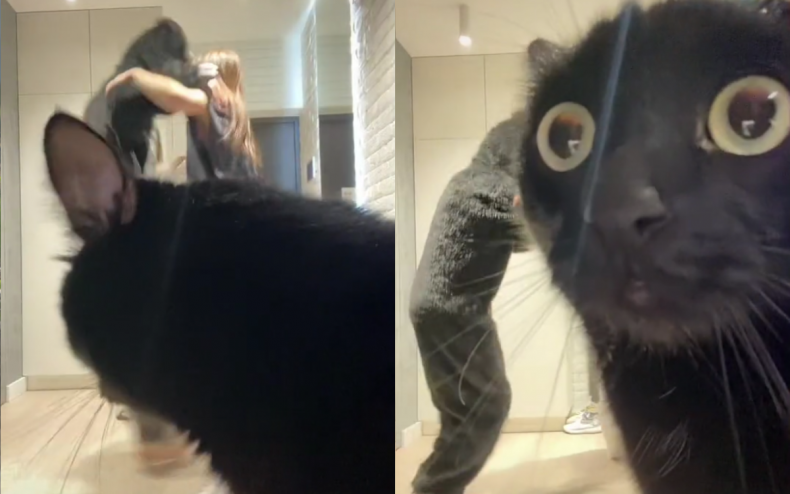 In a study published in the journal Applied Animal Behavior Science, researchers said that cats do not enjoy human music and can engage only with songs that fit specifically with how they communicate as a species.
Study authors Megan Savage and Charles Snowdon said: "For music to be effective with other species, it must be in the frequency range and with similar tempos to those used in natural communication by each species."
In the clip, Puma can be seen gatecrashing the video before glancing over at Pinchuk and her friends before turning back to the camera with a terrified look on his face.
It's a reaction that has left millions laughing, but it could have more to do with the music being played than the dance itself, so the chances are Puma's reaction would always be one of disdain.
That didn't stop viewers online from having a little fun in the comments section, though. For some TikTokers, Puma's look to the camera was one that said: "Help... me..."
"The cat literally screamed with her eyes for help or an exorcist," one TikToker wrote, with another commenting: "He thought it was the ritual before the sacrifice."
A third, meanwhile, wrote that Puma was probably "questioning his life choices," with a fourth likening it to their grandpa's reaction "after listening to me playing the new Call of Duty game."
Describing him as a "very gentle, playful and aware" cat, Puma's owner Pinchuk told Newsweek that he turns 3 years old this week.
"He has always been unique, thanks to his funny behavior," she said. "He likes to be with people, and when guests come, he always sits next to them and tries to get their attention. In our house, he is a member of the family. Everyone loves him very much."
Pinchuk said it was love at first sight with Puma. "When I went to get a kitten, he was the one who clung to my sweater so tightly. We have been together ever since then.
"Puma is empathetic, he understands the tone of my voice and when he gets angry or annoyed, you can negotiate with him. He also has a favorite toy - a small octopus that always ends up in my boyfriend's slipper."
Pinchuk said the video was one of her first attempts at a TikTok viral dance.
"He must have been aware something was happening," she said. "As you can see, he starting looking at us and at the camera, searching for a reason for the sounds and our behavior."
Pinchuk said she and her friends "laughed a lot" when they watched the footage back and saw Puma. "I think he was shocked and thought it was another game."
Even so, Pinchuk has been stunned at how popular the TikTok clip has become.
"Everyone likes cats, and it's such a spontaneous thing to have happened. You could never have planned it," she said. "The improvised antics of cats always lift the mood. I am glad that we were able to give smiles to people."
Do you have funny and adorable videos or pictures of your pet you want to share? We want to see the best ones! Send them in to life@newsweek.com and they could appear on our site.