Cat's Reaction to Being Pranked by Owner With Fake Feline Delights Viewers
A cat owner played a trending prank on her furbaby and its reaction has left the internet in stitches.
A video shared by the cat owner on TikTok, under the username thenataliahms, shows a cat picture hanging from the wall, and more importantly, how her cat reacted to it.
The first time the cat saw the picture, she stared at it for a while and got closer to sniff it. She seemed to realize it was paper and lost interest. Or did she..? The second time, she went for it and attacked.
According to the American Society for the Prevention of Cruelty to Animals (ASPCA), cats are a territorial species, and while sometimes their territories overlap, they generally prefer to keep a good distance from their neighbors.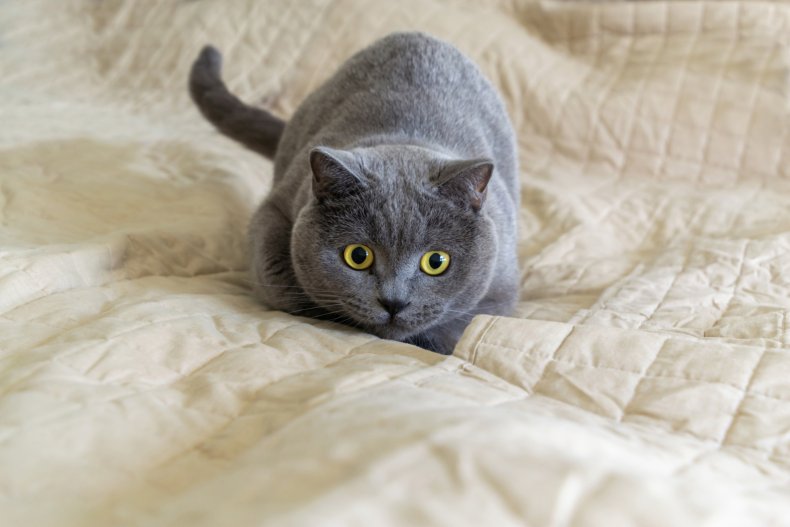 Two unrelated males or unrelated females may have a particularly hard time sharing space. Personality clash is also another reason why cats don't get along, and sometimes we humans just don't select the right match.
Cats are the second most popular companion pet in the country after dogs. The 2021-2022 American Pet Products Association (APPA) national pet owners survey shows that 45.3 million households in the United States own a cat, and they spend an average of $902 a year on basic annual expenses.
Approximately 3.1 million companion cats enter U.S. animal shelters nationwide every year, and at least 100,000 of them are returned to their owners. Approximately 2.1 million shelter cats are adopted and 530,000 are euthanized.
The clip, which was first shared on the platform on Saturday, September 3, has been viewed over 6 million times and liked 464,700 times.
One user, Moon commented: "I love the way they wind their neck and side eye...like oh hell no."
Cookie said: "I get him. It pranked me too." And Alex added: "You had me, I thought that was your cat."
Another user, Elvira Berzina wrote: "Why does your cat look like he was created by AI to play a role as [a] cat in a video game haha." And eujin! added: "he looks so animated."
Maria.novikova6 said: "Came, saw, conquered! Proud kitty!"
And Jacques Vallo explained: "If it smelt like a real cat the tail would get super puffy and the back would arch but I have [a] cardboard cat and my cat is unfazed."
Newsweek reached out to thenataliahms for comment. We could not verify the details of the case.
Do you have funny and adorable videos or pictures of your pet you want to share? We want to see the best ones! Send them in to life@newsweek.com and they could appear on our site.