Cat Rescued from Tree After Fire Department Said it's Not 'Their Concern'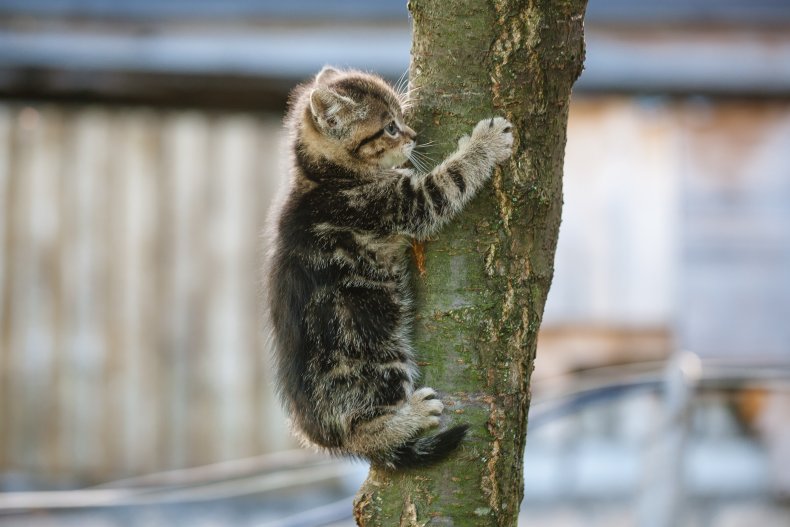 A private tree service rescued a cat that had been being stranded high up a tree for at least a week in Schenectady, New York on Monday.
The cat, a young shorthair named Bae, had been missing since May 16 and was discovered more than 100 feet up a tree in Schenectady's Central Park on May 24, according to local CBS affiliate WRGB. Residents grew increasingly concerned for the cat's well-being after the local police and fire departments said that they would not attempt a rescue.
On Monday, after Bae had gone at least a week with no source of food or water, Schenectady Mayor Gary McCarthy gave the approval needed for Allmark Tree & Crane Service to attempt to rescue the cat. Bae's owners were reportedly unaware of the cat's location and happened to be searching for their pet in the park at the time of the rescue. They were reunited with their cat soon after spotting her in the tree.
Mark Moeske, president of Allmark Tree & Crane Service, told Newsweek in a statement many different people were involved Bae's rescue and that he only happened to be the person who was able to access the tree.
"I do this because I am blessed with the skills and equipment to do it," Moeske said. "I believe we should do good things with what we are given. I only ask for people to pay it forward. Even if it's only sharing a smile to make someone else's day better."
Although the Schenectady Fire Department helped with Monday's rescue, they and the Schenectady Police Department reportedly refused locals' earlier calls to rescue the cat. Concerned resident Kelly Walsh told WRGB that the emergency services said it was "not their responsibility" and "not their job" when asked to help.
Robert Herzog, who owns another local tree service, told the outlet on Sunday that he attempted to rescue the cat himself but became stuck in the process due to a falling rope. The fire department responded and rescued Herzog but refused when he asked them to help rescue Bae at the same time.
"Schenectady Fire Department came out to get me and then I said to them 'okay go get the cat' and they said it wasn't their concern, so here we are, the cat is still stuck in the tree," Herzog said.
Schenectady Assistant Fire Chief Donald Mareno said that the cat was stuck near the top of the tree and the department lacked the equipment needed to safely attempt a rescue, adding that the department "can't maneuver the truck through those branches" but hoped Bae would climb down the tree far enough for a rescue.
Since the authorities lacked the equipment to help Bae, residents decided to hire a tree service themselves. Animal Law instructor Dr. Valerie Lang Waldin told WRGB that the cat was "a companion animal that by law deserves protection" and that it would "be border line neglect" if no further rescue attempt was made.
After Bae was finally rescued on Monday, she was examined at the Capital District Veterinary Referral Hospital and reportedly deemed injury-free and in "good health."
Newsweek reached out to the Schenectady Fire Department for comment.