How to Keep Cats Out of Your Christmas Tree and Away From Presents During the Holidays
Adorned with shiny tinsel and screaming with colorful lights, cats cannot resist the holiday glow of Christmas trees and gifts wrapped with sparkly decorations.
However, Christmas trees and some presents can pose several hazards for your furry friends. Luckily, there are ways to prevent these risks.
Over the holidays, it's also important to try to keep your cat's eating and exercise habits "as close to their normal routine as possible" and steer your cats clear of unhealthy treats and as well as dangerous decorations, Vicki Jo Harrison, the president of The International Cat Association (TICA) tells Newsweek.
Below we look at ways to keep cats safe around Christmas trees and presents.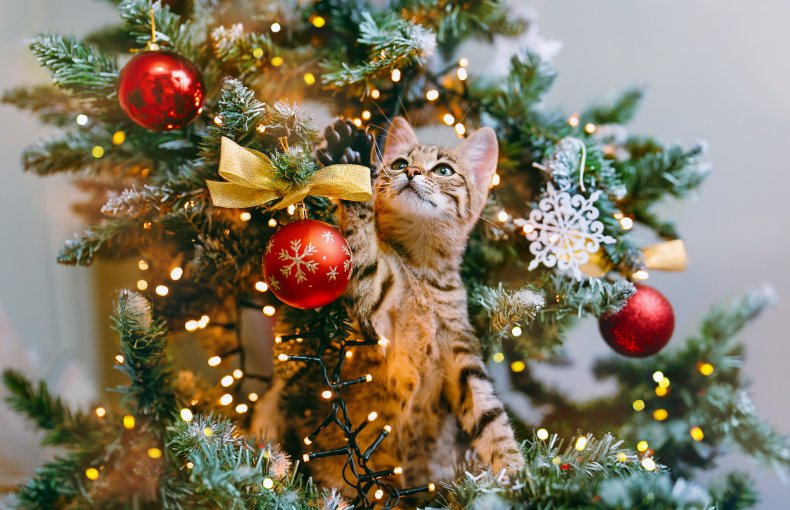 Allow Access to Other High Places
Cats are understandably interested in Christmas trees, especially as they like to be high up, Zazie Todd, author of the upcoming book Purr: The Science of Making Your Cat Happy, tells Newsweek.
So the holidays are "a good time to remember to make sure they have access to high up places they are allowed to go, like tall cat trees or shelves securely attached to the wall," Todd says.
Keep Your Tree Firmly Planted
Secure your tree with a heavy base (such as by placing weights at the base of the tree stand to secure it to the floor) to keep it from toppling over and potentially injuring your cat.
"You can secure it to the ceiling or wall if you like," Todd advises.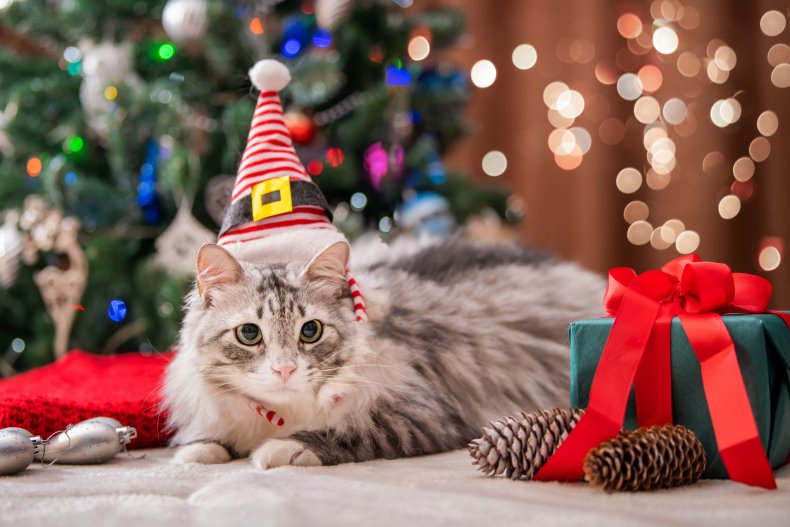 Be Mindful of Christmas Tree Water
You'll also want to keep the base of the tree covered to prevent cats (as well as young children) from drinking any stagnant tree water, which is "a breeding ground for bacteria," says the American Society for the Prevention of Cruelty to Animals (ASPCA).
Drinking this contaminated solution could potentially cause nausea, vomiting, and diarrhea, warns the National Poison Center.
Avoid Tinsel
Cats are bound to reach for any tinsel playfully twirled around a Christmas tree. However, if your cat swallows this decoration, it can potentially cause an obstruction in the digestive tract, severe vomiting, dehydration and possible surgery, warns the ASPCA.
Place Decorations High Up
If you have any precious ornaments, put them higher up on the tree where they'll be harder for your cat to reach or just put them away until your cat has lost interest in the tree, Todd says.
The author also recommends using shatter-proof baubles, just in case any get knocked off the tree.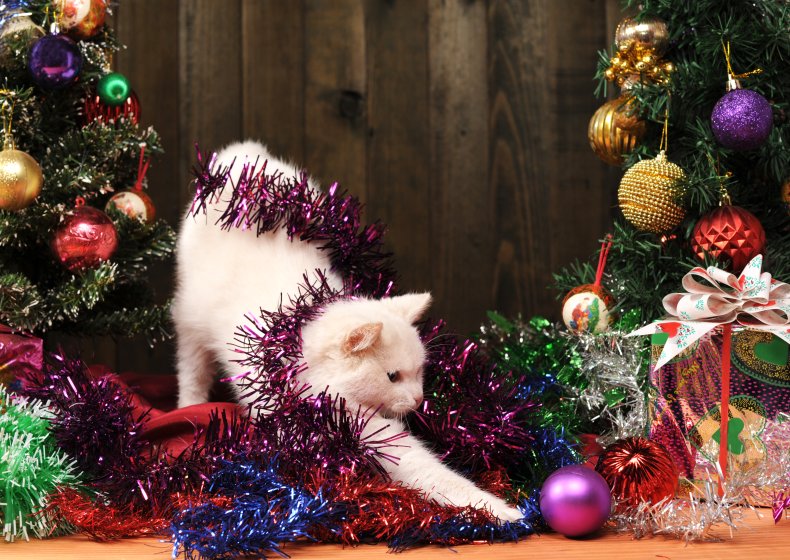 Keep Wires Away
The lights on your Christmas tree can also be a hazard if your cat likes to chew on wires.
The ASPCA warns: "A wire can deliver a potentially lethal electrical shock and a punctured battery can cause burns to the mouth and esophagus, while shards of breakable ornaments can damage your pet's mouth and digestive tract."
Todd advises placing the lights higher up and keeping them closer to the trunk of the tree, making them harder to access. You can also use a cord protector designed to stop pets from chewing through wires. The lights should be unplugged when you aren't there with your cat.
Get Rid of Ribbons, Bows, Sticky Tape
Ribbons and bows on gifts can be a hazard if your cat chews on them. So it's best to perhaps skip using these on presents or keep any gifts with such decorations safely tucked away, Todd says.
"Cats also really enjoy shredding paper, so once you've unwrapped the gifts, remove any sticky tape or anything else hazardous, and then let them have fun shredding the paper. You can also let them have fun with the boxes," the author adds.
You should also be sure to keep any gifts containing anything toxic for cats (such as chocolate) out of your cat's reach.
Monitor Your Cat by the Tree
Supervise your cat around the tree and be especially watchful at the beginning, Todd says. You'll want to have a wand toy and some treats with you so that, if needed, you can easily distract your cat away from the tree at any point.
Be sure there are other interesting things in the room for your cats too—like cardboard boxes—so they have things other than the tree to focus on, the author says.