Cat Spotted Doing Sit-Ups in Viral Video: 'Working on That Summer Body'
After a year of staying home on our couch owing to the coronavirus pandemic, many of us may not be feeling in peak physical shape.
And with summer just around the corner, we can all surely relate to this viral video of cat who appears to be putting in the work to hone their body.
In footage posted to Twitter, a white fluffy feline can be seen lying on a street sidewalk on their back and raising their head forwards and backwards in a motion that mimics abdominal crunches.
The humorous clip was posted by Twitter page @AnimalsWorld alongside the caption: "Working on that summer body," and was accompanied by two laughing face emojis.
The six-second-long clip has since gone viral, having been viewed over 16,600 times, and garnering more than 2,600 likes.
Many took to the social media site to share their thoughts on the adorable video.
One Twitter user, @jiminieesfilter, found the footage especially relatable, captioning the content: "Me in 2020."
Another person, @eitsbukansabun, commented: "share you positive energy puss!"
A third, @insaneisgone, joked: "Darn...summer is coming. And 1 and 2 and 3."
However, a fourth, @Miss_Morra, was concerned for the cat's welfare, writing: "We've seen videos of cats in this "work-out" and thought it's funny, but don't you think the cats might me hurt or injured?"
In response a few people explained that they believed the cat was most likely just trying to clean itself.
Social media user @ArrozOwO wrote: "It's licking it's chest, at least trying to, basically trying to take a shower in a weird way."
And if animals moving in funny ways is what you find cheering, you'll also love a clip that recently went viral of a turtle 'dancing' in the shower.
The same Twitter page, @AnimalsWorld, shared footage in which the small reptile can be seen wriggling back and forth, as they are showered with a jet of water.
They captioned the post, writing: "This is my new favorite thing on the internet."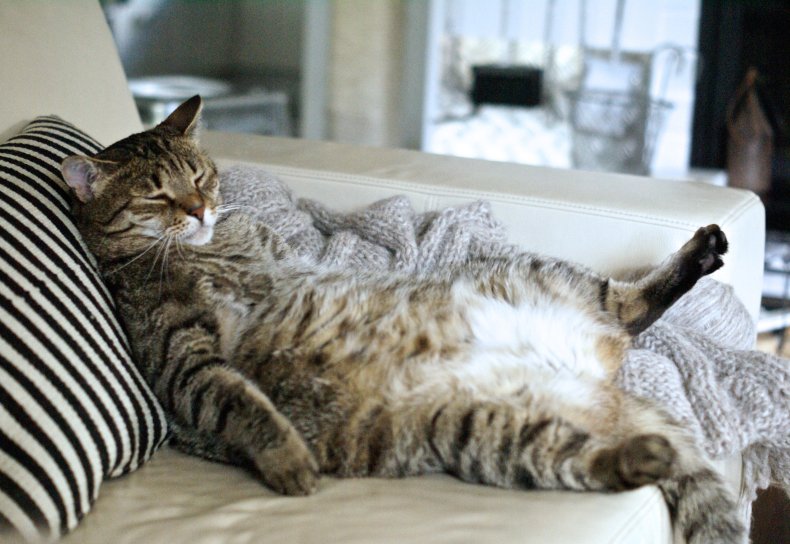 Clearly having lots of fun, the little animal moves in a dance-like fashion and the clip is afforded a comical quality as there is music playing in the background.
One Twitter user, @FulfillADestiny, wrote: "I hope everyone has an incredible Hump Day, and remember to boogy on down like this little turtle [sic]."
While another person, @Lisa81677086, commented: "This video is gonna get me through my day today!!!"