Cat Makes Spectacular Leap Up Inside Ceiling Lampshade in Hilarious Video
A video showcasing one cat's death-defying vertical leap up into a ceiling lampshade is proving popular with pet fans on social media.
Footage of the feline making the jump up into the shade, which looks to be made out of paper, was shared to TikTok by psykbryt_, and appears to have originated from Sweden.
In the clip, the cat can be seen appearing to defy the laws of gravity — and the old adage that "what goes up must come down."
Jumping vertically, the cat finds a way to latch on to the edges of the open hole of the lampshade before squeezing their entire body inside.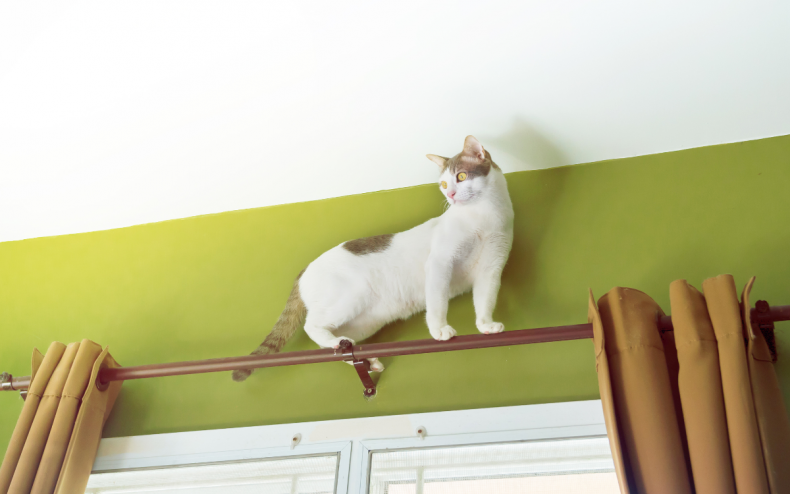 From there, the cat's motivations become clear with the clip going on to showcase the acrobatic feline enjoying a well-deserved nap inside their new cubby hole. The clip can be watched here.
It certainly looks like the ideal cozy sleeping spot - provided their owner doesn't turn the light on.
While this particular cat may have taken the concept to the extreme, it's not uncommon to see a feline forcing themselves into the tightest of spots in search of the ideal place to have a snooze.
According to zoologist and academic Luis Villazon, this is a perfectly normal practice among the four-pawed feline community that relates to the fact that cats love nothing more than a nap.
"Cats can spend 18 hours a day sleeping. As they are solitary animals, they want a safe hiding place to snooze," he told BBC Science Focus.
"But a cat curled in a tiny box, even out in the open, is probably just avoiding your cold floor. Cats are happy in room temperatures around 14°C [57°F] warmer than is comfortable for humans, and if there isn't a convenient sunbeam to lie in, they will make do with a cosy shoebox."
The cat in this particular clip appears to fall firmly into this category although their antics appear to have left their owner baffled, with the cat loving TikToker asking followers: "Are there cat psychologists?"
Most watching along at home, however, were thoroughly impressed at the feline's efforts. Leokaiulani wrote: "10/10 for precision jump calculated" with Margareta Graas dubbing the animal's efforts as "genius."
Footinmouthgirl agreed "that's actually pretty impressive" while CherriB0mb felt the cat was merely adhering to the mantra "if I fits, I sits." Teemu Korhonen, meanwhile, was baffled, asking: "how did the cat figure out to jump there?" with skraideprol figuring the feline "saw an opportunity and went with it."
Elsewhere, Yessikx00 wondered: "how was the jump that perfect?" while Thomas Anderson concluded that the cat just "scouted out the best spot."
Katebelllll did offer a word of warning, though, commenting: "This is exactly the reason why I had to get rid of all hanging chandeliers."
Happy Monkey couldn't resist making a UFO joke after noticing the lampshade bore similarities to a flying saucer. "The cat thought the mother ship had arrived," they joked alongside an alien emoji.
Newsweek has contacted psykbryt_ for comment.
Do you have funny and adorable videos or pictures of your pet you want to share? We want to see the best ones! Send them in to life@newsweek.com and they could appear on our site.