A heartwarming video of a cat being introduced to a new kitten in the household has gone viral on TikTok, where it received 819,300 views at the time of writing.
The video shared by TikTok user Nylah shows one kitten carefully approaching the other sitting in a cat carrier bag, while a caption overlaid on the video reads: "My pawrents came home with a surprise for me...a new friend."
The cat is seen poking its head closer to the bag, while another overlaid caption reads: "At first I wasn't so happy about the idea," before the pet at one point makes a hissing gesture towards the new feline friend.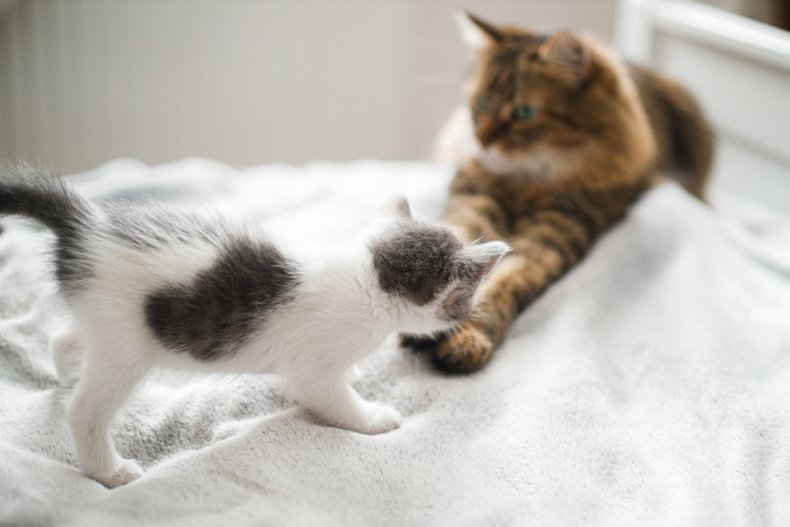 As it later pops its head over the top of the bag and looks inside, the overlaid caption reads: "But then I realized...There was no need to worry," as the footage shows the two cats interacting directly and later licking each other in a cozy bed.
The caption said: "His name is Goose and I already love him so much," before the video ends.
Nylah said: "We honestly couldn't believe how quickly she took to him! Within a day she was grooming him and watching over him sleeping" in a reply to user _TigerEyes_ who said: "Well that didn't take long," in a comment that received 1,159 likes.
The user thinks "Moosey thinks he's [Goose] her baby."
User Lacey Renninger said: "Is your kitten [Goose] a ragdoll? We just introduced our cats a few weeks back and we had this same interaction! Ours is also named Goose 😂."
The original poster replied: "Yes he is! Maybe that's why it happened so quickly! Such a cute name."
According to the Cat Fanciers' Association, the world's largest registry of pedigreed cats, ragdolls are "gentle cats" who are "known to run to greet you at the door, follow you from room to room, flop on you, sleep with you, and generally choose to be where you are."
Several users passed on comments praising the "beautiful" and "adorable" moment shared between the two cats.
User ronnaboggs wrote: "If only humans could learn to like/love one another this world would be a much better place to live. Unconditional love is all they know how to give!!" in a comment that got 184 likes.
Vun 123 said: "Watching your current cats accept a new friend is the most beautiful experience."
Catwoman said: "Awww I'm crying it was so touching and beautiful."
User cassandrazusy1 wrote: "Omg [oh my god] so adorable."
Rosann Russo said: "love conquers all."
User Cool Tiger wrote: "So cute."
Danni said: "awe best friends."
Caroline Morris wrote: "Aww super cute! We have 5 rag dolls they are the most loving cats! I'm glad your cat took so well to the new baby."
DaniBoy_RS noted: "who doesn't love such a cute happy ending."
Do you have funny and adorable videos or pictures of your pet you want to share? We want to see the best ones! Send them in to life@newsweek.com and they could appear on our site.