A black cat's adorably cautious approach to meeting her owner's new kitten is delighting pet fans on social media.
While Luna previously battled Bino, her owner's dog, for attention around the house, a young feline was recently added to the family and it's fair to say the senior cat is taking a little time to adjust to the new addition.
In a video viewed 2.6 million times on TikTok, the tiny new kitten can be seen spread out on their owner's bed, with the feline frolics momentarily interrupted by the sight of Luna popping her head up from the side of the bed to catch a quick glimpse of her new companion. It can be watched here.
First impressions are everything in the cat world and while things like scent swapping, in which the two cats are presented with the other's bedding to familiarize themselves with each other, lay the groundwork for a friendship Luna is right to keep her distance.
According to animal welfare charity International Cat Care, a first encounter should be set up in a way where the two cats can look but not touch each other.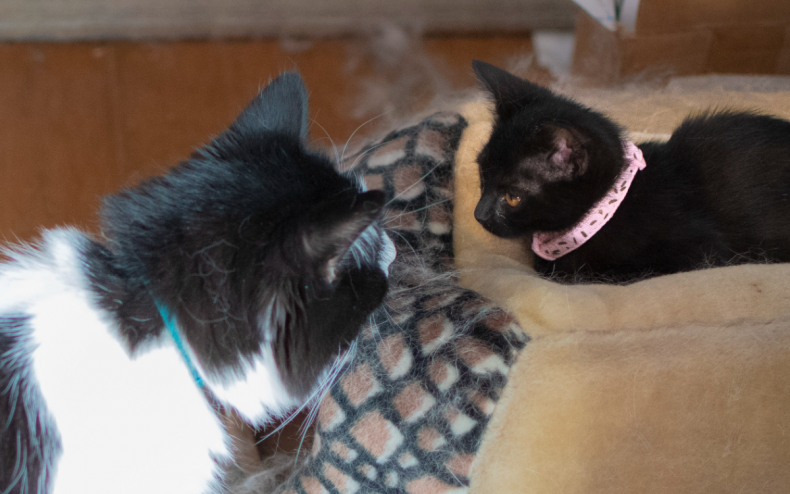 "The cats should only be allowed to see one another once they are fully relaxed in the home in general and when encountering the scent of the other cat," the charity explains. "Being able to see each other should happen through a physical barrier."
In the case of Luna and the new arrival, it looks like the older cat has come up with a great—if slightly amusing to witness—solution.
As the video posted to the bino_luna account shows, Luna takes keeping a distance very seriously. While the kitten rolls around in unabashed delight, Luna cautiously puts her head up over the side of the bed, like a soldier looking over the parapet.
Eventually, the kitten cottons on to what Luna is doing and the two lock eyes, with Luna seemingly frozen in terror while her new friend has a more inquisitive air to their response.
The footage quickly found an audience, with fans flocking to the clip just to see Luna's hilarious antics. McKenna Shelieha said "This is the definition of mom I didn't want a little sister or brother" with Traci Smith branding the video "priceless."
Marymurrayy wrote "absolutely love this, adorable" while mattisnotgood commented: "That first peek was smooth though."
Jacuban_gal87 imagined Luna telling her owner "Really? this is what you brought back home?" with makinganewtrish suggesting she was more likely telling herself: ""if I go away and come back maybe it won't be there" as she bobbed up and down.
While that first encounter may have been on the awkward side, Luna's owner did provide an update saying that things had settled down since then.
According to her, while there was an initial three or four days of frostiness, Luna has warmed to her new friend and the pair have begun playing together around the house.
Newsweek has contacted bino_luna for comment.
Do you have funny and adorable videos or pictures of your pet you want to share? We want to see the best ones! Send them in to life@newsweek.com and they could appear on our site.