Cat Waiting for Dog Sister To Return From Walk To Play Melts the Internet
A cat waiting for his dog sister to come back from her walk to play together has gone viral after their owner shared a video of him patiently waiting for her by the window like a good boy.
The video, shared on Reddit on Wednesday, features footage of the cat, Charlie, waiting for his sister, Chelsea, to come back from her walk with dad, then jumping all over her once she's back, with a caption that says: "Cat waiting for his bros to get back from a walk."
The post, which was shared on the subreddit r/AnimalsBeingBros by the pets' owner, who goes by the u/iamtheliquor__, has so far reached over 12,400 upvotes and about 105 comments.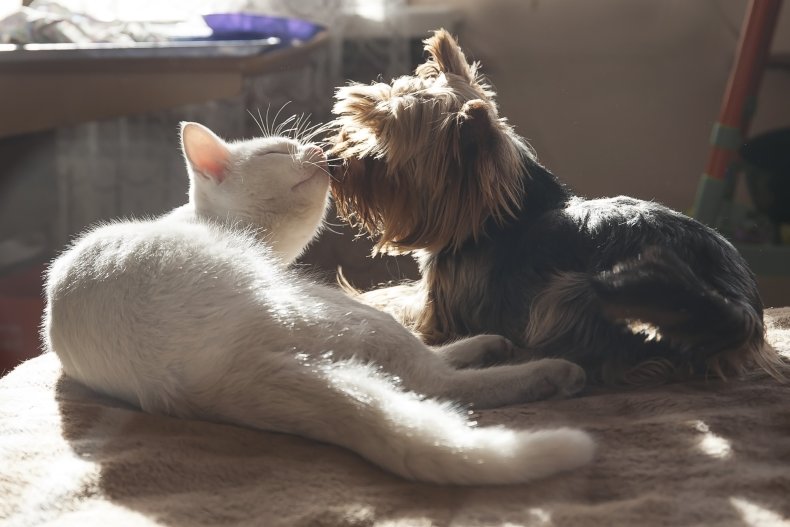 According to a recent survey carried out by the American Pet Products Association, about 70 percent of American households own a pet. About 69 million U.S. households own a dog, while 45.3 million households own a cat.
Recent statistics published by the American Society for the Prevention of Cruelty to Animals shows that one in five U.S. households adopted a new cat or dog during the COVID-19 pandemic, which accounts for approximately 23 million American households.
Most users loved the post and the cute relationship between the two pet siblings. SirRupert commented: "That little grumbly bark for treats is the best. This whole thing is perfect." And i-luv-ducks corrected them: "Purrfect."
Aleeleefabulous wrote: "Omg that kitty's little face at :27 just melted me! Brought me to tears. Was he smelling that tiny spot on the floor or falling asleep? Ahh he missed them so much!"
Another user, PPQue6, translated into words what the Charlie told Chelsea when she came back from her walk: "Hey buddy, hey buddy, Ohhhhh buddy did I miss you! Where did you go this time? How was it? Did you have fun? did ya did ya did ya?"
One user, D1R0CC0, expressed their disappointment at the fact that Charlie wasn't invited to the family walk: "I kinda felt bad he didn't get to go with them. My cat loves taking the dog for a walk with me."
DiaMat2040 pointed out a detail that most other users seem to have missed: "I love how [he] spends all the time waiting for you to come back but when the cat sees you [he] abandons [his] spot to act like [he] didn't miss you at all." And Murky_Translator2295 added: "I personally loved how the cat waited that long just to fuck with the dog going upstairs."
Other users shared their similar experiences with their own pets. HoneyAndThunder wrote: "My cat does this shit all the time. Pretends that he hates the puppy and wants nothing to do with him, but I'll always catch him checking up on the snoozing pup and supervising the pup in the yard when he thinks noone is watching." And iwantaquirkyname00 said: "Awww what a cute story of furry friends."
Referring to the ending of the video, when Charlie playfully jumps all over Chelsea, CopprRegendt joked: "Aw! Cat wants to give hugs but the only language he knows is violence."
While some users argued the owner should start walking the cat too. Watches_tv commented: "Walk the cat!" And futureflowerfarmer added: "Starts chanting walk the cat!"
Do you have funny and adorable videos or pictures of your pet you want to share? We want to see the best ones! Send them in to life@newsweek.com and they could appear on our site.