'Catastrophic' Tornado Takes Michigan by Surprise: 'We Don't Have Sirens'
An unexpected tornado has caused devastating damage in northern Michigan on Friday, leaving at least one person dead and injuring more than 40 others.
Lieutenant Jim Gorno of the Michigan Department of Natural Resources told CNN Friday evening that the fast-moving tornado caused "catastrophic" damage as it ripped through the town of Gaylord earlier in the day, including flipped-over cars and destroyed buildings.
"It is a busy downtown area, and it went right through it," said Gorno. "We aren't used to it up here... We don't have sirens like in other parts of the country."
Michigan State Police confirmed on social media that at least one person had been killed due to the tornado. Gaylord Mayor Todd Sharrard told reporters that at least 44 more people were confirmed injured on Friday night, while at least 12 homes were destroyed.
Earlier social media posts from the Michigan State Police indicated that injured residents were being transported to hospitals by ambulance.
Munson Healthcare spokesman Brian Lawson told the Associated Press that he did not know the condition of at least 23 injured people being treated at Otsego Memorial Hospital.
Authorities said that 12 additional patients were being treated at Grayling Hospital, while eight patients were at McLaren Northern Michigan Hospital in Petoskey and one patient was being treated at Munson Medical Center in Traverse City.
Police asked that the public stay away from Gaylord, noting that downed trees and power lines were blocking roads.
Pictures and videos posted to social media by others showed houses and businesses ripped apart by the extreme weather event, with debris from the damage strewn across roads and parking lots.
Sean Christensen, a meteorologist with the National Weather Service, told the Detroit Free Press that the tornado "touched down at around 3:45 and just went right through town," damaging businesses that included Panera Bread and a Jimmy John's.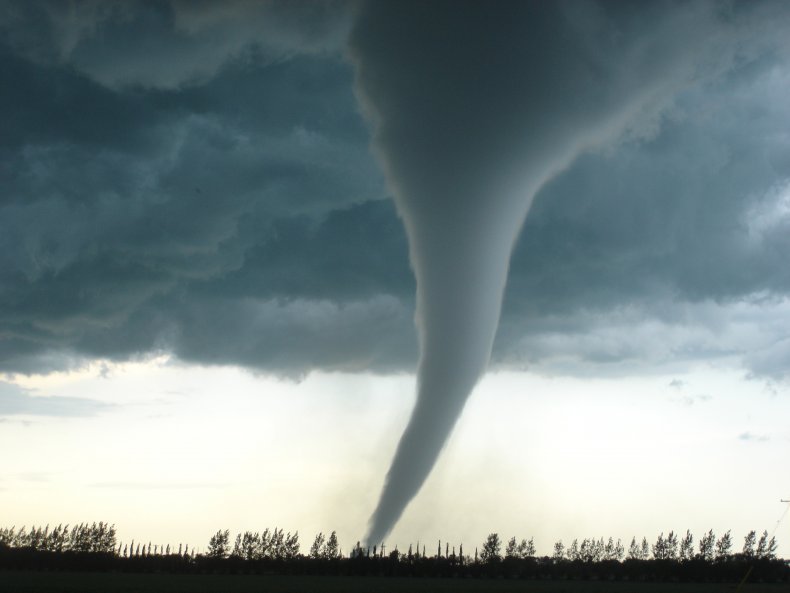 Residents of Gaylord, which is located in the northern part of Michigan's Lower Peninsula, said that the businesses hit also included Taco Bell, Little Caesars and Hobby Lobby, in addition to a shopping center and an RV dealership.
"I was sitting in the Taco Bell, right there on [M-32], and the funnel cloud came right down 32 and for some reason took a turn in the Taco Bell parking lot and hit all the buildings behind us and leveled a bunch of them," Frank McClellan told WWJ radio reporter Sandra McNeill.
"Somehow it did not hit us where we were sitting," McClellan added. "There were explosions coming our way, and then the next thing you know the funnel cloud is right in the parking lot."
Due to the ongoing emergency, the City of Gaylord imposed a curfew beginning at 7:00 p.m. local time on Friday night and ending at 8 a.m. on Saturday morning. Police said that the Red Cross would be staffing an emergency shelter at the E-Free Church in Gaylord.
According to tracking website PowerOutage.US, just over 35 percent of residents in Michigan's Otsego County—where Gaylord is the largest city and county seat—were without power following the tornado.
At 10:39 p.m. local time, WXMI reporter Max Goldwasser tweeted "Gaylord city limits are closed off right now," adding that the "entire city" was without power and the local hospital was at capacity.
"My heart goes out to the families and small businesses impacted by the tornado and severe weather in Gaylord," Michigan Governor Gretchen Whitmer said in a statement shared on Twitter. "To the entire Gaylord community—Michigan is with you. We will do what it takes to rebuild."
Later on Friday night, Whitmer announced that she had declared a state of emergency for Otsego County due to tornado's damage.
This isn't the first tornado to rip through the U.S. this spring. A tornado in western Iowa was captured on video touching down earlier this month. In late April, a video of tornadic activity in Andover, Kansas, went viral with over 1.2M views. Additionally, tornados have been reported across Texas, Florida, Georgia and other Southern states.
Newsweek reached out to the Michigan Department of Natural Resources for comment.
Update 05/20/22, 10:52 p.m. ET: This article was updated with additional information and background.