Video of Tornado Ripping Through Andover, Kansas, Viewed 1.2M Times
A video of a tornado tearing through Andover, Kansas, gained 1.2 million views on Twitter as of Saturday afternoon after it was posted by meteorologist Reed Timmer the previous day.
In another tweet, Timmer, who snapped multiple close-range footage, said that the tornado strengthened very quickly as it "went from 10 to 300 mph in seconds."
Meanwhile, storm chaser Aaron Jayjack said Saturday on Twitter that the tornado was narrow despite being strong. "Surveying the Andover damage path right now. Found the slabbed homes. Powerful but narrow tornado. Thank goodness it was such a narrow tornado. Looked like the damage path was about a block wide," he tweeted.
AccuWeather posted another video on social media containing different clips of the tornado spinning through Andover and Wichita. The clips showed the tornado destroying buildings and passing through roads and bridges in both cities.
"'Major damage:' Tornado cuts a disastrous path near Wichita," AccuWeather tweeted Saturday. "Dozens of buildings throughout Andover were damaged when a tornado, witnessed from miles around, spun through the city last night."
There were 966 buildings within the "destructive" tornado's path, AccuWeather meteorologist Alyssa Smithmyer reported Saturday, citing Andover County Fire Chief Chad Russell, adding that the tornado reportedly caused thousands of power outages, but "only a handful of injuries."
"We are still really concerned about those areas in the fire district that we have not...searched yet. That's our primary objective and that's where the crews are right now," Russell said Saturday, according to AccuWeather.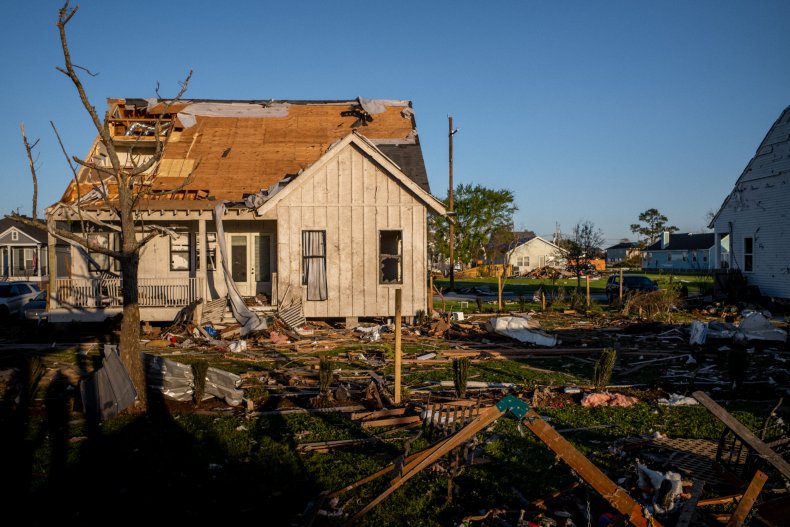 The fire chief also said that rescue crews searching for victims spread across the tornado's track starting from Sedgwick County to Butler County.
Early Saturday morning, the Andover Police Department said on Twitter that the roads leading into the city were closed as emergency teams worked to remove the debris and verify the damages made.
The tornado was part of severe weather that erupted throughout the country's midsection late Friday, according to AccuWeather.
"The storms from the afternoon through the overnight from Kansas and Nebraska to Oklahoma and Missouri, were powered by an area of low pressure which took shape in central Kansas, earlier on Friday," said AccuWeather meteorologist Joseph Bauer.
Recently, there has been an uptick in extreme weather, with meteorologists recently predicting a busy upcoming hurricane season across the country due to La Niña weather, which will remain throughout most of the year, potentially weakening storms in the Pacific but strengthening hurricanes in the Atlantic.