Hurricane Season Could Be Busier Thanks to La Nina, Meteorologists Predict
Meteorologists predict that La Niña weather will remain throughout most of the year with a concern that it could impact the upcoming hurricane season as it weakens storms originating in the Pacific, but strengthens hurricanes in the Atlantic.
Hurricane season in the Atlantic begins June 1 and ends November 30. The Atlantic has seen 21 named storms in the 2021 hurricane season, according to the Washington Post. The average Atlantic hurricane season typically features 14 named storms, seven hurricanes, and three major hurricanes.
La Niña, a climate phenomenon, is expected to continue throughout the summer with a 59 percent chance that it will stay through August and around 50-55 percent chance it will remain throughout the fall, according to an update by the National Oceanic and Atmospheric Administration (NOAA) cited by Border Report.
La Niña and El Niño are the two phases that make up the El Niño Southern Oscillation (ENSO) with La Niña being the cooler phase of ENSO. There is also a neutral phase in which the water is neither warmer nor cooler than normal.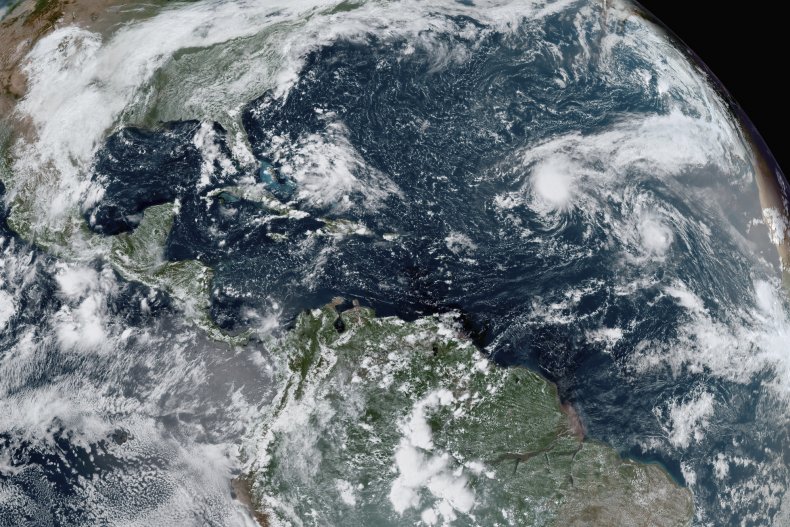 NOAA also said on April 25 that "the tropical Pacific atmosphere is consistent with La Niña," according to the Post.
Meteorologists are keeping an eye on a possible "triple-dip La Niña", which means having La Niña persist three winters in a row, according to the Post. The La Niña phase entails having lower-than-average sea surface temperatures over the tropical Pacific Ocean.
Analyzing the ENSO trends and their impact on the hurricane season, AccuWeather's hurricane expert Dan Kottlowski noted that the upcoming hurricane season seems active for tropical development due to the forecast wind shear pattern for the Atlantic basin.
La Niña's impact on the Atlantic basin involves decreasing the amount of disruptive wind shear that is found in regions where tropical weather develops. Lower wind shear causes an increase in the possibility of a higher-than-normal amount of tropical systems.
The country experienced La Niña conditions the past two winters. During a tornado season, La Niña patterns increase the risk of severe weather conditions across parts of the South and the southern Plains.
If La Niña continues through September, then it would be the third time since 1950 that the climate condition existed for three consecutive hurricane seasons.
La Niña was present in the 2020 hurricane season which saw more named storms than any other season in history.
Weather forecasters at Colorado State University are expecting an above-average hurricane season in 2022 with at least 19 named storms and nine hurricanes. Four hurricanes are expected to be Category 3 or higher.