Can I Catch Coronavirus From My Phone, Clothes or Other Surfaces?
One of the many questions that the COVID-19 pandemic has thrown up is which everyday surfaces and items might carry the new coronavirus.
It is thought that SARS-CoV-2, the name of the virus which causes COVID-19 (not to be confused with the SARS virus), infects its victims in three main ways, according to the Centers for Disease Control and Prevention:
The bug can spread between people who are in close contact, within about 6 feet.
It can be carried in droplets expelled by the coughs and sneezes of the sick which come into contact with the mouths or noses of others, or possibly inhaled.
It can be picked up when a person touches a contaminated surface and then touches their mouth, nose and eyes (although this isn't likely to be the most common way of picking up the virus.)
However, as SARS-CoV-2 is so new, Seema S. Lakdawala, assistant professor in the department of Microbiology and Molecular Genetics at the University of Pittsburgh School of Medicine, told Newsweek it's hard to know which is the most common way for it to spread.
Earlier this week, a study published in the New England Journal of Medicine shed light on how long SARS-CoV-2 can linger on different surfaces. Researchers used a nebulizer to simulate the cough or sneeze of a COVID-19 patient, and found the germ can live for up to three days on plastic and steel compared with 24 hours on cardboard, four hours on copper, and as an aerosol for up to three hours.
"Enveloped viruses, like influenza virus and SARS-CoV-2, are less stable on porous surfaces like cloth," explained Lakdawala. "Although there is a recent data demonstrating long-lived stability of influenza viruses on bank notes. Many studies have demonstrated that copper can inactivate most enveloped viruses in a few hours."
She added: "Non-porous surfaces like plastic, glass, metals may be more concerning as viruses are stable for long periods of time on these surfaces."
Asked whether there are any materials we don't need to be worried about when it comes to catching COVID-19, or if we should behave as if any surface has the potential to spread the virus, Jenna Macciochi, lecturer in immunology at the University of Sussex, stressed to Newsweek that studies on such topics only tell us so much about the real life situation where things like moisture could make a difference.
And when it comes to specific items like our phones, Michael Head, senior research fellow in Global Health at the University of Southampton, highlighted in a statement it's important to remember that such devices are touched by fewer different people than other surfaces like door handles. So it's perhaps unwise to fixate on one item or material.
As Macciochi pointed out to Newsweek, any shared public touchscreens, including self checkouts, gym equipment, lift buttons, doorknobs, and shared office equipment, could also be potential virus hotspots.
The safest approach, therefore, is to be careful of all surfaces. "Truth is we don't know definitively [which surfaces are the worst for spread] and so should be cautious," Macciochi said. In any case, "it's probably impossible to know exactly how you became infected," she added.
Head advised whilst it's important to recognise potential sources of infection, people should focus on making sure they are "thoroughly washing and cleaning their hands several times a day."
This has been the advice offered by the World Health Organization throughout the outbreak, outlined in more detail in the box below. Since the pandemic started last year, over 250,000 cases have been confirmed, over 10,000 people have died, and over 87,000 people have recovered, as shown in the graphic by Statista below, accurate as of March 20.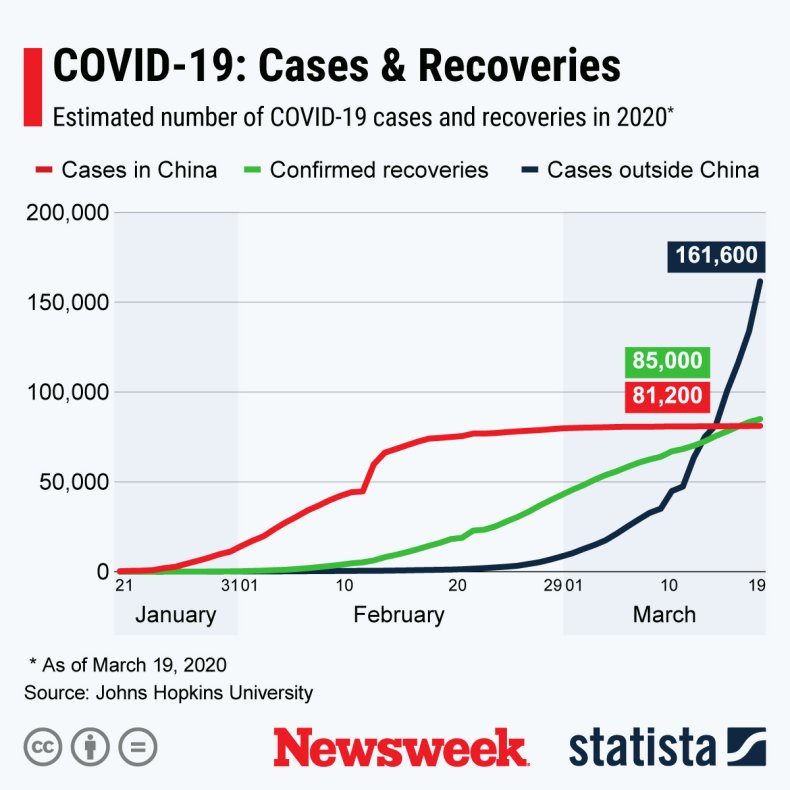 World Health Organization advice for avoiding spread of coronavirus disease (COVID-19)
Hygiene advice
Clean hands frequently with soap and water, or alcohol-based hand rub.
Wash hands after coughing or sneezing; when caring for the sick; before; during and after food preparation; before eating; after using the toilet; when hands are visibly dirty; and after handling animals or waste.
Maintain at least 1 meter (3 feet) distance from anyone who is coughing or sneezing.
Avoid touching your hands, nose and mouth. Do not spit in public.
Cover your mouth and nose with a tissue or bent elbow when coughing or sneezing. Discard the tissue immediately and clean your hands.
Medical advice
If you feel unwell (fever, cough, difficulty breathing) seek medical care early and call local health authorities in advance.
Stay up to date on COVID-19 developments issued by health authorities and follow their guidance.
Mask usage
Healthy individuals only need to wear a mask if taking care of a sick person.
Wear a mask if you are coughing or sneezing.
Masks are effective when used in combination with frequent hand cleaning.
Do not touch the mask while wearing it. Clean hands if you touch the mask.
Learn how to properly put on, remove and dispose of masks. Clean hands after disposing of mask.
Do not reuse single-use masks.