Catholic Voters Overwhelmingly Favor GOP Candidates, Except Doug Mastriano
New polling shows that Catholic voters in key battleground states overwhelmingly favor Republican candidates, who hold significant leads over their Democratic opponents—except in the case of the governor's race in Pennsylvania.
A poll released Wednesday from RealClearPolitics (RCP) and Catholic television network EWTN showed Republican candidate Doug Mastriano trailing 6.3 percentage points behind Democrat Josh Shapiro with less than two weeks to Election Day—a rare finding that showed Catholic voters prepared to split the ticket.
Shapiro has an even larger advantage when analyzing general polling. RCP's poll average has the Democrat with a 6.4-point lead, while FiveThirtyEight shows Shapiro with an 8.3-point lead. Although the election forecaster predicts that Shapiro has a 94 in 100 chance to win the governorship, Mastriano has narrowed the gap between himself and the attorney general, who led by double digits for much of September and October.
Mastriano, who was endorsed by former President Donald Trump, is among the most prominent 2020 election deniers running for office, and surveys suggest that those "extreme" views has pushed voters towards Shapiro, who they view to be more "mainstream," according to a Wednesday poll from CBS News/YouGov.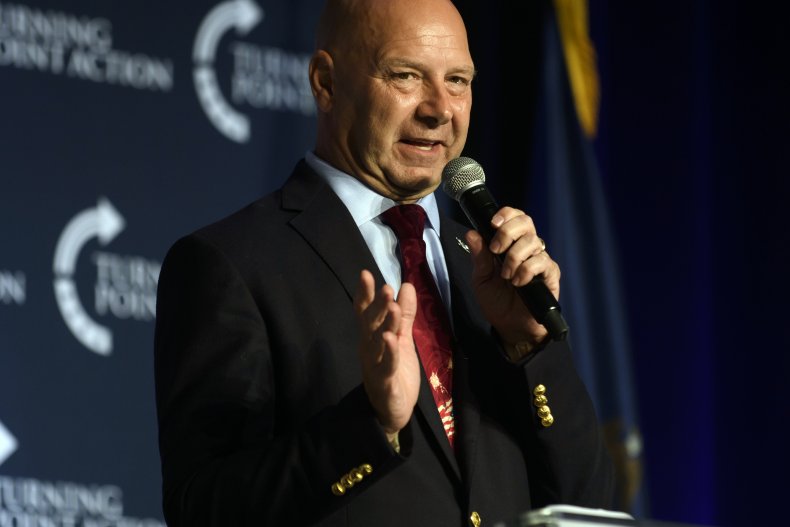 Pennsylvania has been at the core of recent elections. Trump won the state narrowly in 2016 before Joe Biden did the same four years later. Both the Pennsylvania governor's race and the U.S. Senate race have been among the most closely watched contests in this year's midterm elections.
Wednesday's poll found that the majority of Catholic voters still support the GOP candidate when it comes to Pennsylvania's Senate race, where Republican Mehmet Oz leads by 5.5 points over Democrat John Fetterman. Oz's advantage is part of a national trend where Catholic voters prefer Republicans for Senate in Georgia, Arizona, Nevada, Florida and Ohio.
Of those battleground states, Georgia Republican Herschel Walker has the greatest lead with 64.7 percent support from Catholic voters, over incumbent Senator Raphael Warnock's 32.7 percent. Pennsylvania's Senate race is the closest.
On Tuesday night, Oz and Fetterman took the debate stage as part of what was largely viewed as a painful performance from the Democratic lieutenant governor, who struggled with the lingering effects of his recent stroke.
RCP's poll found that the economy remains the driving issue for Catholic voters in Pennsylvania, although abortion remains important.
While abortion is only the top issue for roughly 10 percent of those voters, more than 55 percent of Catholics say they want to see abortion handled by Pennsylvania's elected representatives and the state's ballot initiatives, rather than by the courts.
According to Shapiro's campaign website, the attorney general vows to "continue to defend a woman's right to choose in Pennsylvania" should he win the election. On the other hand, Mastriano has called abortion with no exceptions his "number 1 issue."
The CBS poll found that 62 percent of registered voters see Mastriano's views as "extreme," and that 68 percent say Shapiro's are more "mainstream."
Newsweek reached out to Mastriano's campaign for comment.