Catholics Helped Elect Joe Biden as More Voters Shrugged Off Abortion Issues, Hostile Clergy
Catholic voters helped elect Democratic candidate Joe Biden as the next U.S. president, as more people belonging to the denomination shrugged off an often hostile clergy and key issues like abortion rights, a recent survey found.
While President Donald Trump won support from eight out of every 10 white evangelical Christian voters, Catholics were split nearly down the middle between him and Biden, according to data from AP VoteCast. Fifty percent of Catholics backed Trump while 49 percent favored Biden.
In the 2020 election, Catholic voters accounted for a significant 22 percent of the electorate—a crucial demographic for either candidate to secure. But Biden, whom the Associated Press and other media outlets declared winner on Saturday, clearly benefited from the group.
Among white Catholics, 57 percent backed Trump and 42 percent supported Biden, VoteCast found. This is a decrease from Trump's 2016 numbers among the demographic, when he won 64 percent of their vote compared to Democratic candidate Hillary Clinton's 31 percent, according to a Pew Research Center analysis.
Biden performed even better among Hispanic Catholics, with VoteCast finding that 67 percent backed the Democrat while 32 percent supported Trump.
Biden's own faith likely helped boost his standing with some voters. Once inaugurated in January 2021, Biden will become just the second practicing Catholic to be a U.S. president, with the first being John F. Kennedy in 1960.
The Associated Press conducted the nationwide survey of more than 110,000 voters in conjunction with NORC at the University of Chicago. While some other surveys of the American electorate found varying numbers relating to this demographic, a constant theme shows Biden with an increasing share of Catholic votes.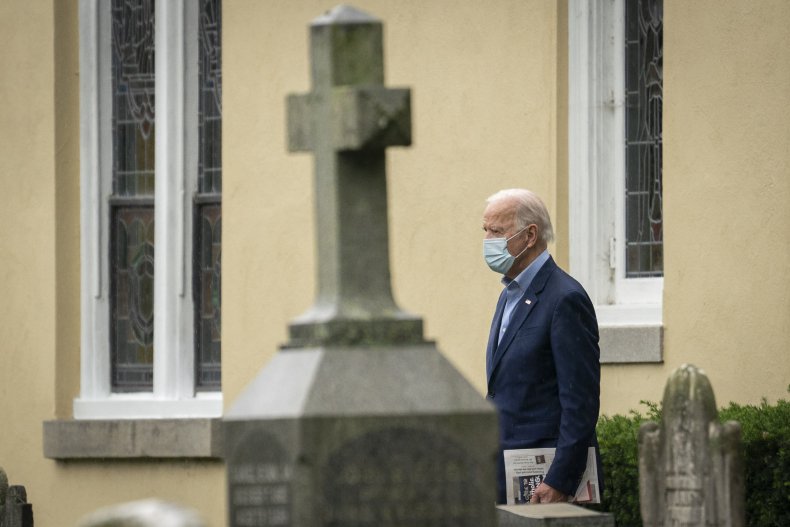 Biden performed well with the Catholic demographic despite endorsing key issues like abortion rights, which are at odds with Vatican teaching. Cardinal Raymond Burke even went as far to suggest that Biden should not be allowed to receive Holy Communion during Sunday Masses, citing the former vice president's long history of defending pro-abortion rights positions.
"Certainly, he is not a Catholic in good standing, and he should not approach to receive Holy Communion," Burke said of Biden during an August 31 interview, obtained exclusively by Zenger News.
Bishop James Altman of St. James the Less Roman Catholic Church in La Crosse, Wisconsin, asserted in a September video message that those who vote for the Democrat face going to hell.
"You cannot be Catholic and be a Democrat. Period. Their party platform absolutely is against everything the Catholic church teaches," Altman said.
Backlash toward Biden became so severe that an American Jesuit priest and Vatican consultant issued a statement in early September urging fellow Catholics against the suggestion that it was sinful to vote for the Democrat.
"Dear friends: I'm seeing more priests saying that voting for Joe Biden is a mortal sin. It is not. It is not a sin to vote for either Mr. Biden or Mr. Trump. Nor is it a sin to be Democrat or Republican," Father James J. Martin said.
Martin previously told Newsweek no candidate could "ever fully express all Catholic teaching."
"Bishops, priests and members of religious orders are not supposed to endorse any candidates. And the church itself never endorses, because no one candidate could ever fully express all Catholic teaching," Martin said. "For example, in general the Democrats support abortion, but the Republicans support the death penalty. Both are against church teaching."
Given the strong numbers Biden received, it seems as though many Catholic voters were able to tune out hostile voices within the clergy and separate their personal views on issues such as abortion rights from politics, ultimately voting for the Democrat.