It's impossible to go into Cats without preconceived notions, but I'm proud to say I managed to get pretty close. Having never seen the original Broadway run at the Winter Garden Theatre, where it played for almost 20 years before closing in 2000, my prior exposure to Andrew Lloyd Webber's feral Tony winner had been limited to occasional YouTube clips and vague childhood recollections of a low-budget TV commercial that played incessantly in the New York area throughout the 1980s.
Those narrow reference points were still enough to form strong opinions about the show, which I assumed fell somewhere between Blue Man Group and Carrot Top on the scale of theatrical hipness. And those assumptions weren't wrong: Cats is definitely not cool, and if we're being honest, it is essentially a cosplay convention set to music. But check your inner theater snob at the door, and you might actually enjoy large parts of the revival that opened Sunday at the Neil Simon Theatre.
Under the expert direction of Trevor Nunn, who also helmed the original, the new Cats is an amusing showcase—in a riverboat casino kind of way—with arresting dance elements and a sugary synthetic music score that proves to be unexpectedly contagious. This is especially true in the second act, when the vignettes get bigger and the characters more outrageous. By the time we meet the flamboyant Mr. Mistoffelees, a cunning and acrobatic cat played by the exceptional dance phenom Ricky Ubeda, we realize we're having much more fun than we thought we might.
Presentation-wise, not much has been tinkered with. At curtain, the theater is pitch-black, and glowing cat eyes pierce through the darkness. The events that follow take place over a single night in a junkyard, where the Jellicles, a gang of disparate felines, are preparing for a mystical reincarnation ritual led by Old Deuteronomy (a commanding and charismatic Quentin Earl Darrington), a wise, old cat and father figure.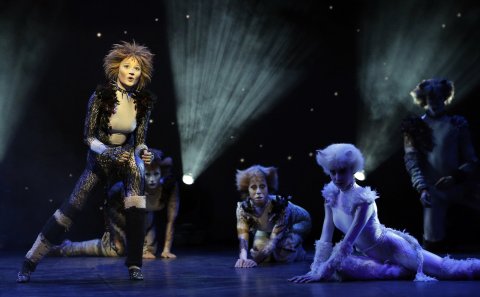 The lyrics, based on poems by T.S. Eliot, are serviceable and clever at times, if not remarkably devoid of humor. And as for the story—well, let's face it, there is no story. The narrative structure is basically a procession of different cat characters, each introduced separately and each the focus of a new song. That includes Grizabella, a once-beautiful "glamour cat" who has lost her luster and now pines achingly for her youth. Leona Lewis, of The X Factor fame, bravely takes on this crucial role, which was originated on the West End by Elaine Paige and played on Broadway by the legendary Betty Buckley.
I feel for Lewis: Those are big shoes to fill, and her performance is clearly hampered by the intimidating specter of the theatrical luminaries who came before her. Tasked with singing "Memory," the show's enduring musical standard, Lewis is able to hit the notes, but her acting is stilted and self-conscious. She comes off less like a mournful old soul than a kid lost in a department store, with Grizabella's agonizing pangs of nostalgia lost on her straightforward expressions and timid movements.
The sound crew tries to help by boosting Lewis's decibel levels when the all-important climax of "Memory" finally arrives, but the result feels artificial—a Broadway classic soaked in reverb. Maybe Simon Cowell would have fallen for this bit of technical trickery. We don't.
This is both a big criticism and a small one, given that a vital moment was squandered in an otherwise entertaining show. There's a lot to like about Cats, including a large ensemble of talented performers who are ready and willing to give in to it its ridiculousness. The dancing is spectacular, and in fact Andy Blankenbuehler's choreography steals the show. Coming off a recent Tony win for Hamilton, Blankenbuehler based his work off the original from Gillian Lynne, because why mess with it?
It's hard to know who this Cats revival is for, outside of a particular strain of undiscerning tourist from the Midwest or maybe Belgium. The producers certainly didn't seem concerned with attracting New Yorkers, seeing as how the show opened on the last Sunday in July, a time when many city dwellers have fled for the Hamptons or Fire Island.
Logistics aside, there's an unabashed bigness to Cats that makes it difficult to resist: dozens of nimble furries, paws flailing, dancing delightfully in unison and belting out Lloyd Webber's pop-infused show tunes with abandon. Your inner theater snob may tell you it's too silly a spectacle to bother with, but your outer theater geek will fight for the right to enjoy it. Let the two of them claw it out.
Cats, composed by Andrew Lloyd Webber; based on Old Possum's Book of Practical Cats, by T.S. Eliot; directed by Trevor Nunn; choreography by Andy Blankenbuehler, based on the original choreography by Gillian Lynne; scenic and costume design by John Napier; lighting design by Natasha Katz; sound design by Mick Potter; CatsTheMusical.com.