CDC Coronavirus Advice for Elderly and Vulnerable People: How to Prepare and What to Do If You Get Sick
While everyone should be taking precautionary measures to protect themselves and others from the spread of coronavirus, the Centers for Disease Control and Prevention (CDC) has shared advice for those who are at a high risk of becoming more seriously sick.
Elderly people or those with severe chronic medical conditions, such as heart or lung disease or diabetes, are at a higher risk of experiencing a more serious COVID-19 illness. Even so, there are steps you can take now to prepare and to protect yourself and others if you do become unwell.
How to protect yourself and others
To protect yourself and others from contracting the coronavirus, stay home when you are sick and avoid crowds. You should delay all travel, including flights, and especially avoid going on a cruise.
Cough and sneeze into a tissue or your elbow, and never into your hands. You should also wash your hands after coughing and sneezing. To effectively wash your hands, do so with soap and water for 20 seconds, and if there is no soap and water available, use a hand sanitizer with at least 60 percent alcohol. Wash your hands frequently and avoid touching your eyes, nose and mouth with unwashed hands.
You should clean and disinfect the surfaces and things that you regularly touch, such as tables, chairs, doorknobs, light switches, elevator buttons, handrails, countertops, remote controls, shared electronic equipment, shared exercise equipment, handles, desks, phones, keyboards, toilets, faucets and sinks.
Be prepared in case you get sick with COVID-19
If you get sick, call your doctor to see if your symptoms could be those of COVID-19. Stay in touch with your friends, family or neighbors via email or phone, and arrange for someone to take care of you if you do get sick. Make sure you have someone else to call if your caregiver gets sick too.
Additionally, make a list of your emergency contacts and a list of your daily medication with the times that you take them. Ask your doctor about getting a 30-day supply of your medication in case you have to stay at home for a few weeks.
Make sure you have over-the-counter medications at home to treat a fever and other symptoms and remember that many people can recover at home. Prepare to stay at home for a few weeks by having enough household supplies and groceries.
If you do get sick, continue to clean and disinfect your home, avoid going out, avoid other people, keep washing your hands and try not to touch your face.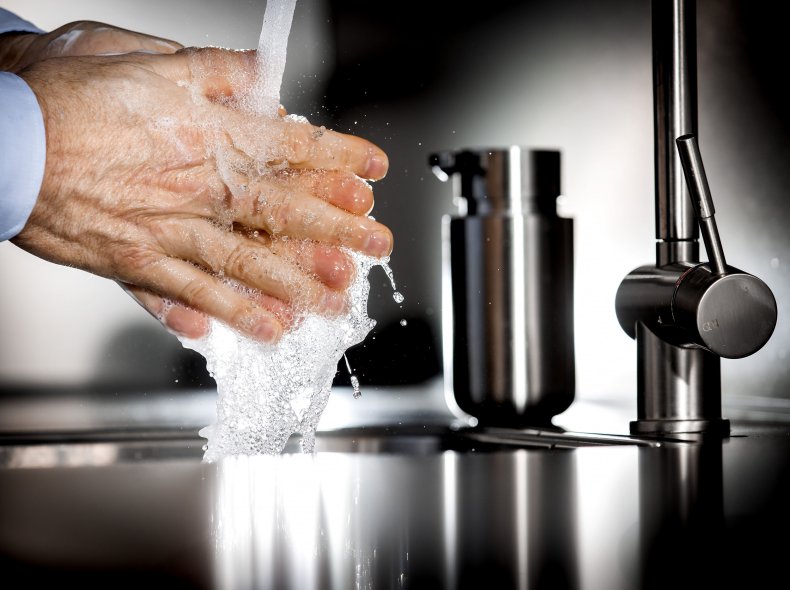 What to do if there is a COVID-19 outbreak in your community
Keep up to date with your local news in case there is an outbreak in your community. Follow the advice of your local health officials, and continue to wash your hands and clean your home regularly.
Stay at home as much as possible, and if you do have to go outside, avoid other people, especially crowds and sick people. Wash your hands as much as possible and pay attention to coronavirus symptoms, such as fever, cough, and trouble breathing.
What to do if you get sick from COVID-19
Pay attention to your symptoms. COVID-19 symptoms include fever, cough and trouble breathing. If you think you are developing symptoms, call your doctor and tell them you think you could have COVID-19. You might be able to recover at home, so follow your doctor's advice.
Stay in contact with your family and friends—update them on how you feel and let them know if you need anything. You should not leave your house if you are sick with COVID-19.
If you are experiencing worsening symptoms, such as difficulty breathing or shortness of breath, persistent pain or pressure in the chest, new confusion or inability to arouse, or bluish lips or face, call 911. You should also call your doctor of 911 if you have any other symptom that is severe or concerning.
World Health Organization advice for avoiding spread of coronavirus disease (COVID-19)
Hygiene advice
Clean hands frequently with soap and water, or alcohol-based hand rub.
Wash hands after coughing or sneezing; when caring for the sick; before, during and after food preparation; before eating; after using the toilet; when hands are visibly dirty; and after handling animals or waste.
Maintain at least 1 meter (3 feet) distance from anyone who is coughing or sneezing.
Avoid touching your hands, nose and mouth. Do not spit in public.
Cover your mouth and nose with a tissue or bent elbow when coughing or sneezing. Discard the tissue immediately and clean your hands.
Medical advice
If you feel unwell (fever, cough, difficulty breathing) seek medical care early and call local health authorities in advance.
Stay up to date on COVID-19 developments issued by health authorities and follow their guidance.
Mask usage
Healthy individuals only need to wear a mask if taking care of a sick person.
Wear a mask if you are coughing or sneezing.
Masks are effective when used in combination with frequent hand cleaning.
Do not touch the mask while wearing it. Clean hands if you touch the mask.
Learn how to properly put on, remove and dispose of masks. Clean hands after disposing of mask.
Do not reuse single-use masks.