CDC Coronavirus Advice on How to Clean Your Home While Caring For Someone Who is Sick
While self-isolating to prevent the spread of the coronavirus, it's important to keep your home clean. It's especially important, however, to keep your home clean if you are caring for someone who is sick. This will help minimize the risk of you or anyone else getting sick by killing the virus that could be lingering on surfaces, door handles, phones, and so on.
The Centers for Disease Control and Prevention (CDC) has put together a guide to cleaning and disinfecting your home while caring for someone who is sick. The CDC's first piece of advice is that you should wear disposable gloves while cleaning your home.
For a full list of EPA-registered household disinfectants that meet EPA's criteria for use against COVID-19, check the CDC website.
Frequently touched surfaces
The areas of your home that most need to be cleaned and disinfected are frequently touched surfaces, such as tables, doorknobs, light switches, countertops, handles, desks, phones, keyboards, toilets, faucets, and sinks. These are the areas where somebody who is sick is most likely to spread the virus, so it is important that they are cleaned frequently, using soap and water.
How to disinfect surfaces and make a bleach solution
The CDC recommends using a household diluted bleach to disinfect appropriate surfaces, and you should make sure that the bleach is in date, as expired bleaches could be ineffective against the coronavirus. While using bleach, follow the manufacturer's instructions, make sure the room is properly ventilated, and never mix bleach with ammonia or any other cleanser.
To make your own bleach solution, mix five tablespoons of bleach per gallon of water or four teaspoons of bleach per quart of water. You can also disinfect surfaces using alcohol solutions with at least 70 percent alcohol, or by using household cleaners and disinfectants after cleaning the surface with soap and water.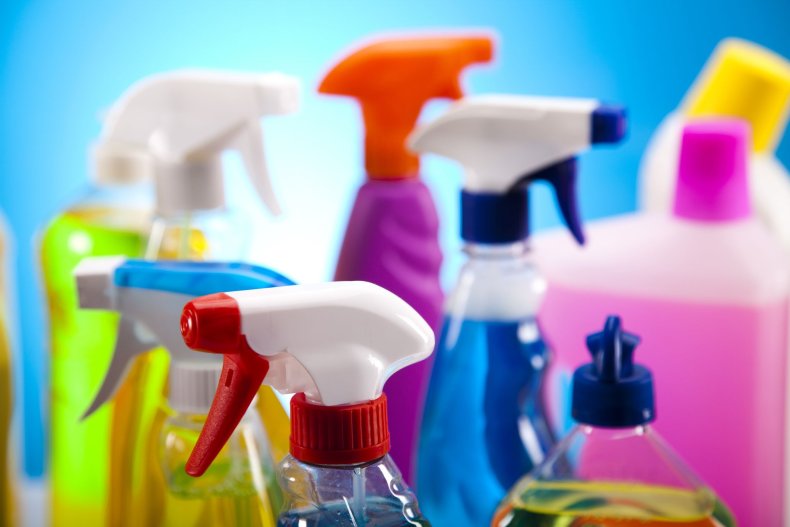 How to clean and disinfect soft surfaces
Cleaning soft surfaces like carpets, rugs, and drapes, is also important while caring for somebody who is sick. You can clean the soft surfaces with soap and water, with soft surface household cleaners, or by laundering the items using the warmest appropriate water and then drying the items completely.
Doing laundry for someone who is sick
The CDC recommends wearing disposable gloves when doing the laundry for someone who is sick, and to avoid shaking any dirty clothes. Launder items according to the manufacturer's instructions and use the warmest appropriate water setting and dry items completely. Remember that dirty laundry from somebody who is sick can be washed with other people's laundry.
After doing the laundry, clean and disinfect the clothes hampers, dispose of the gloves and wash your hands.
Washing dishes for somebody who is sick
If somebody is sick, they should eat on their own, in their own room, if possible. After eating, wash their dishes and utensils while wearing gloves and with hot water or in a dishwasher, and then wash your hands.
How to dispose of the trash
If possible, the sick person should have their own lined trash can. Use gloves to dispose of the trash and then wash your hands afterward.
Wash your hands frequently
It is important to wash your hands frequently, but especially when caring for somebody who is sick. To wash your hands effectively, use soap and water for 20 seconds or use a hand sanitizer containing at least 60 percent alcohol if soap and water are not available. Always wash your hands using soap and water if they are visibly dirty.
You should wash your hands after blowing your nose, coughing, sneezing, using the bathroom, before preparing food and eating, after touching animals, before and after caring for somebody else, and after removing disposable gloves. Make sure to avoid touching your eyes, nose, and mouth with unwashed hands.
World Health Organization advice for avoiding spread of coronavirus disease (COVID-19)
Hygiene advice
Clean hands frequently with soap and water, or alcohol-based hand rub.
Wash hands after coughing or sneezing; when caring for the sick; before, during and after food preparation; before eating; after using the toilet; when hands are visibly dirty; and after handling animals or waste.
Maintain at least 1 meter (3 feet) distance from anyone who is coughing or sneezing.
Avoid touching your hands, nose and mouth. Do not spit in public.
Cover your mouth and nose with a tissue or bent elbow when coughing or sneezing. Discard the tissue immediately and clean your hands.
Medical advice
If you feel unwell (fever, cough, difficulty breathing) seek medical care early and call local health authorities in advance.
Stay up to date on COVID-19 developments issued by health authorities and follow their guidance.
Mask usage
Healthy individuals only need to wear a mask if taking care of a sick person.
Wear a mask if you are coughing or sneezing.
Masks are effective when used in combination with frequent hand cleaning.
Do not touch the mask while wearing it. Clean hands if you touch the mask.
Learn how to properly put on, remove and dispose of masks. Clean hands after disposing of mask.
Do not reuse single-use masks.