CDC Director Says There May Be Another Coronavirus Wave in Late Fall and a 'Substantial Portion of Americans' Will Be Susceptible
The head of the U.S. Centers for Disease Control and Prevention (CDC) has warned the country may be hit by a second wave of COVID-19 cases in late fall.
Speaking to NPR-affiliate WABE, Dr. Robert Redfield, CDC director and virologist, addressed a potential second wave of infections which may emerge after the spike in hospitalizations and deaths forecast for April or May in models used by the Trump administration.
The CDC is preparing "most likely, for another wave that we would anticipate in the late fall, early winter where there will still be a substantial portion of Americans that are susceptible," Redfield said.
"Hopefully, we'll aggressively re-embrace some of the mitigation strategies that we have determined had impact, particularly social distancing."
Although the nature of the new bug isn't clear, Redfield explained, most respiratory viruses are seasonal, giving experts time to work on countermeasures. This would involve "very aggressively" focusing on states with limited spread.
Redfield also said it appears the new coronavirus is more infectious than the flu, and can be passed by those without symptoms.
Asked what the CDC has learned about the COVID-19-causing virus in recent weeks, Redfield said: "This virus does have the ability to transmit far easier than flu. It's probably now about three times as infectious as flu. One of the [pieces of] information that we have pretty much confirmed now is that a significant number of individuals that are infected actually remain asymptomatic. That may be as many as 25 percent."
The CDC director also highlighted that those who develop COVID-19 may shed its virus in the oropharyngeal compartment (the soft palate, side and back walls of the throat, the tonsils, and the back of the tongue) "probably up to 48 hours before we show symptoms."
Redfield said: "This helps explain how rapidly this virus continues to spread across the country, because we have asymptomatic transmitters and we have individuals who are transmitting 48 hours before they become symptomatic."
According to Johns Hopkins University, the U.S. is the country with the most coronavirus cases, with over 189,600 of the more than 860,100 total confirmed since the virus emerged from China in late December 2019. More than 4,000 people have died in the U.S. compared to the 3,300 deaths reported in China.
As indicated in the Statista graphic below, the coronavirus has spread to every state, Washington, D.C., and four U.S. territories since the first case was reported on January 20.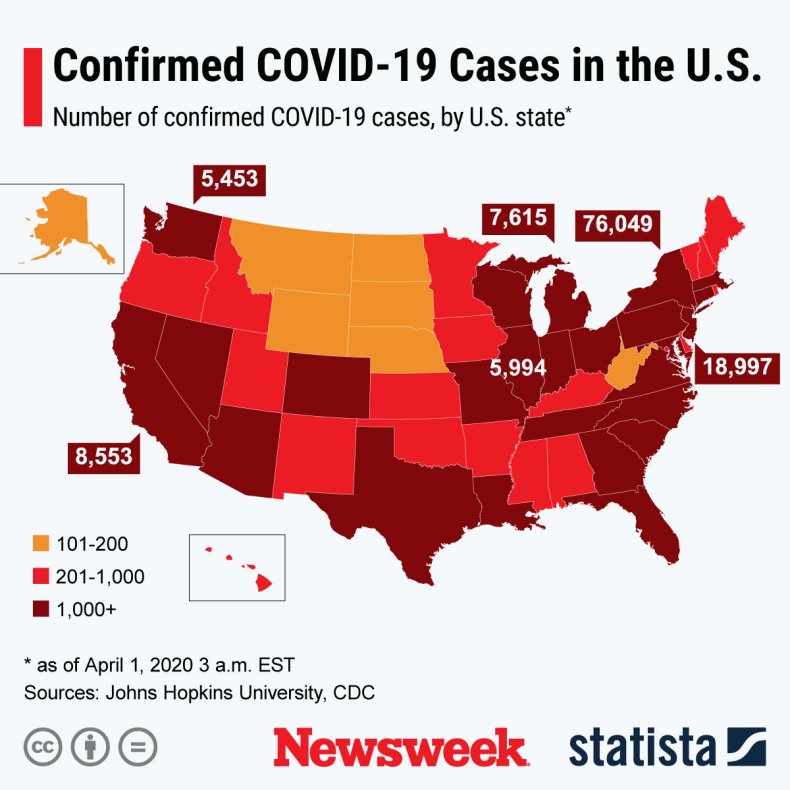 Following a Washington Post report that the CDC is reviewing advice on whether people should wear masks amid the COVID-19 pandemic, Redfield said the agency is "always critically looking at new data." He said figures from Singapore, Hong Kong, and China suggest the issue can be considered both in terms of preventing people from spreading or catching the virus.
"Particularly with the new data, that there's significant asymptomatic transmission, this is being critically re-reviewed to see if there's potential additional value for individuals that are infected or individuals that may be asymptomatically infected," he said.
However, Redfield argued the situation is complex, as if a quarter of cases show no symptoms "the only way you would do it—if you then sort of went into areas that were high transmission zones and had a significant [proportion of] individuals then wearing masks, assuming that they were infected. I can tell you that the data and this issue of whether it's going to contribute [to prevention] is being aggressively reviewed as we speak."
Dr. Benjamin Linas, infectious diseases physician at Boston Medical Center and Associate Professor of medicine and epidemiology at the Boston University Schools of Medicine and Public Health, told Newsweek: "This virus will be with us until we discover a vaccine. However, that does not mean that we must have a second wave of infection. We will have a second wave of infection if we wait until we see cases drop and then emerge from physical distancing without a plan for containment.
"Containment includes very wide scale testing and aggressive contact tracing and isolation for exposed persons. We must be developing that infrastructure now so that we do not suffer a second wave of infections. It is essential that the U.S. response to COVID begin to look past April and May to think about how we will consolidate our progress made by physical distancing and prevent a second wave of infection."
Addressing the new coronavirus being more contagious than the flu, Dr. Joshua Barocas, infectious diseases physician at Boston Medical Center and assistant professor of medicine at Boston University School of Medicine, told Newsweek: "It does appear that this novel coronavirus is more contagious than influenza. This is due, in part, to the longer period of time that it takes for symptoms to appear and the fact that symptoms may be mild.
"Mild and asymptomatic disease makes it harder for us to control the spread. This is why population-level stay-at-home orders are vital."
This article has been updated with comment from Dr. Benjamin Linas and Dr. Joshua Barocas.
World Health Organization advice for avoiding spread of coronavirus disease (COVID-19)
Hygiene advice
Clean hands frequently with soap and water, or alcohol-based hand rub.
Wash hands after coughing or sneezing; when caring for the sick; before, during and after food preparation; before eating; after using the toilet; when hands are visibly dirty; and after handling animals or waste.
Maintain at least 1 meter (3 feet) distance from anyone who is coughing or sneezing.
Avoid touching your hands, nose and mouth. Do not spit in public.
Cover your mouth and nose with a tissue or bent elbow when coughing or sneezing. Discard the tissue immediately and clean your hands.
Medical advice
Avoid close contact with others if you have any symptoms.
Stay at home if you feel unwell, even with mild symptoms such as headache and runny nose, to avoid potential spread of the disease to medical facilities and other people.
If you develop serious symptoms (fever, cough, difficulty breathing) seek medical care early and contact local health authorities in advance.
Note any recent contact with others and travel details to provide to authorities who can trace and prevent spread of the disease.
Stay up to date on COVID-19 developments issued by health authorities and follow their guidance.
Mask and glove usage
Healthy individuals only need to wear a mask if taking care of a sick person.
Wear a mask if you are coughing or sneezing.
Masks are effective when used in combination with frequent hand cleaning.
Do not touch the mask while wearing it. Clean hands if you touch the mask.
Learn how to properly put on, remove and dispose of masks. Clean hands after disposing of the mask.
Do not reuse single-use masks.
Regularly washing bare hands is more effective against catching COVID-19 than wearing rubber gloves.
The COVID-19 virus can still be picked up on rubber gloves and transmitted by touching your face.