Should We Wear Masks in Public to Protect Against Coronavirus? Here's What Who, CDC and Johns Hopkins Experts Advise
Officials at the U.S Centers for Disease Control and Prevention (CDC) are reportedly reviewing advice on whether people should wear masks, as the debate over the benefit of covering our faces during the COVID-19 pandemic continues.
The CDC's guidance on facial coverings is under development, a federal official told The Washington Post on a condition of anonymity as the matter was being discussed internally and a decision hadn't been finalized.
A second unidentified official said people may be asked to wear DIY masks made of cloth to prevent those infected with the new coronavirus from spreading it, in order to help "flatten the curve." The first official stated the general public will not be advised to use N95 respirator masks—which seal the nose and mouth—or surgical masks, the official said. The caveat comes as healthcare workers struggle with equipment shortages.
The new coronavirus has spread across almost the entire world over the past three months, infecting almost three quarters of a million people, as shown in the Statista map below. Different countries have taken different stances on mask-wearing in an apparent attempt to strike a balance between ensuring healthcare workers have access to personal protective equipment, and stopping the spread of the disease for which their is no treatment or vaccine.
Andrew Preston, reader in microbial pathogenesis at the University of Bath, told Newsweek: "The issue of public wearing of face masks includes not only effectiveness, but what mass demand would do to the availability for frontline workers, and possible issues surrounding relaxing of attitudes towards isolation/social distancing due to feeling protected."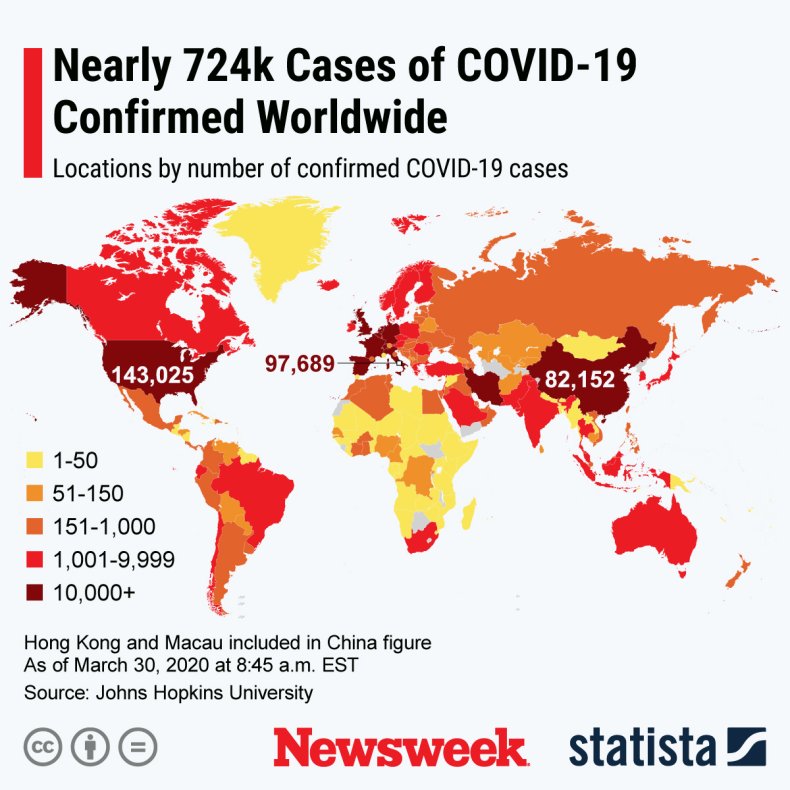 Some officials have stressed there is no need for most members of the public to wear masks as they only protect frontline healthcare workers. However, other experts and commentators—such as professor Zeynep Tufekci of UNC-Chapel Hill writing in The New York Times—argue "this contradiction confuses an ordinary listener. How do these masks magically protect the wearers only and only if they work in a particular field?"
Currently, the CDC states "only people who have symptoms of illness or who are providing care to those who are ill should wear masks."
On Monday, President Donald Trump was asked at a White House press briefing whether his Coronavirus Task Force agreed with the suggestion made by former U.S. Food and Drug Administration (FDA) commissioner Scott Gottlieb that everyone should wear nonmedical face masks in public "to reduce their risk of asymptomatic spread."
Trump said he had seen the suggestion, which he called "very interesting."
The president said: "We haven't discussed it to that extent, but it's certainly something we could discuss... We're not going to be wearing masks forever, but it could be for a short period of time."
Earlier this month, the U.S. Surgeon General Jerome Adams urged people to stop buying face masks, tweeting: "They are NOT effective in preventing general public from catching #Coronavirus, but if healthcare providers can't get them to care for sick patients, it puts them and our communities at risk!"
The World Health Organization officials also tackled the question on Monday, reiterating that only caregivers and frontline healthcare workers should wear masks, as well as those who are sick to prevent the spread of infection.
Masks are commonly misused and will not be as protective as hoped, the agency said, citing research suggesting they can give a false sense of security and could lead people to ease up on handwashing, for instance. Taking off a mask so it no longer covers the nose, or touching the outside can also make it less effective.
"One can argue that there's a benefit of anything, but where does the given tool have its most benefit and right now the people most at risk from this virus are frontline health workers who are exposed to the virus every second of every day," Michael J. Ryan, Executive Director of the WHO Health Emergencies Program, told a COVID-19 briefing on Monday.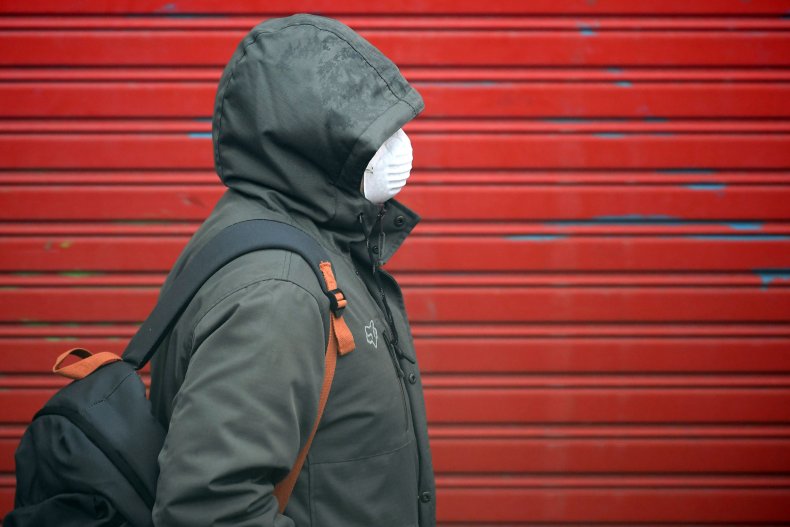 In contrast, South Korea and Japan have distributed masks, and they are mandatory in Czechia and Slovakia. According to BBC News, people in China, Hong Kong, Japan, Thailand and Taiwan don them on the assumption that healthy people could potentially spread the virus. And in some parts of China, people risk arrest if they do not wear them.
George Gao, director-general of the Chinese Center for Disease Control and Prevention, recently told Science: "The big mistake in the U.S. and Europe, in my opinion, is that people aren't wearing masks" to prevent the virus spreading.
In a comment article published earlier this month in the journal The Lancet Respiratory Medicine, epidemiologist and statistician Shuo Feng, of the Oxford Vaccine Group at the University of Oxford, and colleagues argued that while there is limited evidence that wearing face masks protect against respiratory infections in the community, "there is an essential distinction between absence of evidence and evidence of absence."
The team wrote: "It is time for governments and public health agencies to make rational recommendations on appropriate face mask use to complement their recommendations on other preventive measures, such as hand hygiene."
They added it may be rational to recommend those in quarantine wear faces masks if they leave home to prevent potential asymptomatic or presymptomatic transmission. Vulnerable people, such as older adults and those with underlying medical conditions, "should wear face masks if available."
"Universal use of face masks could be considered if supplies permit. In parallel, urgent research on the duration of protection of face masks, the measures to prolong life of disposable masks, and the invention on reusable masks should be encouraged," the authors wrote.
To provide clarity on the situation to the public, Ana Rule and Kirsten Koehler of the Department of Environmental Health and Engineering at the Johns Hopkins Bloomberg School of Public Health addressed the issue in a Q&A published on the institution's website on Monday.
Viruses like that which causes COVID-19 spread by clinging to small droplets of moisture from the upper respiratory system, which we give off when we cough, sneeze, and talk, they explained.
"Large droplets (>5 micrometers) settle quickly. This is why it's recommended to stay 6 feet from other people. This is also why it's very important to clean surfaces and wash your hands after touching a surface that could be contaminated," Rule and Koehler wrote.
"Small droplets emitted from the mouth and nose travel much farther than 6 feet and may stay in the air for an hour or longer, depending on the ventilation in the room. People spending time together in close proximity may be exposed to these small droplets."
There are three broad categories of mask, according to Rule and Koehler. N95 masks, which when worn correctly tightly seal the nose and mouth and remove 95 percent of droplets. Surgical masks that do not have a seal and can block larger droplets from coughs and sneezes, but not smaller globules. These also help to prevent the sick from spreading droplets. Homemade cloths, meanwhile, do not seal around the nose and mouth, but may prevent the spread of large droplets if worn by the sick.
Rule and Koehler state that sick people do not need to wear respirators; surgical masks can help prevent the spread of droplets of those who are sick; and cloth masks may stop large droplets spreading from the infected. There is evidence to suggest surgical masks are almost as effective as N95 for prevention healthcare workers from catching the flu, but it is not clear this is the case for COVID-19, they wrote.
The pair advised: "Discard a mask or N95 respirator when it is contaminated with blood or bodily fluids, when you can no longer obtain a good seal at the nose or around the mouth, or when it is visibly damaged or dirty or hard to breathe through."
Asked whether what we know about the effectiveness of masks has changed over the course of the pandemic and whether people should wear them, Professor Robin May, director of the Institute of Microbiology and Infection at the University of Birmingham, told Newsweek: "The effectiveness of face masks hasn't changed over the course of the outbreak, but what has changed is the number of people who are infected."
At the start of the outbreak when very few people were infected, and individuals wore masks in the belief this would reduce their risk of infection, he explained. But as COVID-19 is mainly passed on in droplets, masks are only really effective because they prevent people from touching their nose and mouth, and therefore the frequency with which they may transmit virus in droplets from contaminated surfaces.
"However, as we know, the problem is that people often remove the mask and sometimes touch their face more, rather than less, when wearing a mask (because of irritation), so the efficacy is low," he said.
"At this stage of the outbreak, however, significant numbers of people are infected. A mask can reduce spread of the virus from an infected person, in the same way that a tissue does—it captures droplets and prevents them being spread to the environment, where others can pick them up.
But he said: "it remains the case that the best way to prevent spread of the infection from a patient is if that person stays at home and self-isolates effectively."
Professor KK Cheng, director of the Institute of Applied Health Research at the University of Birmingham, U.K., told Science he envisioned masks being more widely used in the U.S. and Europe when the peaks have passed in those regions.
"Just imagine you're traveling in the New York [City] subway on a busy morning. If everyone wears a mask, I'm sure that it would reduce the transmission." he said. But he added: "Don't ask me to show you a clinical trial that it works."
This article has been updated with comment from Andrew Preston and Professor Robin May.
World Health Organization advice for avoiding spread of coronavirus disease (COVID-19)
Hygiene advice
Clean hands frequently with soap and water, or alcohol-based hand rub.
Wash hands after coughing or sneezing; when caring for the sick; before, during and after food preparation; before eating; after using the toilet; when hands are visibly dirty; and after handling animals or waste.
Maintain at least 1 meter (3 feet) distance from anyone who is coughing or sneezing.
Avoid touching your hands, nose and mouth. Do not spit in public.
Cover your mouth and nose with a tissue or bent elbow when coughing or sneezing. Discard the tissue immediately and clean your hands.
Medical advice
Avoid close contact with others if you have any symptoms.
Stay at home if you feel unwell, even with mild symptoms such as headache and runny nose, to avoid potential spread of the disease to medical facilities and other people.
If you develop serious symptoms (fever, cough, difficulty breathing) seek medical care early and contact local health authorities in advance.
Note any recent contact with others and travel details to provide to authorities who can trace and prevent spread of the disease.
Stay up to date on COVID-19 developments issued by health authorities and follow their guidance.
Mask and glove usage
Healthy individuals only need to wear a mask if taking care of a sick person.
Wear a mask if you are coughing or sneezing.
Masks are effective when used in combination with frequent hand cleaning.
Do not touch the mask while wearing it. Clean hands if you touch the mask.
Learn how to properly put on, remove and dispose of masks. Clean hands after disposing of the mask.
Do not reuse single-use masks.
Regularly washing bare hands is more effective against catching COVID-19 than wearing rubber gloves.
The COVID-19 virus can still be picked up on rubber gloves and transmitted by touching your face.