Trump Comments About Hospital Mask Thefts Spark Backlash From Doctors
President Donald Trump's comments suggesting that people may be stealing masks from hospitals sparked an angry backlash among doctors, who felt he accused them of theft in response to urgent calls from medical professionals for more personal protective equipment (PPE)
The Trump 2020 campaign pointed to news reports of mask thefts and similar comments to the president's made by New York Governor Andrew Cuomo, who has asked the state police to investigate thefts of masks and medical equipment from hospitals.
State officials across America are reporting a shortage of PPE such as masks for medical workers as they deal with the snowballing coronavirus pandemic. New York, one of the worst-affected states, is feeling the shortage particularly acutely.
Medical workers are having to reuse old masks rather than dispose of them because of the shortage as they deal with growing numbers of infected patients. They are pleading with the federal government to help in their search for more PPE supplies.
Referring to an unnamed hospital in New York, Trump said a supplier has delivered 10-20,000 masks "for years" but now the demand has increased to 300,000.
"How do you go from 10-to-20-to-300,000...even though this is different. Something's going on...Where are the masks going? Are they going out the back door?" Trump said at a White House press conference on Sunday.
The president later added: "I want the people in New York to check—Governor Cuomo, Mayor de Blasio—that when a hospital that's getting 10,000 masks goes to 300,000 masks during the same period, people should check that because there's something going on.
"I don't think it's hoarding, I think it's maybe worse than hoarding, but check it out. Check it out. I don't know, I don't know. I think that's for other people to figure out."
Kenneth Raske, president of Greater New York Hospital Association, said in a statement that medical workers "deserve better" than Trump's comments as they deal with COVID-19, the disease caused by the new strain of coronavirus tearing through the world.
"New York's health care workers are treating exploding numbers of COVID-19 patients around the clock —willingly and without complaint. My daughter, an ICU nurse at a New York City hospital, is one of them," Raske said.
"The only thing they ask for in return is adequate amounts of personal protective equipment. PPE is the single thing that separates them from being COVID-19 patients themselves.
"They deserve better than their president suggesting that PPE is 'going out the back door' of New York hospitals. I urge you to focus on what you—and all of us—can do to help."
Rob Davidson, an emergency room doctor in West Michigan who is also executive director of the Committee to Protect Medicare campaign, tweeted: "Accusing heroic healthcare workers in NYC of stealing #PPE and #ventilators is an all-time low from @realDonaldTrump.
"They deserve our praise, and they get slapped in the face from this pitiful man. They give more of themselves in one shift than he could give in 1000 lifetimes.
"Please @realDonaldTrump listen to the voices of healthcare workers in NYC. They're begging for you to get them the equipment they need. These are not political people. These are dedicated healers."
Kevin Lu, a graduating medical student in Michigan who is about to become resident, told Newsweek seeing Trump's comments made him feel angry.
"These are my friends, colleagues, and classmates who are knowingly sacrificing personal health and safety in order to do their best to help others right now," Lu said.
"Anecdotally, I've known countless [health care workers] who knew they were inadequately protected but bravely have chosen to continue doing their jobs because they are needed. We are naked soldiers walking into a battlefield."
Lu said medics started with one set of PPE per patient before moving to one mask per worker per shift. "Then we moved to only workers at high risk of COVID interaction get masks," Lu told Newsweek.
"When all workers became high risk of COVID interaction, some places moved to you to get one mask permanently and it's your job not to lose it. Now for some places it's either you experiment with wash and reuse or you have no masks at all."
Lisa Miller, a physician and anesthesiologist in Seattle, Washington, another of the worst-hit areas in the pandemic, tweeted: "Trump has now accused healthcare workers of stealing our own masks and PPE, hence the shortage. Yes, Mr. Trump, we are rewearing masks that are only meant to be worn once because we want to make you look bad. F***wit."
Barry Schapiro, an orthopedic surgeon in Parkland, Florida, tweeted: "Imagine... working gruelling hours, risking everything, treating the sickest patients you've seen in your entire career, coming home and quarantining in the guest room isolated from your family for the foreseeable future...and then the president accuses you of being a thief.
"When a hospital goes from a typical number of patients under respiratory isolation to every ICU bed and entire units in respiratory isolation, it's easy to imagine an increased need of 10-50x. Not understanding is one thing. Accusing us of lying and stealing is quite another."
Olivia Cardenas-Trowers, a doctor from Louisville, Kentucky, specializing in female pelvic medicine, tweeted: We need MORE masks than in previous years...because WE'RE IN THE MIDDLE OF A PANDEMIC!! [Health care workers] aren't stealing- we're using #PPE to protect ourselves, do our jobs safely, and save as many lives as we can. Don't make us out to be villains and thieves, @realDonaldTrump."
But the Trump campaign said the president is heeding what medical workers are saying about thefts from hospitals.
"President Trump is listening to health care professionals. Some have reported that people are stealing large numbers of masks and medical equipment from hospitals," the Trump campaign tweeted, and posted a video of Cuomo.
In that video, which is of a press conference from early March, the Democratic New York governor says: "One of the things we've heard from healthcare professionals, there have been thefts of medical equipment and masks from hospitals, believe it or not, not just people taking a couple or three, I mean just actual thefts of those products.
"I've asked the state police to do an investigation, look at marketplaces that are selling masks etcetera, medical equipment, protective wear, playing into this [by] exploiting the anxiety."
Matt Wolking, the Trump campaign's deputy director of communications, also linked to a March 3 article in the publication Modern Healthcare in which a doctor reported thefts from her hospital.
Shira Doron, an infectious disease physician and hospital epidemiologist at Boston's Tufts Medical Center, told the publication her hospital had thefts of essential PPE including masks from areas in which lots of people pass through.
The office of New York City Mayor Bill de Blasio directed Newsweek to a comment on Twitter by his press secretary Freddi Goldstein.
"This is absolutely ludicrous," Goldstein wrote in response to Trump's comments. "There is no hoarding or conspiracy going on here. Just a simple fact: Our doctors and nurses need masks. That's the sad, unchanging truth unless the federal government steps up and protects our frontline workers."
The White House and the office of Governor Cuomo have been approached for comment.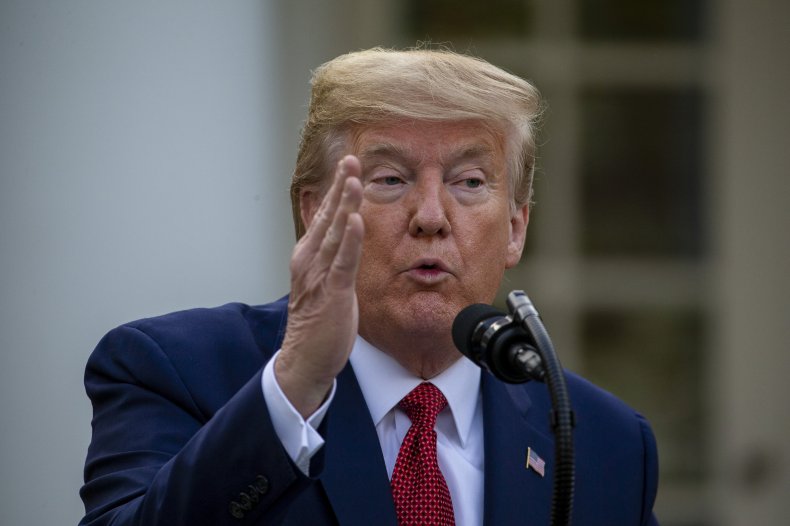 This article was updated with comments by Freddi Goldstein and Kevin Lu.